Green vertical mast launches from Skyjack
By Euan Youdale19 October 2021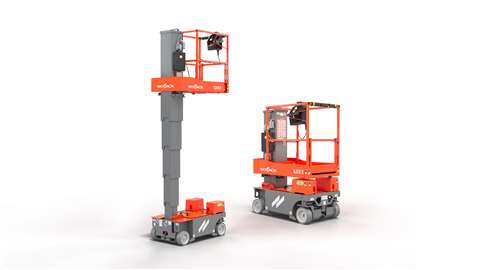 Skyjack has launched two vertical mast lifts at The Rental Show, taking place this week.
Modelled on the company's existing zero-emission SJ20 E vertical mast, the new SJ12 E and the SJ16 E were introduced alongside a new option, the XStep, that is now available for the SJ3219 scissor lift.
Representing Skyjack's new generation mast lift range, the SJ12 E and SJ16 E models add electric drive, using an AC electric motor and gearbox combination which provide up to a 30% improvement in duty cycles.
The units come under the manufacturer's new Eco, which translates to zero emissions and improved duty cycles, leading to less charging and less power consumption and therefore a smaller carbon footprint.
Both units also feature up to 70% less hydraulic connections. This, together with the addition of the optional Skyjack Eco tray and biodegradable oil further reduces the overall environmental impact.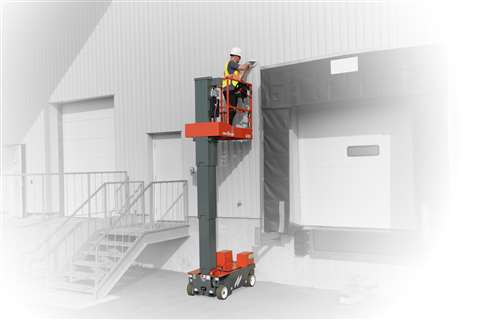 Some of the other main features of the new models include 90-degree steeringm with zero inside turning radius, a maintenance free fixed pothole protection system and forklift pockets located at the rear of base, with tie down and lift points at each corner. In addition, there is the onboard CAN enabled control unit and multi voltage 'smart' charger, and onboard diagnostics display with simple, plain language readouts.
Both units also now incorporate a multi-stage hydraulic lift cylinder, which eliminates chains, cables sheaves and rollers, again reducing maintenance requirements.
As Raf Bazzarella, product manager here at Skyjack, explained, "You'll also notice the top of the mast is now in line with the platform rails, which is beneficial for overhead work, especially where there are drop ceilings."
Both units now include a dual load cell overload system, located below the platform designed with both indoor and outdoor use in mind.
The SJ12 E comes with a standard wind rating, and the SJ16 E and SJ20 E feature an optional wind rating for one person.
Bazzarella adds, "In conclusion, the compact size and low weight, means that our next generation vertical masts have been simply transformed making them an ideal choice for a wide range of uses from maintenance, industrial and construction applications."
Eco advantages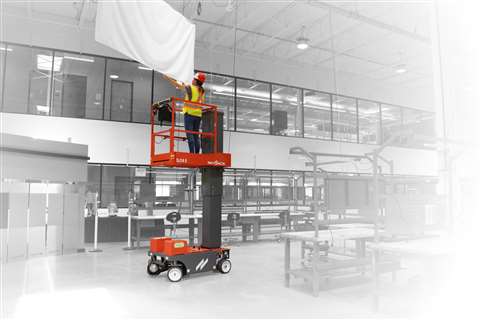 Expanding on the Eco label, Ken McDougall, president of Skyjack, explained, "Governments around the world are increasingly promoting a more sustainable agenda. One of their main focuses is through funding infrastructure projects and at the same time promoting sustainability through the enforcement of compliance with sustainability initiatives.
"That demand is down to contractors and they in turn pass on that demand to rental companies. As a result, what may have been seen as a box ticking exercise has become a real business issue. Skyjack has seen that through rental company questions for information on how our products meet that emerging need."
The SJ12/16 E models reduce statutory nuisance, like dust, noise and litter, reduce site waste, use less material, include measures that prevent pollution, and offer at least 10% more efficiency than Skyjack's older models.
Furthermore, the telematics technology provides alerts and various actionable insights into machine operation translating into measurable cost, time and material savings.
Introducing the XStep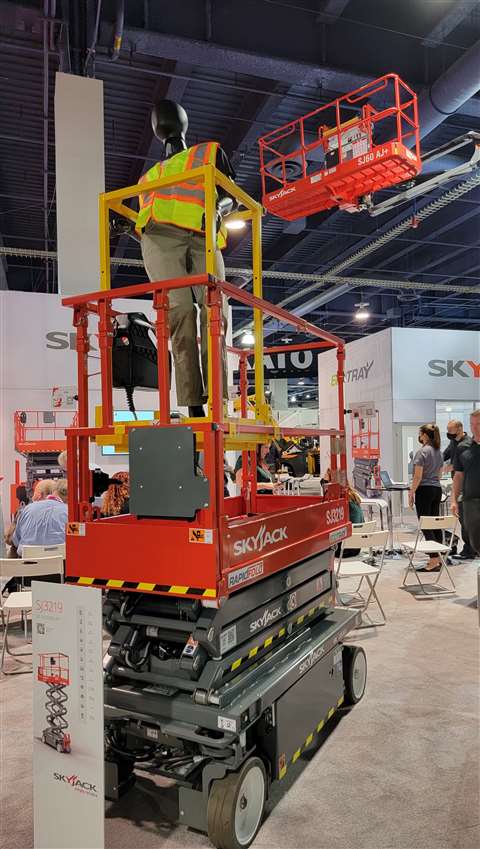 The new XStep allows operators safe additional reach in tight spaces, while maintaining productivity.
Unlike other systems, Skyjack's XStep provides the safety of full height guard rails in a modular system that does not require a specially ordered machine.
Xstep is the latest addition to the manufacturer' Accessoryzers line and is an independent aftermarket option that can be ordered from the factory with a new machine or from its parts department and retrofitted on to an existing SJIII series and current SJ 3219 model with no tools.
The top railing design and height provides the operator with the same degree of security as a conventional platform and can be easily lowered to maneuver the unit through a doorway.