Grove cranes help Thailand power up
By Ian Vallely30 January 2017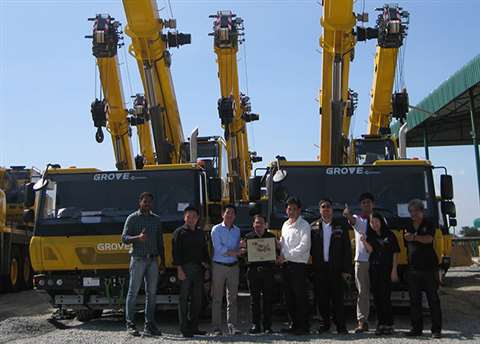 The Provincial Electricity Authority (PEA) in Thailand has ordered eight Grove GMK2035E all terrain cranes. They are new additions to the fleet, which already includes six GMK2035s.
The GMK2035 is the predecessor to the GMK2035E and PEA purchased these back in 2000. The state-owned enterprise plans to use the cranes to erect electrical poles and install transformers at sites around Thailand.
It said it selected the GMK2035E because of its superior mobility, as well as its option to lift both with mid-span and full-span outrigger deployment. All the cranes were supplied by VDS Machinery, the official Grove dealer for Thailand.
The GMK2035E is Grove's most compact all terrain crane, and includes a 29 metre main boom which can be extended to 46 m with jib extensions. Capacity is 40 tonnes and power comes from a 205 kilowatt Mercedes engine.