Growing shift to rental in Italy
By Thomas Allen05 November 2019
Rental has come to play an increasingly important role in the Italian market over the past ten years, according to the results of a survey published in the run up to Italian construction equipment trade show SaMoTer.
The SaMoTer-Veronafiere survey, which looks at the period between 2008 and 2018, was conducted in collaboration with Prometeia and with the support of associations such as Ance Verona, Anepla, Assodimi - Assonolo, Nad, and Unacea. The results were announced during SaMoTer Day on 29 October.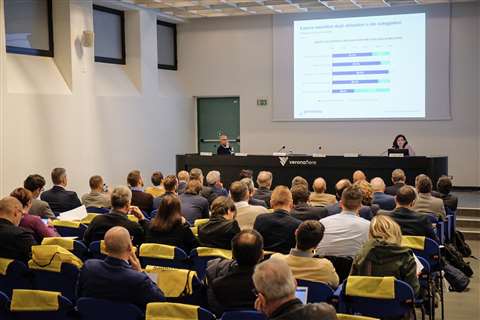 There are estimated to be just over 179,200 units of construction machinery and almost 120,000 machine users in the Italian market. A shift towards rental has seen the proportion of equipment owned by rental companies increase over the past two years to 30%.
Small construction companies, nurseries and farms are the business categories that make the most use of rental services, according to the survey.
Looking specifically at earthmoving equipment, it is estimated that there are approximately 118,400 earthmoving machines in Italy, which is about half the figure recorded in 2008. A greater proportion of that drop (59%) has been attributed to user-owners than rental firms (19%). In this context, the role of earthmoving equipment rental appears to have risen sharply over the past decade, from 18 to 29.6%.
Over that period, rental companies have been seen to put greater focus on smaller and more versatile machines, such as mini-excavators, skid steer loaders and telescopic loaders, and reduce the number of larger machines they stock, including dozers, dumpers and backhoe loaders.
Machine intelligence is an increasingly important criterion when it comes to making purchasing decisions, according to 31% of rental firm respondents. Of the various machine technologies, geolocation was found to be the most common feature sought by both user-owners and rental firms.
Looking ahead to the future, companies expect to see an increase in the strategic use of smart technologies over the coming years. Predictive maintenance was acknowledged as one of the most important developments today and in the future, while electrical engines will be the area of greatest growth, according to survey respondents.
The SaMoTer exhibition will be taking place in Verona, Italy, from 21 to 25 March 2020.