GSR founder receives longstanding contribution award
By Euan Youdale24 January 2016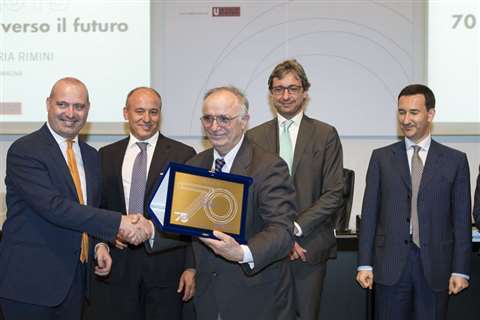 Vincenzo Gentili, the founder and chairman of GSR, has been awarded for his company's success and commitment to the access industry.
Mr Gentili received the tribute during the annual meeting of Unindustria Rimini, held in June last year. It was 70th anniversary of the Italian trade association.
According to GSR the news is only coming to light now due to Mr Gentili's modesty. "It was not unusual that several months passed before we heard about the tribute he received in the presence of guests that included national Confindustria president Sergio Squinzi," said a GSR spokesperson.
During the evening awards were presented to member companies that were founded over a century ago. The story of GSR started in 1890, when Scalificio Riminese was formed, a company that later, in the 1950s, began production of vehicle mounted ladders.
Mr Gentili's company Gentili Oleodinamica acquired Scalificio Riminese in 1976 and created vehicle mounted aerial platform specialist GSR SpA.