GT Access receives UK's first Haulotte Star 10
By Euan Youdale29 June 2015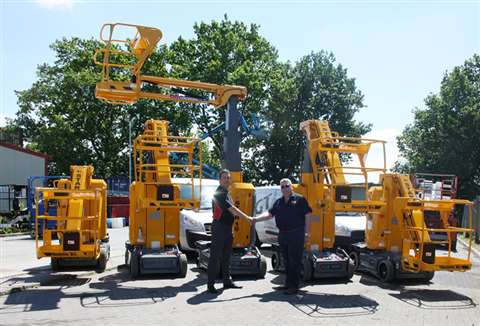 As part of its continued fleet expansion in 2015, GT Access has received the UK's first delivery of Haulotte's new Star 10 vertical masts, following the model's launch at Intermat.
It is the first of a 20-unit order from the UK-based rental company which will based across their five plants around the Midlands region of the UK. Haulotte UK account manager Ged Kelly, said, "This is another opportunity for Haulotte UK and we are delighted that GT Access has once again chosen the Star 10 for their mast boom requirements. We have listened to our customers when developing the Star 10."
The model includes brushless direct drive AC motors, integrated forklift slots standard centralised battery filling, single joystick operation and a reduced gross weight, day to day operation and maintenance has been further enhanced.
Jonathan Till, from GT Access, said, "We are thrilled to be the first company within the UK to receive the new and improved star 10s. We are sure our customers will enjoy the benefits we've already seen for ourselves and look forward to hearing their feedback."