Guay Cranes on Canadian interchange
By Leila Steed12 April 2019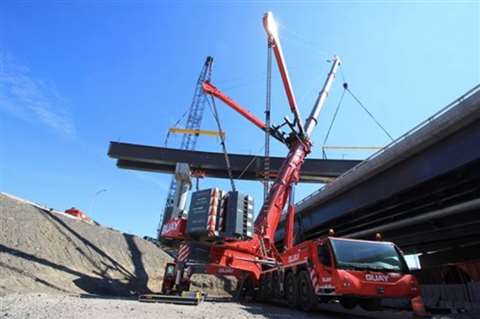 Modulift spreader beams and a Liebherr LTM 11200-9.1 were put to work together on the Turcot Interchange project in Canada.
The Turcot Interchange, Quebec's largest and third busiest, was built in 1967 and is undergoing redevelopment.
The 1,200 tonne capacity crane, supplied by rental firm Guay Cranes, was used on the construction of the three-level stack freeway. According to Modulift a crucial stage of the project required spreader beams to install two girders weighing 90 tonnes each.
Along with rigging gear provided by Modulift's Canadian distributor Equipment Corps, the MOD 110H beam, which can lift up to 170 tonnes at 11.5 metres, was used at its maximum 18 m length. The 1,200 tonner was rigged with 59 m of main boom and 200 tonnes of counterweight to lift the first girder into position.
The LTM 11200-9.1 worked at a 29 m radius with a 300 tonne capacity Sany SCC8300 crawler crane, but not in tandem. A customised Modulift beam was used below the hook of the crawler crane to lift the second girder into position. Once the connection between the two girders was complete, both cranes released the load simultaneously.
Luke Habza, national sales and business development at Equipment Corps, said, "We frequently supply lifting and rigging gear to the project but this was a standout lifting operation. Combined with the MOD 110H beam, use of the Liebherr amounted to thousands of dollars-worth of savings to the customer, who didn't need to mobilise another crawler crane, as would be typical for this kind of application."
A hub for road traffic in Canada's Montréal area, the Turcot interchange connects highways 15, 20 and 720. In addition to facilitating access to the Champlain Bridge, it is also an essential road link between Montreal-Pierre-Elliott Trudeau airport and downtown Montréal.