Handler attachments at ARA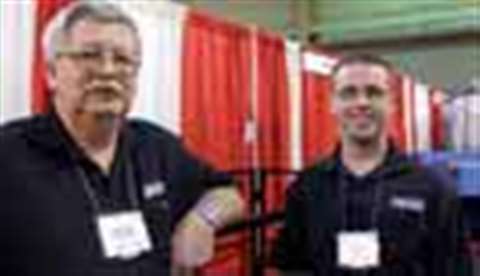 Several telehandler attachment suppliers exhibited at the Rental Show. Star Industries brought its Lift-N-Tow model 1390B attachment used to lift and load material from the job site onto the transporting vehicle when hauling away.
The unit, which slips easily on universal forks, has a 10,000 pound maximum capacity. The company's Universal-Fit Lift Hook is capable of lifting 10,000 pounds. The hook point is located at the standard 24 inches load center between forks, designed for use on both straight masts and handlers. Its chain and grab hook secures the Lift Hook to the forklift.
Casselton, ND-based Marv Haugen Enterprises, which began supplying to the telehandler market in 2003, has around 10 different attachments. The company was promoting its latest products, the High Capacity Bucket and its Concrete Hopper, but displayed its 8-foot length personnel basket, its best known product. The company recently supplied five of the baskets to I-35W project following last year's Minnesota bridge collapse.
"Not a lot of traffic, but good quality leads," said Jeff Haugen, sales representative for the family-owned and operated company. Haugen prides itself in that it carries the cost of liability insurance. "The others don't," said Haugen.
First time exhibitor Arrow Material Handling Products was promoting two of its latest attachments, the Super Duty Grapple and Tree Shear, both available now. The company's universal attachment line, which in total is more than 30 attachments for handlers and skid steers, are sold directly to rental yards.
"We're now entering the Mexico market and we promote in Spanish," said Mary Nicodemus, director of marketing with Arrow. The company will display six of its attachments at Conexpo, with demonstrations at its booth.