Happy trails? - trouble shooting transport requirements
By John Wyatt07 March 2008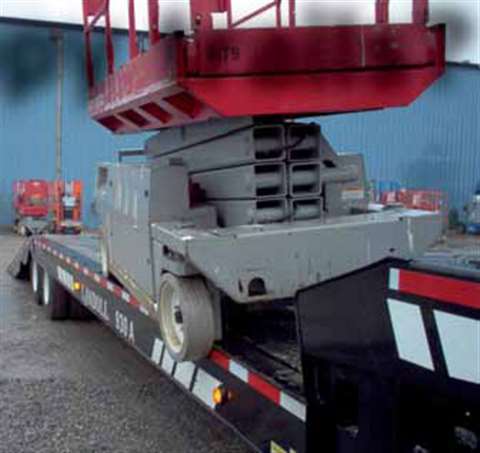 Rental yard delivery personnel need more than a clean driving record and sense of direction. The transportation of equipment is a land mine of risks and hazards, say safety professionals. ALH reports
Drivers for rental yards have far more responsibility than they are given credit for. The duties this service entails are knowing the state's regulatory standards, the transport equipment capabilities (including weight conditions, tying off properly, where to tie off, what to tie off), the safe loading and unloading of equipment – and so much more. In short, this is not a minimum-wage job that should be given to kids on summer break: it demands a highly alert and knowledgeable professional who knows the streets, equipment and governing laws.
Thus, it is no surprise that rental yards are having a hard time holding on to their delivery men. With a job title that requires such specialized knowledge, the position nearly requires a CDL.
Let's not overstate the skills of a semi-truck driver, whose job often consists of traveling from point A to B and, when arriving, often sitting in the cab while workers at that delivery spot unload the material. However, the driver for construction equipment goes a bit further. Similar to the semi-driver's responsibility, he must know weight capacities and what each axle will allow; but the rental yard driver also has to unload and load material himself, sometimes in undesirable conditions, without the luxury of a docking station.
The most common problem cited is a machine pping over from a tractor trailer/rollback bed. he two most common methods for unloading nd loading the equipment are either driving the quipment off while on the machine, or, in the case of a scissor lift, removing the control box from where it's mounted and walking next to the machine. With regards to driving the equipment off the trailer, the operator is at risk if surface conditions are uneven, or if harsh weather conditions could cause the machine to turn while driving off.
As an example, an urban setting downtown would properly require the driver not only to navigate around tight traffic and streets, but to properly park, cone off the loading zone, operate the vehicle in and out of the trailer tractor bed without causing obstructions. These are the issues.
Slip and slide
"Here's the problem: you can take the box off the scissor lift. If you push the stick away from you, you're thinking backwards. If you take the time to think about which way the box is aligned with the machine, there's a 50-50 chance of going in the wrong or right direction. We've had guys crush their leg by doing it this way," says Jeff Stachowiak, national safety director, Safety & Risk Management with Sunbelt Rentals.
One of Sunbelt's goals is to have an extensive video library of how to unload and load equipment. Currently, the company has 12 and Stachowiak says he'd like to film another three to four soon. The manufacturers provide good safety videos as well, he says.
"The most common accident in my experience has been slipping either of the driver or machine while loading," says Joe Simons, president with Up-N-Atom, a manufacturer of trailer equipment designed for construction equipment. "This occurs in wet or icy conditions, or when there is hydraulic oil on the deck, and is greatly magnified if the truck or trailer is not level during loading/unloading operations. Machines equipped with hard rubber tires tend to slip more easily. Steep loading angles also contribute to the problem. Slip-resistant deck coatings, properly maintained, help to eliminate the problem as well as reduced loading angles."
Drivers need to know what the machines weigh, says Gary Riley, independent safety consultant with Aerial Platform & Telehandler Training & Consulting. He gives the example that a 40-foot boom can range from 14,000 to 25,000 pounds, depending on the make and model. The 10,000-pound difference could be enough to cause a problem, he says.
Slopes while loading and unloading are exceptionally hazardous, he says. Not only do you risk the potential of the machine coming off the side of the truck (which has happened), but in a rollback you risk the potential of tipping the whole truck over.
Rule and hazards
"Imagine a 40-foot boom on a rollback, single or tandem axle: You tilt the bed to offload a 19-foot scissor lift that is on the back. All that weight is at the highest point of the truck. You run the risk of tipping the truck over in this scenario because you are raising the center of gravity," says Riley.
Another concern is delivery to a tight setting, such as a location downtown or other heavily congested areas. "Think of unloading in a downtown setting. You have cars parked, vehicle traffic coming from both directions and you have to take the load off that job site. There are all various site condition issues that need to be addressed when loading and unloading product," says Tony Groat, executive vice president with the AWPT. He suggests in this type of environment to cone off the areas.
"I think lack of training/experience contribute greatly to accidents, as well as poor implementation of training," he says.
Alicia Lemke, senior consultant and owner with Milwaukee-based Complete Safety Concepts, an independent safety trainer that specializes in aerial work platforms and handlers, offers the observation that often no one is wearing safety gear.
"You'll find most of the time no one is wearing seatbelts in forklifts or in aerials wearing fall protection. I think the mentality is that because they are not driving a long distance they don't wear any protective equipment," says Lemke. And she says this lack of protective gear is contagious, as other workers at a job site see delivery personnel not wearing safety protection, so why should they? She says the standards call for steel-toe boots, hard hat and safety glasses – and, of course, fall-restraint systems for aerials, and as mentioned, seatbelts on telehandlers.
Another interesting point Lemke makes is that delivery personnel should always get a signature when the equipment arrives on site. She says with vehicle damage and lost or stolen property, there are safety concerns too, and drivers should never abandon a unit on site without a person from the company that rents the machine to sign off once the machine is delivered. If a key is left in a machine, another party could jump aboard and operate it.
So, what are tips every driver should know? When retrieving machines from job sites, be aware of any malfunctions on the machine, says Riley
"I think we all know when we do things fast we don't always do things right and properly I would say focus on doing it safely and doing it safely and doing it right each and every time says Groat.