Hareket in heavy duty haul
By Laura Hatton17 June 2014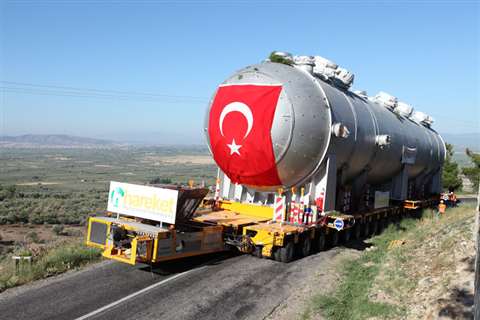 Heavy lift and transport company, Hareket Heavy Lifting & Project Transportation, based in Samandira, Turkey, transported a 580 tonne pressurised gas tank from Izmir to a mine in Manisa.
To transport the gas tank the 176 km from the port in Izmir to the Zorlu Meta Nickel Mine in Manisa, Hareket used 22 axles of Goldhofer heavy-duty self propelled modular transporter type PST/SL-E. It had electronic steering and was fitted with two 490 hp power packs.
The tank was 35 metres long, 8 m high and had a diameter of 7 m. To accomodate the narrow roads and to better distribute the load, Hareket used a split combination of 1+1/2 files wide, a company spokesperson said.
During the transport to the mine, eleven temporary bridges had to be crossed and twisting mountainous roads, with gradients up to 12 %, had to be navigated. In total, 250 power and telephone cables were raised and sixteen sets of traffic lights were dismantled. Two pedestrian bridges also had to be dismantled and re-erected along the route.
Samet Gürsut, Hareket operations manager, said, "It was a continuous process of placement and removal; as soon as we were on the other side of the river, the crossing was removed and built again at the next bridge."
Another challenge for the transport team was dealing with temperatures up to 35 degrees Celsius. To avoid the highest temperatures journies started at 04.30 and finished at midday. A water trailer was also used to spray the road surface as the transport team progressed along the route.
For the final stage, a 2 km stretch of road had to be widened for the transport to navigate around some tight bends. Elevation was 1,500 m.
On arrival at the mine, the pressurised gas tank was placed on steel supports. The self-propelled module combination was then reconfigured to provide two 6-axle parallel modules (1+1) for final positioning of the tank, a spokesperson said.
Gürsut said, "Thanks to Goldhofer's innovative transport equipment, everything went really smoothly, and we delivered the gas tank to the mine in Manisa 65 days after the start of the journey."