Haulers: A considerable load
Rigid haulers, and the more agile articulated dump trucks (ADTs), do not sell in anywhere near the same numbers as other equipment, such as excavators or wheeled loaders, but perform vital roles on construction and mining sites.
Information supplied by Off-Highway Research has predicted that around 10,800 ADTs and rigid haulers will be sold globally in 2019, at a total value of US$5.5 billion. Overall, this segment is performing much stronger than it was a few years ago but is still some way off the highs of 2006-2007.
Of the two segments, ADTs are the most popular due to their ability to traverse rough terrain without the need for a haul road, making them ideal for construction work. Indeed, currently around two-thirds of this market is accounted for by ADTs, with rigid haulers equating to a third of the market.
However, rigid dump trucks are generally cheaper to buy per tonne of payload due to their more straightforward chassis design and can take much higher payloads – ideal in certain conditions, such as mining.
New models
Volvo Construction Equipment (Volvo CE) certainly believe that there is demand in the rigid hauler market, with the company launching four new models: the 45-tonne R45D, 60-tonne R60D, 72-tonne R70D and the flagship 95-tonne R100E. The models are initially aimed at less regulated markets and were launched in the second quarter of 2018.
Commenting on the rigid and ADT market, Esbjörn Fritzell, vice president, Business Platform Trucks, Volvo CE, said, "With a rising demand for robust construction equipment and continued investment in the construction of roads, buildings and pipelines, North America represents a large portion of the hauler market – and we expect that to continue into 2019.
"Europe is also experiencing growth in the market and South Africa, where Volvo CE has taken a leading position, is also a key market. South East Asia and Oceania are also significant regions for haulers."
The company has also updated its G-Series articulated hauler range. New features include cruise control, downhill speed control and OptiShift.
New launches
One of the specialists in this sector, Bell Equipment, launched a new model, the articulated B45E 4x4 with a rated payload of 41 tons (37 tonnes), at the recent Bauma Munich show. Bell Equipment is distributed throughout the world, but say that their main geographic regions are North America, Europe, Africa and Oceania.
Despite a number of competitors having dropped 40 tonne trucks from their range, Bell said that many customers in Europe are continuing to work with trucks in this size class.
Powering the truck is a 390 kW inline six-cylinder engine from Mercedes Benz, said to be optimised for off-highway use. This, combined with the Allison seven-speed automatic transmission, is said to provide outstanding driving performance while delivering the low fuel consumption.
In designing the rear chassis and the 25m³ bin, the designers followed the design of the B60E, which has been optimised for tough mining applications. The B45E 4x4 bin concept is along the lines of a rigid dump truck rock bin with bottom-mounted telescopic tip cylinders. Thanks to its wide geometry and flat-bottomed floor, the 41-tonner is said to fit in well with typical quarry loading equipment and offers better filling characteristics than the longer 6x6 ADT bins of the same volume.
Talking about how new technology has impacted on their equipment, Tristan du Pisanie, Bell Equipment's ADT marketing manager, said, "Machine automation has become entrenched in our machinery, which was not the case in the earlier iterations. The introduction of automation has made machinery much safer to operate and provided increased productivity.
"Bell Equipment is an industry leader in ADT innovation and this is evident in the number of first-to-market features that have been developed using technology. Examples of this include the one-touch tipping feature (i Tip), the use of an inclinometer to track rear chassis angle for preventing unsafe tipping (TipSafe) and automatically applying the park brake when the operator selects neutral."
The Bell B45E 4x4 will enter the market in April 2019 following its launch at Bauma, with the first machines planned for delivery early this summer.
Original equipment manufacturer Caterpillar has a history of producing both rigid and ADTs and at the Bauma Munich show presented a redesigned version of the 777G rigid hauler. The 777G, which replaces the 777F, has a rated payload of 98.4 tons (89.2 tonnes) and a standard-body volume of 64.1 m3.
The 777G has two operating modes, Standard Economy and Adaptive Economy. Standard Economy saves fuel by reducing engine power by 0.5 to 15%, based on the fleet and economic conditions at a particular site.
The rigid hauler's major structures are said to be designed for long-term durability in harsh operating conditions, engineered to endure through more than one power-train life cycle. The truck's design also emphasies improved visibility, to both the work area and instrumentation, and overall visibility is further enhanced with an optional object-detection system.
The Cat 32 ACERT engine meets US EPA Tier 4 Final as well as EU Stage V emission standards and is available in configurations to meet emission standards of less regulated countries.
Product specialists
Another new launch at Bauma Munich was Terex Truck's articulated hauler, the TA300. The hauler has incorporated the new EP320 transmission, which comes with two additional forward gears – eight in total – as well as four reverse gears. This is said to help ensure smoother gear shifting and improve operator comfort. In addition to this, Terex Truck's claim that the TA300 delivers a 5% improvement in fuel efficiency.
The TA300 comes with long-life transmission fluid, which has helped to increase the length of time between oil maintenance intervals from 1,000 to 4,000 hours. The hauler's maximum speed has also increased to 55 km/h, up from 50 km/h, meaning that customers can achieve faster cycle times, reduce the cost of operation per tonne and minimise their fuel consumption.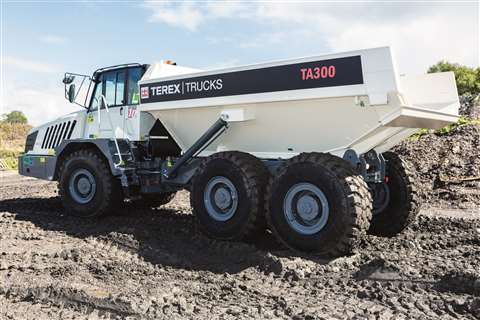 "Bauma is the biggest trade fair for our industry," said Paul Douglas, managing director, Terex Trucks. "It attracts all kinds of equipment from around the world, but for us, it's all about robust articulated haulers – that's the only product Terex Trucks manufactures. This gives us the luxury of being able to focus all our attention on this machine. We are the experts in all-things articulated hauler and have been for many decades."
Operator assistance
In 2017 John Deere launched two new models, the 260E and 310E, to round out their ADT range to five models. With the North American market making up around half of the total sales for ADTs this area is obviously a main focus for John Deere's ADT segment, although the other major markets targeted are said to be Latin America, Russia and North Africa.
Maryanne Graves, product marketing manager for ADTs, John Deere, said in an interview with International Construction magazine at Bauma Munich that a key focus was on making the equipment as easy to operate as possible.
"It is typically the least experienced operators on a job site that will use ADTs – we know that, so we make them as easy to operate as possible. We try and take it one step further with automation on some of the features, so the operators are productive and make money. Auto differential lock means that the truck will engage and disengage as it senses slippage, so it takes the guesswork out of it for the operator.
"We also have roll over protection – it is not uncommon for the bin of a truck to roll over. We have a roller protection system where you can go into the settings and decide the grade at which the truck can't dump, which could be 15 or 20%, or whatever they feel comfortable with. If the operator is on an incline greater than that then the tuck will not allow them to dump until they reposition it."
Stage V versions
Elsewhere, original equipment manufacturer Doosan is in the process of launching 30- and 40-tonne Stage V-compliant ADTs to replace its DA30-5 and DA40-5 models.
The DA30 was upgraded last year with a range of new features including a new cab, a self-levelling front suspension and a new tandem bogie system. These additions have been factored into the design of the new Stage V version.
As with other Doosan ADTs, the new models feature an articulation hinge behind the turning ring, providing equal weight distribution to the front axle – even during maximum steer articulation. This, said Doosan, combined with a free-swinging rear tandem bogie, ensured equal distribution of weight to each wheel and guaranteed permanent six-wheel contact and drive, allowing equal power distribution, and therefore improved performance, even over difficult terrain.
The new models, which feature a new-look front frame and bonnet, have upgraded 9- and 13-litre Scania engines. The new engines boast improved aftertreatment systems and have been tested for the past two years in both construction and mining environments.
Doosan said that in testing, both the electronic and hydraulic systems across both models showed improvement and that the vehicles offered extra functionality.
Deeper underground
When it comes to mining and quarrying on a large scale, rigid haulers have no equal, with their ability to carry a greater payload. Komatsu Europe has recently added a new model, the Komatsu HD1500-8 rigid dump truck.
According to the company, the mainframe, transmission and rear axle were designed with the latest technology and durability standards to enable owners to cut down on repair expenses, prolong overhaul intervals and reduce their total cost of ownership.
Komatsu has also made use of the latest developments in Information Communications Technology (ICT) to further improve the HD1500-8's reliability and maintainability, increase site and operator safety, and enhance productivity and efficiency.
"We are proud to introduce the Komatsu HD1500-8 and delighted to announce that this 142 tonne rigid dump truck is CE certified and now available for sale in Europe," said Jeroen De Roeck, product manager at Komatsu Europe. "It's a completely new machine, re-designed using principles developed by the Earth Moving Equipment Safety Round Table to ensure the highest safety standards."
At the Bauma Munich event Liebherr presented two electric machines for the mining segment, including the T236, a diesel electric driven 100 tonne mining truck. The rear axle is driven by an electric motor, which draws its energy from a diesel engine.
When gradients change while climbing uphill, mechanically driven heavy-duty vehicles need to switch gear. High forces act on the drive wheels during this load change. Grade and payload variation can result in inefficiency for mechanical drive trucks which limits the ability to maximise and maintain speed on grade.
The T 236 is said to take advantage of Liebherr's electric drive system innovations with the introduction of the vertically integrated Litronic Plus Generation 2 AC drive system. The T 236 performs its job with continuous power to ground to maximise speed on grade.
Since its first presentation to the public at MINExpo 2016 in Las Vegas, US, the T 236 has successfully completed its testing phase and is today operating at the Erzberg Iron mine in Austria. Another unit recently started operation in South Africa.
Electric power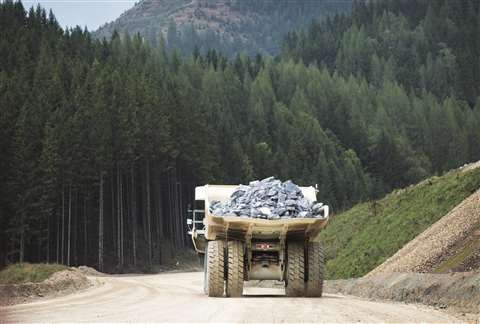 Talking about how electric power is used to help propel a machine of this size, Swan Blaise, general manager, marketing and business intelligence, Liebherr mining equipment, commented, "Liebherr's Litronic Plus AC Drive System, designed and developed in-house, converts electrical power into mechanical torque. Fewer electric losses translates directly into higher rim pull forces for faster cycle times and increased fuel economy.
"Combined with the diesel engine, Liebherr mining trucks yield higher speeds on grade, moving more material in less time. The electrical power train reduces hydrocarbon and filter usage, reduces fuel consumption per tonne moved, requires less service time, and reduces costs of waste handling and disposal."
Liebherr also announced updates to its mining truck range, such as the T 264. This machine has had its payload increased to 240 tonnes and has a new front wheel design and upgraded braking system.
These are both said by the company to offer quicker reaction times to increase safety for operators, particularly when going downhill.