Haulers: Innovation and articulation
By Mike Hayes16 April 2019
The European construction industry – which has seen solid growth for the past five years – has now plateaued and is expected to see a mild decline over the next year or two.
Anticipating this, many OEMs will be reigning in production of their excavators, cranes, aerial work platforms, and so on.
But haulers? Perhaps not.
Chris Sleight of construction analyst Off-Highway Research said, "The market for dump trucks has steadily improved this decade, with growth coming from the articulated truck segment, which has offset a general decline in rigid hauler sales.
"The future for the segment looks positive, thanks in large part to the HS2 high speed rail project in the UK. This is expected to use Articulated dump trucks (ADTs) as the main earthmoving machine, and could stimulate several hundred additional truck sales as a result."
"Although they are sold in relatively small numbers, the European hauler segment is an important one by virtue of the size of the machines. Last year, sales totalled some 1,800 machines – less than 2% of European equipment demand in volume terms, but the segment was worth more than US$600 million (€533.35 million)."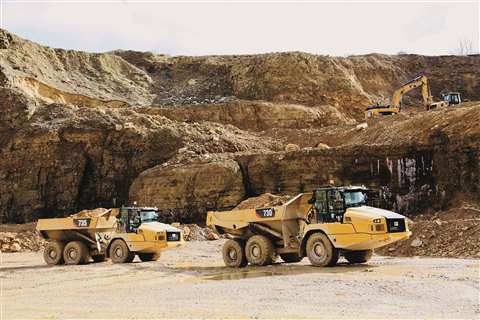 Caterpillar's 730 and 735 articulated haulers working together in a quarry
Sleight admitted that, in many sectors and weight classes, rigid haulers were struggling to compete with their more agile articulated counterparts.
He said, "ADTs outsell rigid dump trucks by about 5:1 in Europe. Their ability to traverse rough terrain without the need for a haul road makes them ideal for construction work, and they are also popular in mining and quarrying. The need for a haul road generally limits rigid dump trucks to the mining and quarrying segment.
HIgher payloads
"Their advantage is that much higher payloads are possible with rigid trucks than articulated machines, and they are also generally cheaper to buy per tonne of payload due to their more straightforward chassis design."
It should be noted that the ongoing and potentially long-term preference for articulated haulers on the huge HS2 project may have skewed the figures somewhat; time will tell whether rigid hauler – including those with new and innovative design features – can still make their mark in the field of construction. Whether they can or not, the requirements of the quarrying and mining industries are more than adequate to ensure OEMs will continue to develop new and improved models.
Volvo Construction Equipment, for example, recently launched a new rigid hauler range comprising the 45-tonne R45D, 60-tonne R60D, 72-tonne R70D and the flagship model 95-tonne R100E.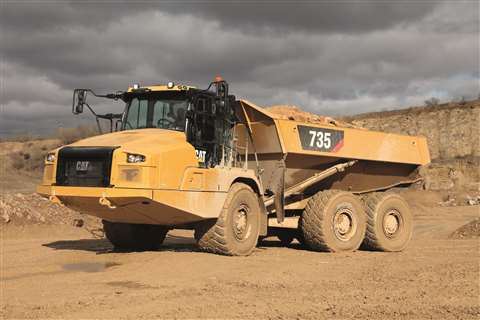 Initially targeting less-regulated markets, the range promises a combination of advanced safety features and low running costs – critical to the smooth operation of quarrying and mining interests.
As well as what Volvo describes as a durable design, with high component protection and longer life cycles, the new machines boast a competitive power-to-weight ratio, effective gearing and a weight distribution that aids traction, allowing the haulers to tackle steep gradients.
Trollope Mining Services, a contract mining company based in Johannesburg, South Africa, was involved in the field testing of the R100E.
Sagrys De Villiers, site manager at the Manungu Colliery, said the design offered a "good balance between productivity, fuel efficiency, comfort, ease of maintenance and safety." The hauler, he said, "will be a strong competitor in the rigid truck market in the future".
Based on the existing Terex Trucks TR-Series, development of the D-Series R45D, R60D and R70D rigid haulers follows an in-depth engineering standards review. The improvements that followed the review include greater visibility and safety systems, along with Volvo technical support and branding.
Thomas Bitter, senior vice president of marketing and product portfolio at Volvo CE, said, "We've been working on the new range since Volvo CE acquired Terex Trucks in 2014. The development of these machines has relied heavily on the longstanding rigid hauler expertise of Terex Trucks as well as customer input and the technological strength of the Volvo Group."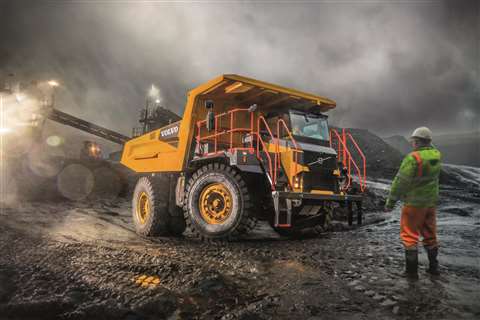 Volvo CE's R60D rigid hauler is put through its paces on a quarry haul road
Caterpillar has a history of producing both rigid and articulated dump trucks, but has recently undertaken an extensive redesign of three C-Series models, which are now the 730, 730EJ (Ejector), and the 735.
The new machines have revamped operator stations, with transmission-protection features, a new hoist-assist system, advanced traction control and stability-assist systems and a fuel-saving ECO operating mode.
The new models also include new Cat C13 ACERT engines and Cat CX31 transmission.
The 735 retains the automatic retarder control and hill-start features from its C-Series predecessor, while structural and dimensional modifications have reduced its empty weight by 22%. Cat said these alterations had given the truck a 19% gain in fuel efficiency.
Emissions standards
The C13 engine used across all the new models is available in configurations to meet emissions standards of both highly-regulated and lesser-regulated countries.
Inside the cabs of the new haulers, visibility has been improved with the removal of a structural pillar, in favour of a new 'spinal-ROPS' system. Other enhancements in comfort and productivity include climate control and improved seals to proof against dust infiltration, a seat that can be heated or cooled and a 7% reduction in sound levels inside the cab.
Safety additions include a new lighting system, controlled via a ground-level switch, which illuminates the cab's entry steps and hitch area, plus cab-mounted mirrors, including a front-visibility mirror, enhancing all-around visibility for the operator.
Across all models, the Cat Detect/Stability-Assist system monitors the working angle of the tractor and body, as well as the grade, and cautions the operator if the machine is approaching the set threshold angle, stopping the dump process if continued action may result in potential tipping.
The 730 EJ can eject loads while travelling, ensuring the entire load is dumped. Its design also allows the truck to operate in areas with overhead restrictions and with soft underfoot conditions with improved stability.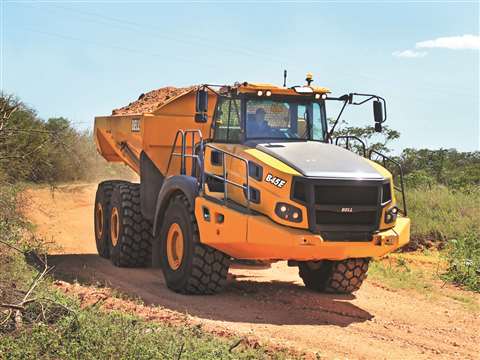 Bell's B45E ADT is powered by a 390kW inline six-cylinder Mercedes Benz engine
Further enhancing safe operation is the Cat Advanced Automatic Traction Control system, which features refined technology for proactively applying differential locks to avoid wheel spin. Also, a "terrain-based", throttle-smoothing system prevents acceleration surges when travelling over extremely rough terrain that makes keeping a steady pressure on the throttle pedal difficult.
Bell Equipment is another manufacturer benefiting from the growth in sales of haulers. It is set to launch its B45E, adding to its range of articulated 4x4 two-axle ADTs.
The truck is powered by a 390kW/2,460Nm inline six-cylinder Mercedes Benz engine. Combined with an Allison seven-speed automatic transmission, Bell said the B45E could offer an impressive combination of driving performance and low fuel consumption.
A rigidly-mounted axle supplied by German manufacturer Kessler with twin tyres allows for a nominal payload of 41 tonnes.
At the front, the truck is designed to tackle challenging underfoot conditions, with high lateral stability, but can optionally be equipped with the Bell Comfort Ride adaptive front suspension system.
Wet brakes on both axles improve deceleration and work in conjunction with the Jacobs Engine Brake to provide multi-stage programmable automatic retardation.
Inside the cab, the truck's sensors collect data in real time, including on-board weighing and pitch/roll data, to maximise productivity.
Another productivity boost comes when tipping, as the B45E has a few clever tricks up its sleeve, including optional body heating, to minimise carry-back. Also, with a maximum tipping angle of 55° relative to horizontal, the short bin body reaches a tipping height of just 6,394mm – beneficial when operating with overhead structures.
Comparing the performance of ADTs and rigid haulers, Tristan du Pisanie, Bell Equipment's ADT marketing manager, said, "With comparable performance to rigid dump trucks on well-tended, dry underfoot conditions, the two-axle articulated trucks score in all-weather conditions when the haul roads deteriorate or become slippery.
"Additionally, the loading site is often a challenging environment to negotiate and undulations are common. The all-wheel drive and oscillation joint configuration are the reasons for this and they also provide for safer machine operation. This means that the machine is also suited to stripping or overburden work, which provides higher utilisation and improved return of investment."
Another major advocate of articulated machines is Scottish-based Terex Trucks, which recently updated its TA300 ADT, designed with large-scale construction projects, infrastructure developments and quarries in mind.
The truck's EP320 transmission has eight forward gears and four for reverse, allowing smoother gear shifting for enhanced operator comfort.
Terex said the new ADT also delivered a 5% improvement in fuel efficiency, as well as an uplift in both performance and productivity.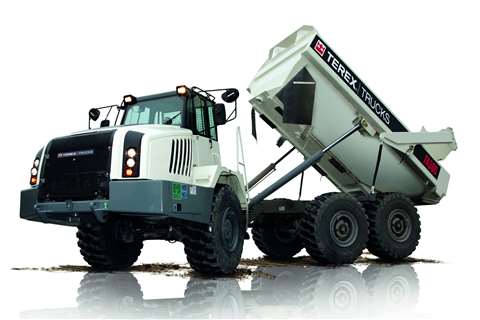 With long life transmission fluid the TA300 promises oil maintenance intervals extended from 1,000 to 4,000 hours.
Terex has upped the ADTs maximum travel speed from 50 to 55km/h, reducing cycle times and the operating cost per tonne.
The machine can haul 28 tonnes and has a heaped capacity of 17.5m2.
Terex said the hauler's independent front suspension had the dual benefit of enhancing operator comfort and giving the machine greater traction control.
Maintenance
From a maintenance perspective, the TA300's benefits include ground level test points, a fully tilting cab and an electronically raised hood, making servicing easier and reducing downtime.
Paul Douglas, the company's managing director, said, "The upgraded TA300 was rigorously tested for nearly two years internally and by operators on real job sites, working in a variety of conditions."
The largest ADT in the company's range is the Generation 10 TA400. This 38-tonne machine boasts a six-cylinder Scania DC13 engine, plus an Allison HD4560 transmission. A planetary gear transmission aids smooth gear shifting, optimising fuel consumption and reducing operation costs.
In both the TA300 and 400 models, cabs have upgraded heating, ventilation and air conditioning systems, while offering greater airflow and reduced noise levels, for operator comfort and alertness. Meanwhile, improved sealing and a pressurised cab reduce the risk of heat, moisture and dirt entering the cab space.
Doosan is in the process of launching 30- and 40-tonne Stage V-compliant ADTs to replace its DA30-5 and DA40-5 models.
Last year, the DA30 was upgraded, with a range of new features including a new cab, a self-levelling front suspension and a new tandem bogie system. These additions have been factored into the design of the new Stage V version.
As with other Doosan ADTs, the new models feature an articulation hinge behind the turning ring, providing equal weight distribution to the front axle – even during maximum steer articulation. This, said Doosan, combined with a free-swinging rear tandem bogie, ensured equal distribution of weight to each wheel and guaranteed permanent six-wheel contact and drive, allowing equal power distribution, and therefore improved performance, even running over difficult terrain.
The new models, which feature a new-look front frame and bonnet, have upgraded 9- and 13-litre Scania engines. The new engines boast improved aftertreatment systems and have been tested for the past two years in both construction and mining environments.
Doosan said that in testing, both the electronic and hydraulic systems across both models showed improvement and the vehicles offered extra functionality.
Further changes to the new haulers include the lowering of both the diesel and AdBlue tanks, which now allow ground-level filling by operators.
Also easily accessible are the greasing system and transmission filters, making routine maintenance simpler and safer, while additional hand rails outside the cab provide increased safety for operators.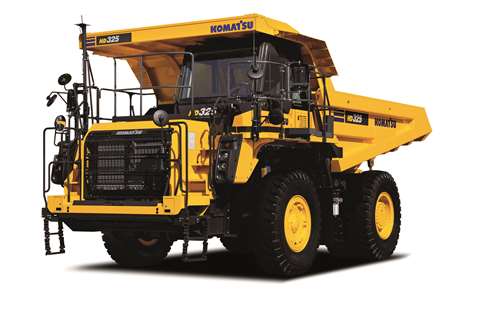 The Komatsu HD325-8 hauler delivers 386kW at 2,000rpm – 5% more power than its predecessor
While market share for ADTs grows, particularly in the field of construction, some of the biggest companies in the industry are continuing to design and construct rigid haulers, with advanced technology both inside the cab and under the bonnet.
Why? Because, when it comes to large-scale mining and quarrying, rigid haulers really come into their own, with their better per-tonne economy and a historic durability that has tended to provide greater uptime and longer maintenance intervals.
Liebherr recently introduced its T 236 100-tonne mining truck, with Litronic Plus Generation 2 electric drive technology. The hauler was developed to hammer home the rigid's cost per tonne advantage in this weight class.
The T 236, which is currently undertaking field operation trials at the Erzberg Iron mine in Austria, is Liebherr's first hauler in the 100 tonne class.
As the first diesel electric truck in this weight class to carry an oil-immersed braking system with four corner retarding capabilities, the T 236 promises enhanced braking performance.
The truck's high take off torque and continuous power to ground capability should also reduce its sensitivity to grade and payload variations, increasing productivity.
Liebherr said enhanced safety was also high on its agenda when designing the T 236, which has its Litronic Plus Isolation system. This includes double pole battery, starter motor and hoist system isolators as standard. Added to this is a drive system inhibitor, electrically locked to grounding devices for each plug and drive power module.
For ease of maintenance, the truck has an in-line electrical power train layout, aimed at minimising cable length, plus maintenance-free IP 68-rated plug-and-drive power modules.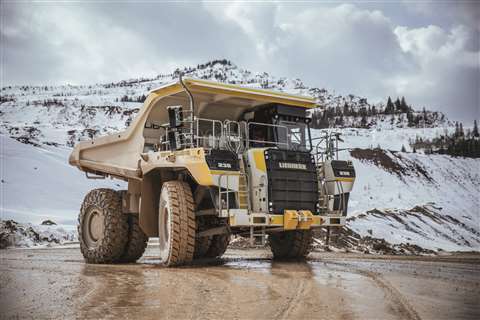 Liebherr's T 236 100-tonne rigid hauler has Litronic Plus Generation 2 electric drive technology
The operator experience is improved with the truck's front-wheel suspension system, plus a new-look ergonomic cab interior.
Meanwhile, the Active Front End technology uses the electrical energy stored during braking and delivers controlled engine speed with extremely low fuel consumption.
The truck's powertrain components are designed by Liebherr and promises enhanced efficiency and performance, while the variable hydraulic system provides a balance between the need for power and the benefits of reduced fuel consumption.
Competing with ADTs
Another manufacturer putting its weight behind the rigid hauler is Komatsu, which offers a range of trucks from 36.5 tonnes up to 146 tonnes. In the lower weight classes these models will compete head-to-head with ADTs, but Komatsu believes its haulers' combination of efficiency, reliability, safety and comfort will see them maintain their market share.
As an example, its HD325-8 rigid hauler promises enhanced performance, from an engine that delivers 386kW at 2,000rpm – a 5% increase in power on previous models. Komatsu said the more powerful engine delivered greater acceleration and shorter cycle times, leading to improved productivity.
The HD325-8's variable displacement piston pumps also reduce loss of power take-off, while improvements in hydraulic pressure for transmission control promise energy savings, and the electronic control of the engine operation, said Komatsu, helps achieve optimal energy efficiency.
The rigid's EU Stage V engine has the latest Komatsu cooled exhaust gas recirculation technology, ensuring low NOx emissions and improved engine performance. The engine's high-pressure common rail fuel injection system is computer controlled, while a variable geometry turbo improves air flow to the combustion chamber, leading to cleaner exhaust gas, better fuel economy and enhanced power.
The engine's aftertreatment system includes selective catalytic reduction, which injects AdBlue at the correct rate to break down NOx into a combination of water and nitrogen gas – ultimately, said Komatsu, reducing NOx emissions by 80%, compared with Stage IIIB engines.
For the operator, an adjustable air-suspended seat dampens vibrations, while hydro-pneumatic suspension gives the truck an improved ride, with reduced pitching.
The integrated cab floor makes the cab airtight, reducing noise levels, while a sound-insulated muffler and viscous dampeners bring the levels down further.
Visibility in the latest rigids from Komatsu is enhanced by means of a laminated-glass windshield and wide side windows. Beyond this, the trucks boast a rear-view camera and monitor as standard, as well as three additional under-view mirrors and four rear-view mirrors to minimise blind spots.
Supporting documents
Click links below to download and view individual files.