Haulers: Tipping point
By Thomas Allen21 May 2018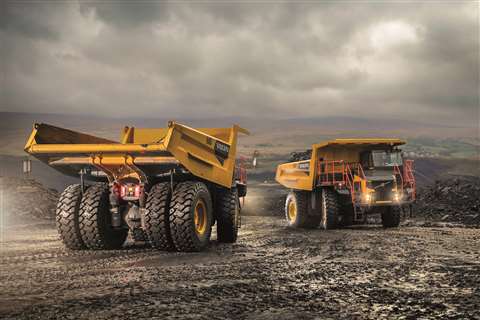 The articulated dump truck (ADT) sector looks to be one of the more promising areas of the European market over the next five years, according to specialist forecaster Off-Highway Research.
Sales are expected to increase 16% by 2022, whereas the equipment market as a whole is expected to tail-off by between 7% and 8% from its current high levels.
The key market for this type of hauler in Europe is the UK, which in 2017 accounted for 42% of European demand. It is this market that is expected to drive growth over the next five years, as the HS2 high-speed rail project gets underway, with its stated methodology of using ADTs as the main type of hauling equipment.
However, in Europe as a whole, at some 1,745 unit sales in 2022, the sector would still be well below the 2,000-plus machine market that existed in the early 2000s, and of course well below the peak of just over 3,000 machines sold in 2007.
Similarly, the rigid hauler segment is set for 17% growth between now and 2022. However, it is starting from a very low level. European volumes have languished around 200 to 300 units per year for the decade since the global crisis, compared to 400 to 600 units per year for most of the 1990s and 2000s.
The growth that is expected over the next five years is therefore a reflection of replacement activity that cannot be put off any longer in the mining and quarrying sectors.
Perhaps prompted by the buoyancy of the market, Volvo Construction Equipment (Volvo CE) announced at the start of this year that it would be entering the rigid hauler market with a complete, Volvo-branded range.
The four haulers in the range will initially be launched in less regulated markets in the second quarter of 2018.
Developed using the expertise of Volvo CE's subsidiary Terex Trucks at the Motherwell facility in Scotland, the range comprises the 40-tonne R45D, 54-tonne R60D, 65-tonne R70D, and flagship 90-tonne R100E.
Based on the existing Terex Trucks TR-Series, development of the D-Series R45D, R60D and R70D models followed an in-depth engineering review to ensure that the machines meet the standards expected from Volvo products in their target markets and segments. These haulers benefit from technical support and feature improvements to their safety systems and visibility from within the cab.
As a result of Volvo launching this range of own-branded rigid haulers, production of Terex Trucks rigid haulers will eventually cease.
Thomas Bitter, senior vice president of the marketing and product portfolio function at Volvo CE, said, "Our purchase of Terex Trucks in 2014 was a strategic decision that allowed Volvo to offer customers a rigid hauler option.
"Since then, we've been working to design a completely new rigid hauler that builds on Terex Trucks' 84-year heritage, while also incorporating Volvo CE's industry-leading technology and core values of quality, safety and environmental care. Today we move to the next stage, and the new Volvo machines – especially the E-Series R100E – are the outcome of this work."
All-new
The all-new E-Series R100E was said to have been designed to deliver high performance and productivity, low total cost of ownership, easy serviceability, and good operator comfort. Its high capacity and hauling speeds, new V-shaped body, efficient hydraulics, intelligent monitoring systems, and operator environment come together to make a machine that can move more material in less time, according to the company.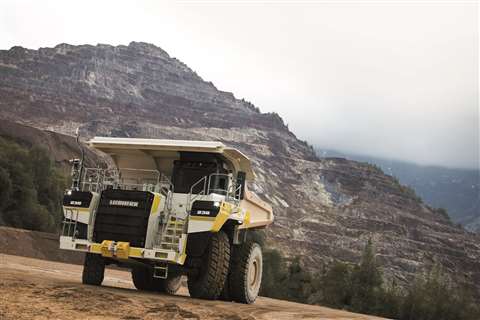 Paul Douglas, Volvo CE's vice president of rigid haulers and Terex Trucks, said, "Terex Trucks' rigid haulers are known for performing well in tough conditions, while also being easy to maintain and delivering low cost of ownership.
"Our proven design has provided a strong DNA on which to help develop Volvo CE's innovative entry into this product line. The new E-Series R100E is a completely new machine that delivers stability, a long service life, high profitability, durability, and comfort. And moreover, it's quick and simple to operate and maintain."
The new rigid haulers will be manufactured at the rebranded Volvo Motherwell production facility in Scotland and sold exclusively through Volvo's dealer network.
It should be noted, though, that this announcement has no bearing on the Terex Trucks-branded ADTs, which will continue to be distributed through the pre-existing Terex Trucks independent dealer network.
Another high-capacity rigid hauler that has been introduced recently is Liebherr's 100-tonne T236 mining truck, which represents the company's entry into the 100-tonne class.
It was said to capitalise on decades of experience in off-highway truck technologies by taking advantage of Liebherr's electric drive system innovations. The company's vertically-integrated Litronic Plus Generation 2 AC drive system has been introduced on this new rigid hauler.
The system introduces advanced Active Front End technology, which is designed to make efficient use of electrical energy during retarding events so that a controlled engine speed can be achieved with very little fuel consumption.
Also, the truck's variable hydraulic system reduces machine parasitics to provide maximum power, while lowering fuel consumption when power is not required.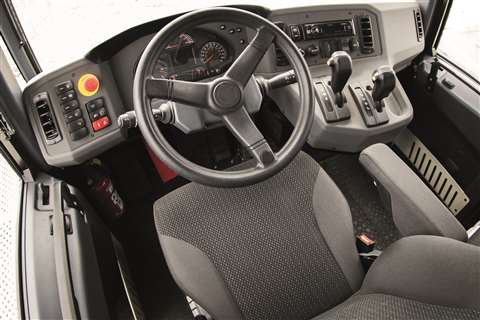 Liebherr said that all components of the T236 had been designed and built to perform and last in the most extreme mining conditions, so as to extend the time between component overhauls.
Ease of servicing and safety of operation were key concerns in the development of this new hauler. To ensure the safety of maintenance technicians and bystanders, the T236 is equipped with double-pole battery, starter motor and hoist system isolators as standard. In addition, the truck provides a drive system inhibitor that is electrically interlocked to grounding devices for each plug and drive power module. As it operates on 690VAC and 900VDC, regular site technicians are able to carry out system maintenance.
Also, Liebherr's Litronic Plus Isolation system – which was said to be an industry-first – helps to ensure the safety of maintenance personnel through the elimination of hazards by design.
Meanwhile, the ergonomics cab and front wheel suspension system aim to help make the T236 comfortable to operate.
With its high take-off torque and continuous power-to-ground capability, the T236 is less sensitive to grade and payload variations, providing enhanced productivity. It was said to be the first diesel electric truck in its class to incorporate an oil-immersed braking system with four corner retarding capabilities, providing reliable braking technology.
The T236 recently completed its testing phase and has started its first field operation trials at the Erzberg Iron mine in Austria.
With a similar focus on reduced fuel consumption and operator comfort, Komatsu Europe has also added two new models to its family of rigid haulers.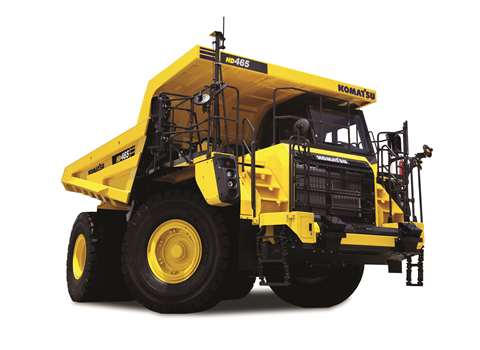 The HD465-8, with a payload capacity of 55 tonnes, and HD605-8, with a capacity of 63 tonnes, replace the HD465-7 and HD605-7 models.
They are both driven by a Komatsu SAA6D170E-7 engine that has had its power increased to 578kW. Fuel consumption was said to be reduced by this latest engine technology, as well through the use of an automatic idle shutdown function.
The optional Komatsu Traction Control System (KTCS) automatically applies the brakes independently to achieve optimum traction in varying ground conditions. As the system operates without the need for a differential lock-up, steering performance is not compromised, said the company. In addition, the Automatic Retard Speed Control (ARSC) automatically maintains a selected downhill travel speed that is appropriate for the grade.
Jeroen De Roeck, product manager at Komatsu Europe, said, "With the integration of the latest Komatsu engine technology, and increased power, the new HD465‐8 and HD605‐8 are designed to offer maximised productivity and low operation costs.
"The new spacious and ergonomic operator cab, with fully-adjustable, heated and ventilated operator seat, provides a first‐class comfortable work environment."
Fleet management and support is offered by the Komtrax Plus telematics system, which provides key metrics such as fuel consumption, and the Komatsu Care maintenance programme. With these services, the machine can be protected against misuse, and uptime and efficiency can be maximised.
As standard, the two new haulers also come with an 18cm LCD colour monitor that is visible even in harsh lighting conditions, a dedicated rearview monitor, a fast-fill fuel system, an engine compartment light, and a heated and ventilated operator's seat with air suspension. Front access has been improved by the introduction of sloped stairs and handrails, in place of the previous ladder configuration.
The payload of each hauling cycle can be monitored using the payload meter, making it possible to analyse the truck's production volume over a given period. The load weight is displayed in real time, both on the monitor inside the cab and on the outside of the machine.
Enhanced by redesign
Caterpillar has launched three new ADTs, which have been redesigned to enhance the features and performance of the company's C-Series predecessors.
The new 730, 730 EJ (Ejector) and 735 have a new operator station that features Cat's new external spinal-ROPS design, which incorporates a rear-quarter glass that eliminates the structural pillar used in the C-Series design, thereby enhancing rear visibility. Optional long-range LED work lights also help with visibility.
The door is of a lighter, stronger design, with shut-assist for improved sealing against dust infiltration, and when it is opened, the machine's displays are initiated by a wake-up function. To improve operator comfort, sound levels inside the cab have been lowered to 72dB – a reduction of
7dB compared to previous models – and the new automatic climate-control system positions more vents above and behind the operator for greater efficiency of heating and cooling.
Also, solar heating inside the cab can be minimised with the use of optional infrared glass, and personal comfort settings can be dialled into the new temperature-controlled seat, which also has extra cushioning.
For added safety, a new lighting system controlled via a ground-level switch, illuminates the cab's entry steps and hitch area. Safety is also enhanced by Cat's Advanced Automatic Traction Control system, which features refined technology for proactively applying differential locks to avoid wheel spin.
Since it can be difficult for operators to maintain a steady pressure on the throttle pedal when travelling over particularly rough terrain, the new haulers come with a throttle-smoothing system that prevents acceleration surges in such situations.
Optional Cat Connect Payload technology calculates the hauler's payload via sensors on the walking-beam suspension. There is also the option of having integrated payload lights that provide an external indication of payload levels for loader operators. Load-status lights on all four corners of the cab roof ensure visibility to the loader operator from any angle.
The standard Cat Detect/Stability-Assist system monitors the working angle of the tractor and body, as well as the grade, and alerts the operator if the machine is approaching the set threshold angle. The dump process is automatically stopped to mitigate any risk of the machine tipping over.
The 735 is powered by a Cat C13 ACERT engine, with a rating of 319kW, replacing the 329kW Cat C15 ACERT used in the 735C.
Meanwhile, the 730 and 730 EJ continue to use a Cat C13 ACERT engine that is rated at 274kW. The C13 engines used in the three new trucks are available in configurations that meet the emissions standards of both highly-regulated and lesser-regulated countries.
Niche market
Bell Equipment is aiming at a more niche market with its new 28 tonne-capacity B30E 4x4, which demonstrates the progress made by Bell in the development of its 4x4 concept.
The new ADT, which will be on show at Intermat, was said to be best suited to small and medium-sized quarries with integrated aggregate production facilities, as well as some other specific markets, such as tunnelling.
It was said to supplement the company's traditional 6x6 ADT range by providing a practical alternative to those customers who have had to choose between tipper trucks, rigid dump trucks and 6x6 ADTs.
Although it does not possess the extreme off-road capabilities of a 6x6, the B30E 4x4 was still said to offer sound all-weather characteristics on undulating haulage roads and light terrain. It has also been designed to provide better manoeuvrability in confined material handling areas or stock yards.
Having one less axle means that there is no tyre scuffing, resulting in significantly less tyre wear compared to 6x6 applications on hard ground. On the front axle, typical 23.5R25 tyres are used, whereas the more load-bearing rear axle uses 29.5R25 tyres commonly found on 40-tonne ADTs.
The oscillation joint ensures that all four wheels maintain permanent contact with the ground, while also keeping the load distribution well-balanced – 50:50 when empty, and 33:66 when loaded.
All in all, Bell said the B30E 4x4 proved itself to be superior to rigid tippers or tractor-trailers at load and dump areas, or in wet conditions.
Since it is based on Bell's 6x6 model and shares the same front chassis and oscillation/articulation joint, the B30E 4x4 has a 246kW Mercedes-Benz engine and six-gear Allison automatic transmission with integrated automatic retarder. Data is collected in real time from the truck's sensors – such as on-board weighing, and pitch and roll sensors – and fed to the software embedded in the hauler's control system.
The outer turning circle diameter of the B30E 4x4 is 14.5m, which makes manoeuvring in narrow loading or tipping spaces easier and faster.
Managing director of Bell France, Céline Guttierrez, said, "Bell has been offering the 30-tonne 4x4 concept to certain niche applications for a number of years, as there have been customers who have recognised the distinct benefits that this configuration has to offer. The market acceptance of the B60E 4x4 has exceeded our expectations and the wider market now sees the benefits of this configuration, and we look forward to this model and the B30E 4x4 growing from niche products into well-recognised haulage solutions."