Haulotte choose Delta-Q battery chargers
By Lindsey Anderson09 October 2017
Haulotte North America has selected Delta-Q Technologies as a charging solutions supplier for their towable boom lift line, which includes the 3522 A, 3632 T, 4527 A, and the 5533 A.
Haulotte will use Delta-Q Technologies' 24V IC650 industrial and motive battery charger on all four of their articulate and telescopic trailers. Designed for heights between 35-79 feet, Haulotte's trailers provide superior productivity for skilled tradesmen and communities. The trailers feature hydraulic outriggers and automatic leveling to allow operations in under 30 seconds. Its compact and lightweight design ensures it can be towed to any site with a half-ton pick-up truck.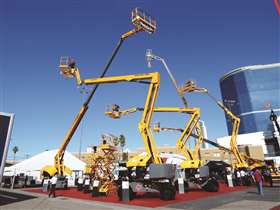 "We are pleased to be collaborating with Delta-Q Technologies. Their IC650 battery charger is known in the aerial work platform markets for its reliability, and including their chargers in our products will support our customers in owning machines that are ready to run with little maintenance," said Steve Watts, Haulotte's VP of sales.
Trent Punnett, vice president of sales, marketing, and product management at Delta-Q Technologies, added, "Being selected by Haulotte North America is a major accomplishment for Delta-Q Technologies. The Haulotte Group is known to offer some of the industry's leading products and this contract means Delta-Q has met the expectations of their experienced engineering organization."
The IC650 Charger is designed to meet the high reliability and performance expectations of the aerial work platform market. With a unique sealed die cast enclosure, the IC650 provides automotive levels of reliability and class-leading service life when mounted on-board. Capable of charging lithium-ion and lead acid (wet, gel, AGM) batteries, the IC650 provides superior equipment uptime, flexibility for different battery chemistries and the ability to resist and tolerate high levels of vibration, shock, fluids and dirt.
The IC650 battery charger is part of a product group from Delta-Q called the IC Series. All IC Series chargers are sealed, built for reliability and record critical charge data such as power returned to the battery, charge cycle completion or interruption, and the charge profile being used. The IC Series chargers address the need for serviceability through a USB host port that allows charge cycle data to be downloaded, or new software and charge profiles to be uploaded.