Haulotte fully trained in China
By Euan Youdale12 November 2019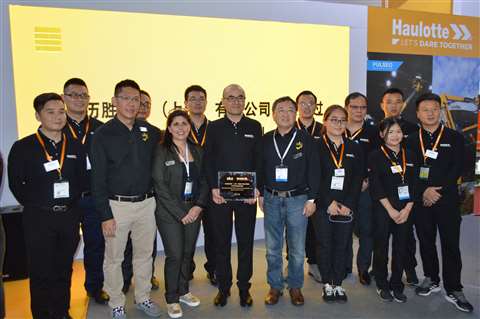 All 42 of Haulotte's staff in China have gained IPAF PAL cards. The manufacturer, which is the largest IPAF training centre in China, trained all its employees, including salespeople, administration staff and technicians.
The company also has a qualified senior instructor, William Fu, the first in China, who can now train other staff to become certified IPAF instructors.
Since it became an IPAF training centre in 2015, Haulotte China has put more than 150 people through IPAF training, including its own employees. It is growing its training activities dramatically, having trained more than 60 people to date this year, compared to 29 last year.
IPAF's operator training scheme is growing slowly in China, with around 90 operators trained in the first 10 months of 2019. The training numbers remain modest in comparison to the size and growth of the Chinese aerial platform rental fleet, which currently numbers more than 100,000 units.
Haulotte was honoured by IPAF during APEX Asia. Pictured is Wang Zhijun, Haulotte General Manager for China (centre, with plaque), flanked by IPAF's Romina Vanzi, Head of Regional Development, and Bai Ri, IPAF's China representative. Third from right is Raymond Wat, IPAF's Regional General Manager for South East Asia.