Haulotte NA opens California branch
By Lindsey Anderson08 October 2019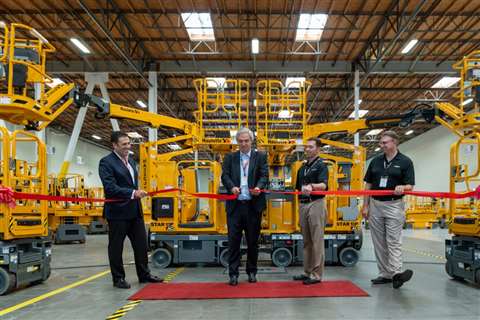 Haulotte North America has opened a Long Beach, CA branch to expedite machine distribution across the U.S.
The branch hosted both an internal ribbon-cutting ceremony and an inauguration event in conjunction with its 2019 Open Days for customers. Alexandre Saubot, CEO of Haulotte Group, cut the ribbon that inaugurated the California branch and offered a toast to the attending employees. The new branch will serve as a machine distribution center.
"We are excited to finally announce the opening of our Long Beach branch here in California," said Carlos Hernandez, zone manager for Americas. "The opening has been part of our strategic plan for several years, in order to better serve customers, especially those on the west coast."
U.S. General Manager Shawn Boone said, "The opening of this branch further signifies Haulotte's commitment to the North American market and our pursuit of customer satisfaction. We hope the new branch will better facilitate customers in the West Coast and support our existing North American headquarters in Virginia Beach, VA.
"The new branch will expand current inventory and machines will be ready to ship out immediately. Boone continued. "One of the main goals of opening the branch in Long Beach is to cut down on transit time. We will be importing machines directly to the Port of Long Beach from our manufacturing facilities overseas in addition to our plant in Archbold, Ohio."
Haulotte North America also hosted its third annual Open Days event with more than 20 customers.
"The event was a success; we were happy to share this moment with some of our top customers," said Boone.