Haulotte opens new headquarters
By Euan Youdale22 September 2020
After 17 months of construction work, the new Haulotte headquarters is open.
Named H3 (Haulotte Higher Headquarters), the new premises, based in Lorette, in the Loire region of France, welcomed some 350 employees during the third week of September.
Alexandre Saubot, CEO of Haulotte, said, "H3 is an important investment that opens a new era in Haulotte's history. This new step is part of the transformation of our group to provide a head office that reflects its values and strategy."
The three-storey complex, designed by the architectural firm Eutopia, is based on a 31000 square metre site, and has been designed to offer employees a high-quality working life. The three buildings, named Europe-Africa, Americas, and Asia-Pacific, reflect the worldwide people and material lifting sector.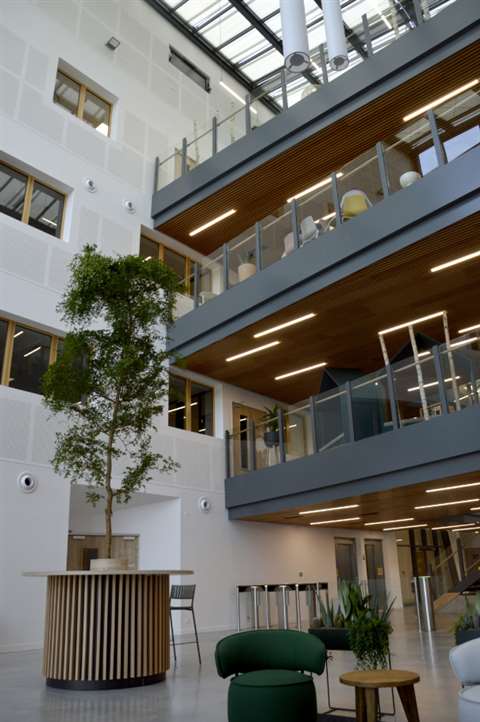 Connected by an immense glass roof and walkways, the buildings offer bright interior spaces with areas designed for interaction that encourage collaborative work in state-of-the-art thermal and acoustic comfort. A business centre is designed to receive the group's partners and provide training courses from its new Haulotte Academy. Finally, a company restaurant, Le Bistrot, in which the chef favours local producers, rounds out the building, while charging stations for electric vehicles in the car park complete the facilities.
Adjacent to these three buildings is a 2500 square metre covered space, dedicated to equipment innovation and prototypes. This space also houses a showroom to present the group's industry expertise and host events for customers and employees.
Patrice Métairie, the Group's COO, Industry, who is in charge of this major project explained, "Architecture and the work environment strongly influence our ways of working and collaborating, but also our creativity and commitment, and therefore our collective performance. It is to meet these challenges, and in line with our values, that the H3 working environment was designed and created by our employees, for our employees."
Some 130 employees were on the committee that influenced the design of the building, including the catering area, decoration, names of the buildings and work spaces, along with the re-organisation of the group's various departments and its new H3 emblem.