Have a niche you need scratched? ALH highlights the opportunities for rental companies
By Lindsey Anderson14 January 2010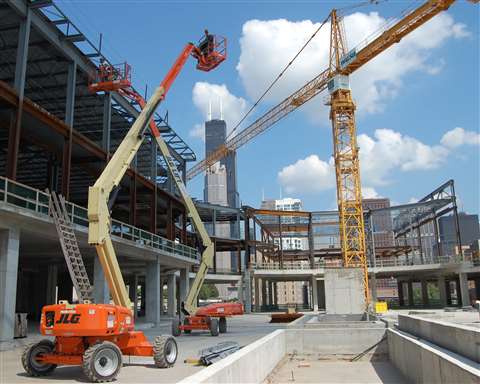 "With 'green' machines in your fleet, you can satisfy more of a customer's needs and become a more valuable rental resource," says Larry Workman, owner of Illini HiReach. "And in the rental business, the more service you provide to your customers, the more often your phone will ring.
Workman, who has booms and a large number of emission-free JLG electric scissor lifts in his fleet, recently supplied a Chicago-based job with an electric JLG boom. The jobsite, the Roosevelt Connection, called for a lift that had an almost zero-emission requirement yet also the need for a 60-foot reach. On top of that, the lift needed to weigh less than 15,500 pounds.
Metal enclosure contractor Crown Corr, Inc. of Gary, IN who was working on the 8-acre retail and residential project, called on Illini HiReach of Lemont, IL to provide a lift for the second-level retail plaza. Workman knew just the right machine for the job - a JLG E600 electric boom lift. The unit is an emissions-free, 60-foot reach platform that weighs 12,500 pounds.
Featuring all-wheel drive, automatic traction control, an oscillating axle and non-marking tires, the lift was exactly what Mel Lolkema, Crown's project superintendent was looking for. "We used these machines when we worked on the Indianapolis airport," he says. "They worked hard and lasted all day on a single charge. I told Illini to send me two of them."
The E600 proved its prowess. "The JLG is so quiet that our crews can actually hear each other when they talk," Lolkema says. "On most jobsites, the gas and diesel-powered machines are noisy."
Other access
Some jobsites, whether tricky to access or which have specific equipment requirements, call for the use of unique types of niche machines. The industry has seen a few new additions to this sector lately, from the above-mentioned green units to compact units.
German manufacturer Teupen USA, Inc. recently unveiled to the North American markets its new 'economy' tracked LEO13GT. The 42-foot model is designed to perform all kinds of jobs in the facility management sector, the company says, both indoors and outdoors, from wood refinishing and HVAC service and maintenance to pressure cleaning and remedial caulking.
The unit was designed with rental companies in mind, says Scott Reynolds, director of sales for Teupen USA. "[It] creates fields of business apart from the construction rental sector by adding rental customers from building maintenance and cleaning industries," Reynolds says. "A building is only under construction once but needs to be cleaned and maintained for its entire life cycle."
The LEO13GT has been manufactured with steel and high-end aluminum which affords the lift a working height of 42 feet and a side reach of 20 feet while weighing 3,087 pounds. The lift's basket is quite unique, too, Reynolds says, because of its hexagonal shape, allowing it to work alongside walls easily by eliminating the need to rotate the basket.
"Also, the new shape provides an optimal utilization of the basket area for two people," Reynolds says. "The 441-pound basket load with a full working envelope is absolutely unique in this working height segment."
Powered by an electric, 115-volt electric motor, the LEO13GT features an automatic leveling system that can be set up on slopes up to 13 percent. It also varies from other Teupen models by using anodized aluminum booms rather than dip coating, Reynolds says. "The track chassis and the hydraulic cylinders are treated using a specialized electro-coating process," he says.
Teupen's engineers have also lowered the total amount of components - by up to 40 percent compared to some similar types of lifts. Reynolds says engineers found room for less components in the lift's outrigger system, telescopic guiding rod systems and knuckle components. "The fact that the LEO13GT is laid out as a batch product gave even more room to save components, but without neglecting operator safety," Reynolds says.
For rental companies looking at price-performance ratio, Reynolds says the economically smart LEO13GT has a list price of $44,900. "In times of keeping costs low, the LEO13GT is a multifunctional cash cow guaranteeing a low total cost of ownership and a high return on investment."
To space and beyond
A specialist in niche access equipment is Muncie, IN based Lift-A-Loft Corporation. The company recently delivered a special lift system to a customer working in the aerospace industry. The customer had a critical inspection requirement that spread over a long distance at variable heights so the company designed and manufactured the MS42.
The MS42 operates off of 110-volt AC power and offers a low minimum platform height of 10 inches while allowing operators to elevate it to a maximum height of 42 inches. But what makes the MS42 stand out is its length - it was constructed with two detachable sections that give it a 37-foot length and 1,000 pound capacity. The entire platform can shift up 24 inches forward at any elevation. The two detachable sections are designed to remain synchronized when they are connected.
Go your own way
Haulotte/BilJax has seen one of its light-weight self-propelled machines work on a variety of applications, the company says, from outdoor landscaping work to a recent outdoor art exhibit in Grand Rapids, MI (pictured on the cover).
Displayed at the 2009 Rental Show, the 55XA is the company's newest addition to its X-Boom family. It features 45 percent gradeability, 4.5 mph drive speed and with its articulating, self-propelled boom, a 61-foot, 3-inch working height and 33-foot, 5-inch outreach. The unit weights 6,000 pounds.
Designed and engineered to give rental yards a low-weight unit that would reach 60 feet while still being able to be transported on a trailer behind a half-ton pickup truck, the 55XA gives renters flexibility with transportation as well as self-leveling that provides expanded access. According to the company, sensitive areas like sidewalks, irrigated lawns, sports fields and insides of buildings won't be torn up or ruined because of the unit's light weight.
"Many smaller rental houses don't have a fleet of delivery flatbeds or the manpower to make all the deliveries and pickups," says Brent Hagedorn, Haulotte/BilJax vice president of AWP sales. "This unit provides a greater return on investment than traditional 45- to 60-foot self-propelled AWPs.
One of the 55XA's most notable features is it increased drive smoothness to due incorporating a variable displacement pump. "This pump not only allows easier positioning but increases the machine's efficiency by reducing non-productive hydraulic fluid movement," says Jason Pickles, project engineer for Haulotte/BilJax.
Another towable option is Portable Lift Equipment, Inc.'s TP 9000 mobile scissor lift. The TP 9000 is a towable, auto-leveling scissor that doesn't require a trailer for transport. The unit has a 48-inch by 64-inch platform with a 30-inch rollout deck extension. The unit has a 28-foot working height and its deck can support 500 pounds, while the extension supports 250 pounds. The on-board battery charger comes standard and 110-vac power comes along, as well.
The TP 9000 has two 12-volt deep-cycle batteries that provide workers with anywhere from 50 to 100 lifts per charge. Outrigger legs provide stability, and an auto-leveling feature is an available option.