Health & Safety: Risky business
Genie has been raising awareness of safety in the aerial access industry
The construction industry is one of the most dangerous industries to work in, alongside agriculture and waste, according to the International Labour Organisation (ILO).
This is a challenge that needs to be faced but it is a difficult one, owing to the fact that the industry is so broad and diverse. There exist significant differences in terms of the maturity of safety culture across different regions and countries.
Dominique Vansteenkiste, high-risk safety leader at Honeywell Industrial Safety in Europe, the Middle East and Africa (EMEA), said "Larger companies, particularly in countries with advanced health and safety legislation, such as the UK and northern Europe, have now achieved relatively high levels of safety.
"By contrast, small and medium enterprises, which still account for up to 95% of construction businesses in the EU, often lag behind, probably due to lack of resources and fewer dedicated safety professionals."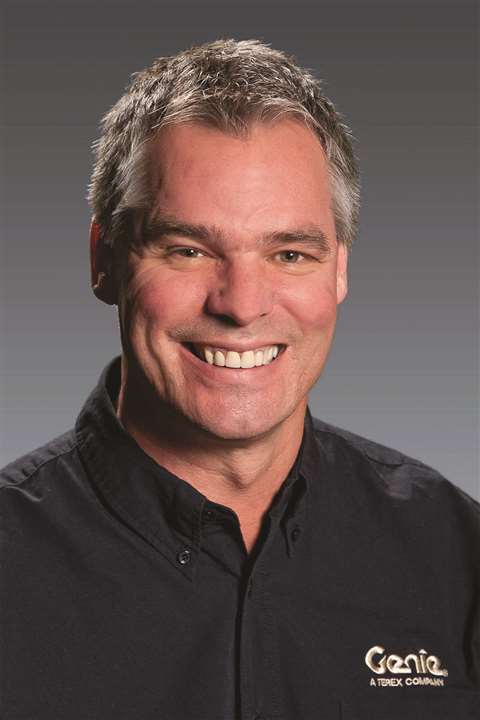 Scott Owyen speaks of the importance of health and safety education
However, there is hope. Companies are making an effort to improve jobsite health and safety on a number of fronts.
Commenting on education, Vansteenkiste added, "With safety training now being integrated in vocational education, the new generation of workers entering the industry is demanding higher standards from their employers and the protection they are given."
Understanding the risks
In relation to this, Genie – a Terex brand – has been raising awareness of safety in the aerial access industry.
The company released its Upcoming Changes to ANSI A92 & CSA B354 Standards presentation in support of the Occupational Safety and Health Administration's (OSHA) National Safety Stand-Down to Prevent Falls in Construction week in May 2017.
The presentation explained how and why the ANSI A92 standards in the US and CSA B354 standards in Canada were changing.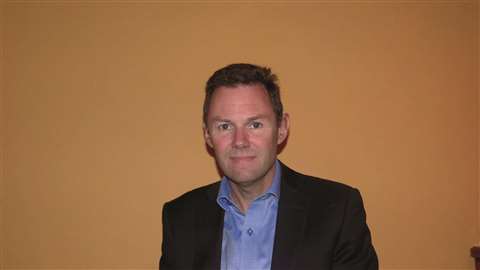 Dominique Vansteenkiste, high-risk safety leader at Honeywell Industrial Safety in Europe
Scott Owyen, Genie training manager, Terex aerial work platforms, said, "With the changes to the ANSI and CSA standards, there is a need for education, especially in the aerial market, about the implications of the new standards, as well as how they will work with current industry regulations."
According to the OSHA, fatalities from falls from elevation continued to be a leading cause of death for construction workers, accounting for 350 of the 937 construction fatalities recorded in the US in 2015 by the Bureau of Labour Statistics.
These figures are in line with statistics published by Health & Safety Executive that showed falls from height killed 97 construction workers over the past five years in Great Britain alone, representing 45% of all fatal injuries in the region.
These fatalities are primarily caused by fragile roof tiles, scaffolding and ladders – all of which could easily be prevented, according to Building Safety Group's technical manager, Chris Chapman.
He said, "To significantly reduce the dangers of working at height, construction companies should always try to complete as much work as possible from the ground, ensure safe access and egress and, very importantly, make certain that any equipment used is suitable, stable and strong enough for the job."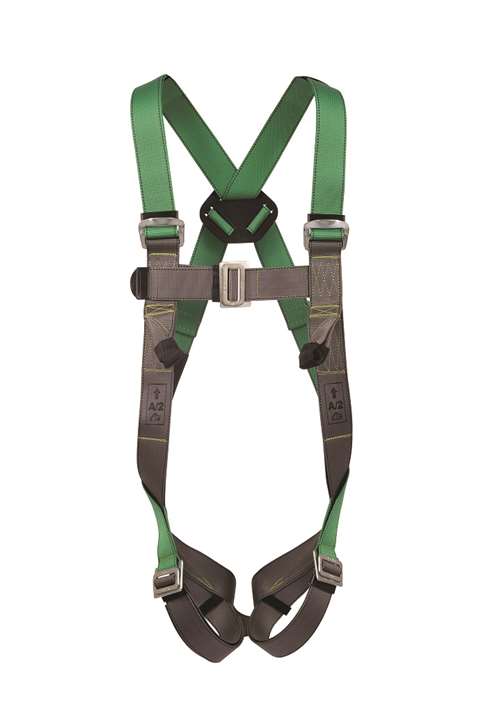 Harnessing safety
To this end, safety product manufracturer MSA Safety is launching a new range of safety harnesses and self-retracting lifelines.
The V Range is being produced at the company's new Product Development and Centre of Excellence in Devizes, Wiltshire, UK, and has begun with the launch of the V-Form fall protection harness.
The streamlined, high-specification solution is designed to be comfortable, light and easy to use.
It can be tailored to requirements with either three- or five-point adjustment, and the high-visibility alert feature shows if the equipment has been used in a fall.
Certified to take 140g, the harness is manufactured from materials that optimise durability, guaranteeing a ten-year lifespan.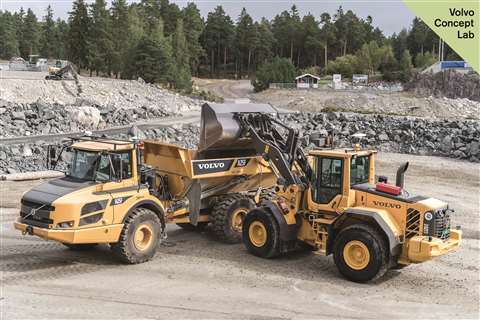 Automation on Volvo's L120 wheeled loader removes the operator from the equation
Simply sophisticated
Volvo CE has also been enhancing is machines so as to reduce the risk of falls and other accidents.
In an effort to enhance the safety of both operators and other workers in the vicinity of the machine, the company has innovated a range of solutions, from the simple addition of high visibility safety rails and ground-level service points – to avoid trip and fall accidents – to sophisticated machine control systems, such as Dig Assist, which negates the need for workers to enter the excavation area in order to take measurements.
Volvo's cabs are ROPS (roll over protection systems) compliant, and LED lighting along with brightly painted handrails guide the operator to the cab, where visibility from within is maximised.
Volvo Smart View has been introduced to avoid collisions by giving the operator 360 degree visibility and a birds-eye-view of the work area by fitting cameras to the front, side and rear of the machine.
The cabs are also designed to ensure operator comfort, since operator fatigue and lack of concentration are considered to be major factors in many site accidents.
The machines also feature overload indicators as standard, along with hydraulic attachment brackets and full dual circuit brake systems.
The brightly painted handrails on Volvo's machines help to prevent slip and trip accidents
In fact, Volvo is going one step further and trying to remove the operator from the equation entirely, thereby eliminating any risk of injury – to the operator, at least. Although its autonomous technology is still at the concept stage, the prototype L120 wheeled loader has actually done work at an asphalt plant in Sweden.
Technology has an increasingly important role to play in safety. Vansteenkiste said, "Connected safety solutions that integrate radio-frequency identification, sensors, software and cloud technology now enable safety managers to access vast streams of data, which can be used to ensure workers receive the right training in the use of their personal protective equipment (PPE) and collective protective equipment (CPE).
"They also help ensure that this equipment is up to date in terms of regulatory compliance, well-maintained and fit for purpose."
He added, "Not only does this intelligent, real-time data approach help prevent accidents, but it also enables businesses to streamline PPE and CPE compliance management and make informed decisions quickly.
"In doing so, businesses can reduce costs and downtime whilst increasing efficiency and productivity." Sub heading here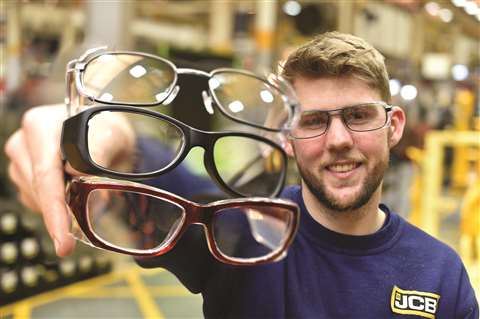 JCB has teamed up with Specsavers to develop a range of prescription safety glasses for construction workers
Wearable technology
The multinational construction and development company Skanska, based in Sweden, recently instigated a new technology initiative in Cincinnati, US, aimed at preventing jobsite accidents.
In collaboration with a team of researchers from the University of Michigan, it carried out an experiment using wearable technology on the construction site at Pleasant Run Elementary School in Mouth Healthy.
For three days, teams of three workers wore Empatica wrist devices that measured such parameters as blood pressure, sweat levels, electrodermal activity, skin temperature, heart rate and stress on the body. The data was gathered in the hope that a problem could be indicated before an accident occurred.
When the biometrics entered problematic territory, an alert was sent to the project manager, who then had a chance to correct the issue before it became a bigger problem.
The aim of Skanska's research is to develop a way of predicting accidents before they take place, in order to learn lessons before things go wrong rather than after.
Skanska expects that the technology could be implemented industry-wide, in much the same way as hard hats, safety vests and gloves are standard equipment for construction workers.
It is also hoped that the cost of the devices would be offset by lower insurance rates.
Clearly safer
On the topic of PPE, JCB has teamed up with the high street retailer Specsavers to develop a range of prescription safety glasses for construction workers.
A total of 20 JCB frames are being made available across the UK in men's, women's and unisex designs with metal and polycarbonate frames. By the end of the year, the safety glasses will be rolled out to all 1,700-plus Specsavers stores globally.
JCB's range offers a wide choice of lenses suitable for a variety of industrial settings and come complete with side shields.
Specsavers Corporate Eyecare director of strategic alliances Jim Lythgow said, "We have subjected more than 440 pairs of prescription safety glasses to extremely rigorous tests. As you would expect from Specsavers and JCB, these glasses are tough."