Healthy, steady activity
By Lindsey Anderson09 August 2017
Matt Fearon, president of Terex Aerial Work Platforms, has been executing a number of plans recently. From hybrid machines to the company's global footprint, Fearon and his team have patiently revealed a decades' worth of planning and work.
"There's a lot of behind-the-scenes work on our footprint and products that customers are starting to feel the benefit of," Fearon says. "For us, the global manufacturing footprint is a positive story because we started on it 10 years ago. It's one of the strategy pieces we had. We sat down and said we needed to have more manufacturing in Europe; we invested heavily in a factory in China; we had currency swings staring in 2015 that were a huge headwind for us. And we got good at duplicating and moving lines."
Throughout a sit-down interview during The Rental Show, Fearon dissected the company's production, product launches, the effects of politics on business, rental rates and his overall view on the market for the coming years. Here's what he had to say.
ALH: We are looking at a North America market with single digit growth for the coming year. Terex AWP's sales were down over the last quarter. What's your feel for the coming 18 months?
Matt Fearon: I think if you look at what we have put out there publicly, we are expecting the North American market to be down, and that's because of the replacement cycle. And the replacement cycle is real. It has a bigger impact on OEMs than it does on rental companies, so when you talk to rental companies, they're going to see some nice growth. What I'd say is we are seeing some encouraging signs – just the talk of infrastructure (there's no money dedicated to it at this point), it has made people feel more optimistic. You can see it in the stock prices of our customers and the manufacturers. That's got people over the last few weeks, saying, "Oh, we're going to invest in infrastructure." That's good. The stabilization of oil pricing, we are seeing people in some of the oil places – Texas, Gulf areas – saying, "It feels better."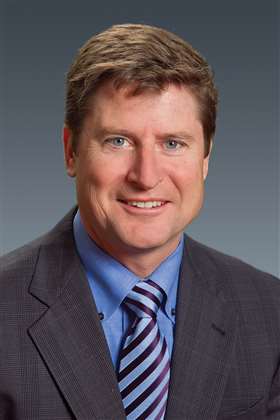 We still know that the replacement cycle is real and we're paying close attention to what's happening in the market. The last piece that needs to happen is rental rates – they need to go up and stay up in the key months. The key months are March, April, May. The problem that we've had over the last couple of years, rental rates have been fairly stagnant or even down a little and that's where the rental companies will hold back – they're not going to add fleet if they're not going to be able to get the return on it. Knowing that that replacement cycle is coming at us, we've taken a stance where we have a model. We can react pretty quickly if we need to. We can work a four-day workweek if we need to. We can easily add Fridays. We can bump our rates up as we see it. So, we're at a wait and see if it sticks mode. We see that for North America.
Moving over to Europe. Europe has been steady. Even with the currency fluctuations. We are seeing nice, steady growth in Europe. There's clouds on the horizon there with the big elections coming up, Brexit, and who knows what's going to go on with Italy. But, with all that being said, if I look at the behavior of customers at this point in the year, it's pretty good. It's not enough to offset what we might see in North America, and if you kind of move over to the AsiaPAC, it's been good. It's been growing, but it's still not big enough to move the needle for us.
ALH: Did Brexit affect business and how will our new President affect business?
Matt Fearon: The impact of Brexit was really minimal. We have a pretty strong presence in the UK and I can't say that I saw anybody change what they were doing based on that. We had good, solid years and how that plays out we'll see. A lot of talk about it but I wouldn't say that anybody changed what they were going to do at this point.
President Trump? Your guess is as good as mine. It depends on the whole border tax; that has a huge impact on your inbound materials and your machines going out. Again, it ties into our global manufacturing. That is the way we are set up – we can't do it all, but we can manufacture in the continent that we're selling to for the most part. So we have some flexibility there so I don't see that it's going to have a big impact on us. But, if you look at steel, and you look at components that are coming in, we're going to have to pay close attention to what's happening there. There's just so many things being discussed in a short period of time, it's hard to really give an opinion to where it's going to go. But we're paying attention to it and we'll react when we need to.
ALH: What's your general feel for the market? Do you see growth? When do you expect the market to plateau? Are there any areas you are targeting for growth opportunities?
Matt Fearon: We had a really solid strategy about how we were going to keep a global product so we can flex the capacity of each of the plants that we have, so now we're manufacturing on three different continents. We basically make the exact same designs – we have the exact same quality standards. Actually, if you get down to the standard work on the lines, they're the same. We can, with pretty low capital investment, duplicate an assembly line. We duplicate it, we handle the drawings, we bring a team over, we train them on it, we put it in containers, we send it over, we have the floor taped up, we set the lineup, we say, "Here is how we start our line."
Over the last 10 years, but really in the last 5 years since we got going in China, the team has done a fantastic job of mastering that process. A lot of people say they are global when they really only have service centers around the world, but that's not global. What we've been able to do is develop the teams and the supply chain, and what it means to customers is that it gets product closer to them. It keeps us so we can compete – we are seeing new competitors from everywhere. It gives us a stance where we're able to compete and leverage the global footprint that we have.
It's been a lot of work and a lot of stuff we figured out on the go, but now we sit with a really healthy footprint in North America. We've grown our Italy factory – it was just a telehandler factory and now we've migrated it into at telehandler and boom factory. We have the Changzhou, China factory which makes almost all of the scissor models and boom models, and we can move those around. Oklahoma City is another area where we've grown – we moved telehandler production out of Washington State into Oklahoma and we did that because we want to have a telehandler center of excellence. So, we have a design team there; that's going to be the place where they just focus on telehandlers. We have a team dedicated to being the best they can be.
ALH: What is selling best for Genie and why?
Matt Fearon: Over the last year, scissors have been strong. And now we're seeing booms and a little bit of the bigger telehandlers coming back this year. That's a shift from last year. This is good. Booms had a pause for a little bit and now it seems like it's coming back. Same with telehandlers.
ALH: What are your thoughts on the upcoming ANSI standards changes and is there anything else going on that will shape and change the market in relation to standards and regulations?
Matt Fearon: I would say in the core markets, I think it's pretty clear what's happening. We have the ANSI and CSA. You have the next big engine tier – European – that's coming. The thing that is of high interest to us and everybody is when is there going to be new standards adopted in China? We don't have an update on that. But it's something that we continue to work with the contacts in China. We have a team that we've hosted – groups from the government – over. We've taken them out to rental companies, out to factories, explained to them exactly how the standards work, how it's progressed over the years. We have used our experience to say, this is how things have evolved. It is just a matter of time. There's been some talk about the way they're going to handle engine requirements in China. I need to do more research on this, but it sounds like they might leap quite a bit. That's the space that I am watching.
ALH: Lastly, hybrids – you have invested a lot of time and energy into it. How is it going?
Matt Fearon: It's been a great response. It's been basically what we anticipated. We had talked to enough customers and we knew there was a demand out there. We put a lot of R&D effort into it. It's one thing to show people the machine at a show and talk about how it's supposed to work; we're now getting where the machines have demonstrated what they can do on the jobsites. These units are the first on the job and the last off.
So, demand's hanging in there and it's been a very positive thing for us. It's something I continue to be excited about. It is a platform technology where we can take it and move it into other products – so, yeah, you'll see more of that in the future.