Heavy capacity crane used for coke drum lift
By Christian Shelton03 May 2017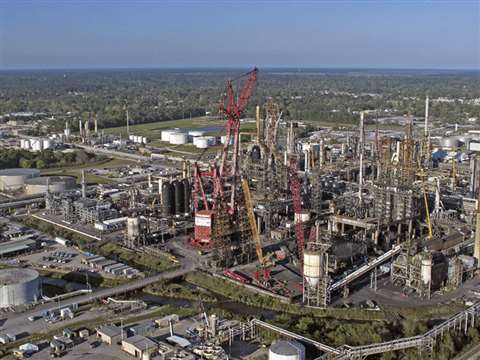 Heavy lift and transportation specialist Mammoet has announced it has successfully completed a lift of coke drums at the Phillips 66 Lake Charles Refinery in Louisiana, USA, using its PTC 140 crane. The Mammoet-designed crane is one of the largest in the company's fleet, with a capacity of up to 5000 tons.
According to Mammoet, the required boom length for the project was 149 metres. However, the available assembly space was limited to 108 metres. To overcome this challenge, the company used a process designed in-house that assembles a portion of the crane in the air. During the assembly process, Mammoet says it completed over 30 critical lifts, each over 25 tons, and that throughout the project's lifting scope, Mammoet executed 16 critical lifts, the heaviest weighing 600 tons. Mammoet reports that the lifts were completed on schedule and with zero incidents.
"The PTC140 was designed exactly for projects like this. No other crane in the world can provide the same level of flexibility and lifting power combined with state-of-the-art safety features. We're proud to add this project to a long list of very successful projects, all of which have saved our clients valuable time and money," commented Pierre Mille, sales director at Mammoet USA.