Heavy-duty digital truck scales
By Christian Shelton09 January 2018
US truck scale and weighing systems specialist Cardinal Scale has launched a heavy-duty truck scale. Called the Armor, the digital truck scales have a 135 ton (122 tonne) capacity and a 50 ton (45 tonne) concentrated load capacity (CLC).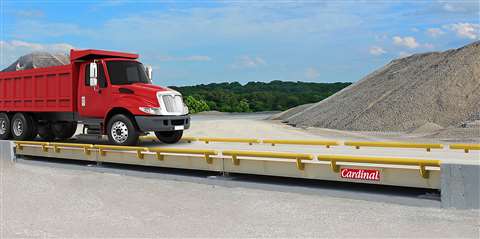 According to Cardinal Scale, there are no moving parts below the scale deck, including the load cells which are made from one-inch-thick stainless steel and have been powder coated to be waterproof. Cardinal Scale said its debris-inhibiting load cell stand design limits obstructions to the scale's performance, with digital load cells mounted high within the stand, near the scale deck. Cloud-based iSite software offers email and/or text alerts for remote monitoring.
Cardinal Scale said the Armor has pre-installed load cell stands, so it is fast to setup. A frictionless centering system, called Axis, provides gravity-driven dynamic centering to restrain deck movement and vibration. Each Armor weighbridge has interconnecting load blocks and receivers for efficient, no-bolt installation. Enhanced rodent protection is standard throughout the truck scale using braided wiring and conduit. Finally, all truck scales are fully-assembled, pre-calibrated, and tested before shipping, said Cardinal Scale.