Heavy haul trucks: Gaining traction
By Christian Shelton29 October 2019
"Sustainability is no longer a choice for companies to opt in or out of. It is something we must deliver on to stay relevant," says Henrik Henriksson, president and CEO at Swedish commercial vehicle manufacturer Scania in the company's most recent annual and sustainability report.
Henriksson's statement illustrates the increasing importance specialized vehicle manufacturers are placing on sustainability issues and efforts by tractor manufacturers across the board are resulting in increasingly powerful alternatively-powered trucks hauling increasingly heavy loads. Some of the tractors mentioned in the first half of this article may be categorised more as long-distance haulage or heavy-duty distribution tractors but they demonstrate the advance of alternatively-powered vehicles towards the heavy haul end of the spectrum.
The focus on sustainability appears to be paying off for Scania, with the company reporting record market share in Europe during the first quarter of 2019. It also won a Green Truck 2019 award, organised by trade publications VerkehrsRundschau and Trucker, for its R 450. The truck won with an average fuel consumption of 23.25 litres of diesel per 100 kilometres, greenhouse gas emissions (CO2e) of 738 grammes per kilometre, and an average speed of 80.42 km/h on a 353 km test.
Alternative power
Scania has also been developing its range of gas-powered vehicles and reports growing interest in this sector. This has been boosted by a parliamentary decision in Germany to exempt gas-powered vehicles from road tolls, which has helped offset the higher cost of gas vehicles for haulage companies.
Scania delivered its first liquified gas truck in Germany in September 2018. It has now taken an order for 100 Scania gas trucks – its largest single order to date - from logistics and transport company KP Logistik, which has offices in Germany and Denmark.
"We want to pioneer more sustainable transport and set a good example for the transport industry," says David Brokholm, managing director, KP Logistik. "Carbon emissions from natural gas trucks are lower than from diesel and are further reduced by up to 90 percent if we use biogas."
The new trucks have a range of 1,100 km and will be used for the next four to five years for deliveries of dry, refrigerated and frozen foods. Scania says the liquified gas vehicle infrastructure in Germany is being expanded and will increase to approximately 20 filling stations by the end of 2019.
Gothenburg, Sweden-headquartered manufacturer Volvo Trucks is planning to debut its first all-electric models in California, USA, in 2019, with plans to start commercial sales in North America in 2020. The Volvo VNR Electric will be trialled in distribution, regional-haul and drayage operations.
Volvo also announced plans to invest nearly US$400 million over six years to upgrade its New River Valley, Virginia plant. The factory produces all Volvo trucks sold in North America. "This investment is another sign of our confidence in that future and will help us prepare for even more exciting products, powered by both diesel and electric drivetrains, in the coming years," says Peter Voorhoeve, president of Volvo Trucks North America.
Volvo has also announced a strategic alliance with battery manufacturer Samsung SDI aimed at accelerating the development and strengthening the long-term capabilities of electromobility. Specifically, the two companies will work on developing battery packs designed for Volvo's truck applications. "The alliance with Samsung SDI is an important next step on our journey towards offering the world's most truly sustainable transport system with fossil-free alternatives for our commercial vehicles," said Martin Lundstedt, president and CEO at Volvo Group.
Diesel power
The focus on developing alternative, cleaner types of vehicle propulsion, however, has not been at the expense of diesel lines. New heavy haul diesel lines are still being developed, albeit with a focus on fuel efficiency. "For our customers fuel is one of the largest costs so it is important that we develop new efficient solutions," says Mats Franzén, powertrain strategy director, Volvo Trucks.
The company has launched a Payload Plus package for its VNR and VNL series which it says provides significant weight savings, with up to 335 pounds (152 kg) being removed from Volvo VNL long-haul models.
It is also promoting its popular long-haul FH model with I-Save as being a solution to bring down fuel consumption, claiming it can cut fuel costs by up to seven percent in long haul operations without compromising driveability. The truck has Volvo's D13TC engine which it says is its most fuel-efficient engine ever. Available in 460 and 500 hp ratings, it has pistons with a patented wave-shaped interior designed to improve combustion and increase efficiency. It also has an additional turbine positioned after the turbo in the exhaust flow that reuses excess heat and energy from the exhaust gases. The I-Save comprises various technologies from Volvo Trucks's including its map-based I-See software which uses knowledge about the road ahead to utilise the truck's moving energy in the best possible way when driving in hilly terrain. According to Volvo, it takes care of gear selection, acceleration and engine braking.
Driver assistance
The increasing automation of trucks is also seen in the latest version of the Actros from Mercedes-Benz. The Actros is a heavy-duty truck which was first launched in 1995 and is normally used for long-distance haulage, heavy duty distribution haulage, and construction haulage. The latest version has Active Drive Assist which orientates itself according to the markings on the road by means of a camera and, under certain conditions, takes over the longitudinal and lateral guidance of the truck. Active Drive Assist can automatically steer, brake and accelerate the vehicle under certain circumstances. It also has Predictive Powertrain Control, which is designed to reduce fuel consumption.
In the USA, Western Star Trucks, a subsidiary of Daimler Trucks North America, has updated what it says is its most popular model, the 4700, claiming it is now lighter, safer, more productive, and faster to upfit.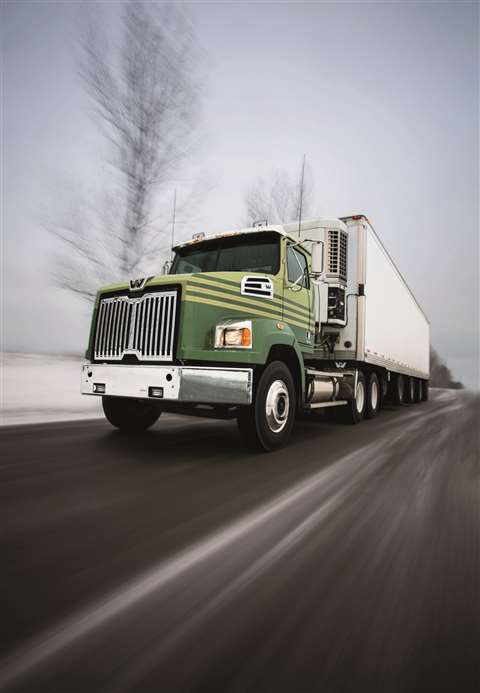 The 4700 trucks and tractors can now be specified with the Cummins X12 engine. The engine delivers up to 1,700 pounds per foot of torque and 500 hp. Western Star Trucks says its low-friction design is well-suited for higher MPGs and it is compatible with a range of fully automatic, automated manual and manual transmissions. It weighs 2,050 pounds (930 kg) which, Western Star Trucks says, is up to 600 pounds (272 kg) lighter than other medium-bore engines in the 10 to 13 litre category. Front- and rear-engine PTO offerings are designed to enable more upfitting options.
Another new option is the Detroit DT12 automated manual transmission, which can now be spec'd for Detroit-powered 4700s. The transmission has creep and hill start modes and pneumatic shift and clutch control for a smoother ride, says Western Star Trucks.
The enhanced 4700 also has additional upfit-friendly improvements, including updates to the electrical system and improved interface connections on the back floor of the cab, as well as four new options for trailer connections, adds Western Star Trucks.
MAN Truck and Bus company has added the TGX 33.640 6x4 BLS to its heavy-duty semitrailer tractor range.
The three-axle tractor is designed for a gross combination weight of 160 tonnes and up to 180 tonnes with special approval. It has a D38 series six-cylinder engine with 15.3 litre displacement which delivers 640 hp (471 kW) at 1,800 m-1 in its most powerful version and delivers a maximum torque of 3,000 Nm at 900 to 1400 m-1.
External planetary axles with a load capacity of 9 tonnes at the front and two with a load capacity of 13 tonnes at the rear are designed to harness the engine's full tractive force. The front axle is leaf-sprung and the two rear axles are air-suspended. The MAN TipMatic 12 overdrive gearbox with retarder has MAN's HeavyDuty shifting software which continuously calculates the current gross combination weight and selects the shifting mode depending on it.
Range expansion
Dutch truck manufacturer DAF has also recently expanded its product portfolio to include a number of new vehicle configurations with the aim of increasing its presence in the construction sector. The new configurations include an 8x4 tridem rigid with double-drive tandem and steered trailing rear axle. The Dutch truck manufacturer has also introduced a 10 tonne front axle and a completely new 7.5 tonne non-steered trailing axle.
Returning to the subject of sustainability, DAF also won a Green Truck 2019 award for its CF Electric 4x2 tractor unit for up to 37 tonne GCW applications. The CF Electric has a range of around 100 km, making it suitable for high-volume city distribution applications. Its battery that can be charged in 1.5 hours.
From this snapshot of the market, we can see that although alternatively-powered trucks are fast gaining ground, for now at least, diesel remains the driving force behind heavy haul applications.
Five-axle Scania tractor
Dutch heavy haul company Te Kloeze-Bruyl has taken delivery of one of the first new generation five-axle Scania V8 S 730 tractors.
The Scania S 730 has two steered front axles, two driven axles and one steered tag axle. Adapted for heavy haulage, the tractor has a rack behind the cab with fuel tanks, an AdBlue tank, and a trailer hydraulic system. These adaptations are factory-assembled. The vehicle can load 180 tonnes on a six percent slope and 140 tonnes on a 12 percent slope.
Te Koeze-Bruyl specified options including leather upholstery, a premium driver seat and rotatable passenger seat, an infotainment system with navigation on a seven-inch screen, a refrigerator, a coffee maker, a microwave and a TV. To enhance safety, the company has equipped the truck with a side-view camera system with a quadruple split screen so that the driver at a glance can see four positions around the vehicle.