Heavy lift job completed
By Christian Shelton06 March 2019
Heavy lift and transportation specialist ALE has completed the lift of three topside modules using its AL.SK350 super heavy lift crane, which it says is the world's largest capacity land-based crane. The lifts were for an oil and gas project in Ingleside, Texas, USA.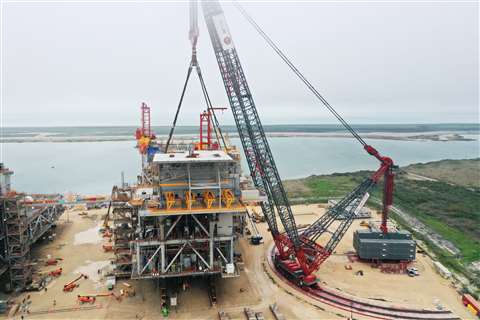 The last module to be lifted was the living quarter module and it weighed 2,234 tonnes (including the cost of the block and tackle). For this lift the AL.SK350's installation outreach was 42.8 metres and it was rigged with a 124 m (406 ft) main boom, a 49 m (160 ft) ballast radius, a heavy winch system, and 4,000 tonnes (4,409 tons) of ballast.
"As we come to the end of the first phase, we are proud of the professionalism shown throughout," said Ronnie Adams – ALE senior project manager. "Our experienced crew, working alongside our crane with such unqiue abilities, has enabled us to achieve these heavy lifts in a challenging site environment. By using the latest technologies, we could carry out the lifts on schedule and safely, while minimising disruption to the rest of the busy site."
The lifts were used to check the modules fitted to avoid any delays when the topside is finally installed using a heavylift vessel off the coast of Israel.