Heavy lifting: First choice
By Christian Shelton14 February 2020
With two claimed new world records and at least three 'firsts' covered in this heavy lift sector round-up, it is clear that progress with regards to new equipment and techniques is being made both on land and at sea in this important lifting sector.
Starting with a world record lift by a crane vessel, the semi-submersible super heavy lift crane vessel (SSCV) Sleipnir, owned by Netherlands-headquartered offshore oil and gas contractor Heerema, made a record 15,300 tonne lift over the weekend of 7 and 8 September 2019. It was used to install a topsides module for the Noble Energy Leviathan gas field development in the Mediterranean Sea off the coast of Israel. It was the larger of two main topsides lifted in by Sleipnir. Total weight was 24,500 tonnes. Both lifts were completed in less than 20 hours, Heerema said.
Sleipnir was built by SembCorp Marine in Singapore. The vessel has a capacity of 20,000 tonnes on two revolving cranes. It is 220 metres long by 102 metres wide and carries a pair of turret cranes each rated to lift 10,000 tonnes, which can work in tandem or individually. The revolving cranes, built by Dutch lifting, drilling and subsea solutions provider Huisman, can lift their 10,000 tonne maximum load to a radius of 48 metres. Capacity is still 7,000 tonnes at 62 metres radius and 4,000 tonnes at 82 metres. Maximum radius is 102 metres. The auxiliary hoist lifts 2,500 tonnes to 60 metres radius.
Core components
Instead of bogies or large wheels for the slew system, as seen on traditional tub cranes, the Huisman ones have 30 metre diameter bearings designed and made in-house. A primary benefit is to save a substantial amount of weight, Heerema said. Also on board is a pedestal mounted lattice boom crane lifting 70 tonnes at a 12 metre radius. Up to 400 people can be accommodated.
The brakes for the 10,000 tonne capacity cranes are from German brake manufacturer Pintsch Bubenzer. They are rated for 8,000 Nm (5,900 ft-lb), which Pintsch Bubenzer says is an increase of around 35 per cent over standard brakes of the same motor frame size. Each brake is IP67 rated for submersible protection.
Power is from 12 Tier III, four-stroke MAN Diesel & Turbo 8L51/60DF engines which can run on either low sulphur marine gas oil (MGO) or liquified natural gas (LNG). Each engine is rated at 8 MW, giving a combined total of 96 MW, providing a transit speed of 10k. They are grouped three each in four engine rooms.
The electrical part of the power and propulsion system include 12 sets of 8 megawatt (MW) generators, eight units of 5.5 MW propulsion motors, medium-voltage switchboards, transformers and MV7000 drives. These were provided by General Electric's Marine Solutions business.
The vessel has a valve remote control (VRC) system from Emerson Automation Solutions. The custom, fully-redundant Damcos VRC. The system controls the critical task of stabilising Sleipnir during lifting operations by transferring water between onboard tanks to counter-balance the weight of shifting loads. The VRC comprises a total of 847 valves, actuators, local power units (LPUs), and eight interface cabinets connected by a P-NET communication bus.
Eight 5,500 kW underwater mountable thrusters will be responsible for the accurate positioning of the vessel. These have been supplied by Finnish engine and power systems manufacturer Wärtsilä. Four of the eight thrusters will also be retractable and have been developed specifically for this project. In addition, Wärtsilä supplied auxiliary equipment for steering and lubrication, control units, and Wärtsilä's Propulsion Condition Monitoring Service (PCMS). Wärtsilä also supplied centrifugal pump packages.
Palfinger Marine supplied two bulk loading stations while Rolls-Royce suppled an £8m ($11.3m) 12-point mooring system.
Wind farm work
Dutch crane and offshore engineering specialist Huisman will also supply a 4,000 tonne crane for Royal Boskalis Westminster N.V. The offshore mast crane (OMC) will be installed on the Boskalis vessel Bokalift 2, currently under construction. It follows Huisman's delivery of a 3,000 tonne OMC for Bokalift 1 in 2017.
The 4,000 tonne capacity is available up to 100 metres above the deck which allows wind turbine jackets to be lifted off it. Adding the fly jib allows smaller components to be lifted 125 metres above the deck. Monopiles and other long loads can be upended from horizontal to vertical.
Bokalift 2's first project will be installing jackets for the Taiwanese Changfang and Xidao offshore wind farm, a project recently awarded to Boskalis.
Huisman designed its OMC to have a small footprint and no tailswing, maximising space on deck for payload. Its capability will future proof it for installing current and future generation offshore wind turbine foundations. In addition it should find work in offshore oil and gas, decommissioning and salvage.
Land-based lifting
When it comes to land-based lifting, the oil and gas sector is continuing to be a fruitful source of work. On 24 October 2019, Chinese crane manufacturer XCMG used its 4,000 tonne capacity class XGC88000 crawler crane to lift a washing tower weighing 1,926 tonnes in Jubail Industrial Zone, Dammam, Saudi Arabia. This was XCMG's first job outside China, commissioned by Chinese oil and gas enterprise Sinopec (China Petroleum & Chemical Corporation).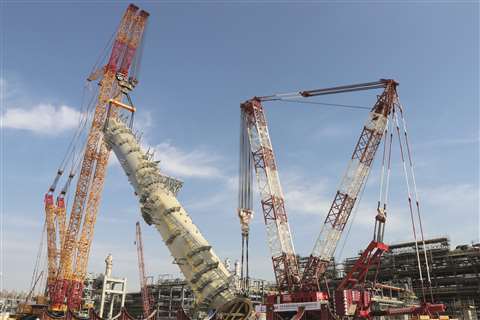 XCMG's 4,000 tonne capacity class XGC88000 crawler crane lifted a 1,926 tonne washing tower
The tower measured 101.1 metres high and 8.6 metres in diameter. The 88,000 tonne-metre rated crawler lifted the tower with its main boom at 102 metres and its auxiliary boom at 27 metres. A 1,250 tonne capacity crane was used for tailing duties.
According to XCMG it took 30 days for the crane to be transported via boat from China to Saudi Arabia. XCMG said the sand and high temperatures encountered in the desert did not pose any problems for the crane. The heavy lift was carried out over a time frame of around five hours.
The crane will be used twice more on this project, to lift two reactors weighing 1,312 tonnes, before working on related projects for the Saudi National Natural Gas Company and at an oil refinery project in Oman.
According to XCMG, since the crane's launch in 2013 it has travelled over 30,000 kilometres and participated in 11 large projects in eight provinces across China where it has successfully completed 150 lifts with a combined total weight of more than 120,000 tonnes.
Another heavy lift for the oil sector in the Middle East was carried out by heavy lifting company Al Faris Group which provided the complete logistics, from loading to transportation, for over-sized oil refinery equipment being moved between Jafza Port, Dubai, to storage at Dubai World Centre, UAE.
The equipment included three sections of the refinery's column which were up to 10.4 metres in height, 30 metres in length and 9.5 metres in width and weighed up to 315 tonnes.
For the offloading process, Al Faris said it had a tight timescale and confined space to work in. It also had to engineer a customised platform using steel mats to reach the required lifting height for the gantry.
The Enerpac SBL900 folding boom, telescopic, hydraulic gantry was used, equipped with two stage lifting cylinders enabling lifts up to 11.3 metres and loads up to 604 tonnes at the top of the second stage. An octagonal boom is designed to add strength for increased capacity and lifting height, and mechanical locking permits load holding for extended periods of time. Self-propelled tank rollers are designed to provide synchronised travel and optimise load distribution.
The SBL 900 gantry's control system allows users to operate the lift locally at each leg or use the Intellilift remote control. The wireless system ensures continuous control and monitoring of lifting and travel operations while providing complete visibility of the load.
Custom parts
Another company to utilise custom parts in a heavy lift is UK-headquartered lift and transportation specialist ALE. It used a custom transport frame during the heightening of ten ship-to-shore cranes at the Port of Felixstowe, UK, for Rotterdam based crane heightening specialist ZPMC Netherlands. Five of the cranes weighed 1,530 tonnes and five weighed 1,650 tonnes.
The custom transport frame was used to support the cranes as they were being transported to designated area and jacked-up for heightening. According to ALE, this saved time compared to transferring the cranes between separate support structures during each upgrade procedure.
The cranes were jacked-up 6 metres and 10 metres, depending on their required final heights. These lifts were performed using ALE's Mega Jack 800 system in a four-tower configuration. Following the upgrades the cranes were jacked down and returned to their original locations. The upgrade work means that the port can now accept larger vessels carrying more layers of shipping containers, helping it take steps to accommodate a predicted doubling in capacity by 2030.
ALE also used custom parts during for what the company claims as a record-breaking lift during the construction of the La Luna hotel in Baku, Azerbaijan.
ALE lifted a 2,100 tonne steel bridge to a height of 120 metres in Azerbaijan
A curved steel bridge, weighing 2,100 tonnes, was installed between the hotel's two towers, at a height of 120 metres, using specially-designed jacking beams equipped with strand jacks mounted on the hotel's towers, 138 metres above the ground. ALE says this was the greatest weight to ever be lifted so high using this technique. The entire beam assembly consisted of jacks, beams, clevises and strand jacks, with SPMT used to provide additional support to the clevises.
In Mexico, Mexican crane and heavy haulage contractor Eseasa used its Liebherr 3,000 tonne capacity LR 13000 crawler crane to load seven oil platforms onto barges at the port city of Tampico, on the Gulf of Mexico, for Mexican oil group Pemex.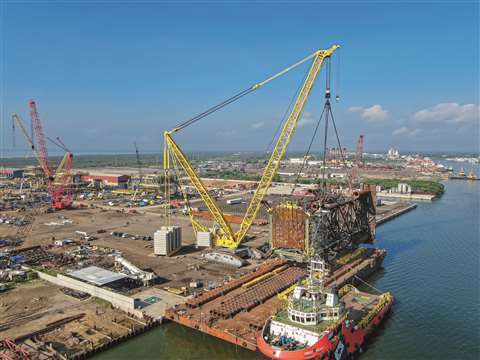 Eseasa using its Liebherr LR 13000 crawler crane to load one of seven oil platforms in Mexico
The platforms weighed up to 1,200 tonnes and were positioned on the barges using a crane radius up to 38 metres. Eseasa saved time using the large crawler compared to an alternative method previously employed which utilised SPMT and jack-up systems. With SPMT and jack-up systems the load-in took around 18 hours whereas with the LR 13000 the load-in took three hours.
The use of SPMT and jack-up systems took longer because they required the barge to be positioned at a 90 degree angle to the quay and held in place by several tugs. This also meant that the waterway needed to be closed, adding to the costs incurred by Eseasa.
Using the crawler crane meant that tugs were required for a shorter time than with the alternative technique and smaller barges could be used, too, since they did not have to accommodate the heavy SPMT, further reducing costs.
Barge crane carries tower cranes
Two 330-tonne capacity M2480D tower cranes, owned by Australian crane company Marr Contracting, have been lifted into location while fully-assembled in Turkey using a Taklift 4 floating heavy lift barge crane.
The cranes weighed 600 tonnes each and, according to Marr Contracting, this is the first time cranes of this size have been lifted into place in one piece.
The heavy lift luffer parts were shipped from Sydney to a dry dock at Gallipoli (Gelibolu), Turkey, where they were assembled onshore on purpose-built foundations. On 3 November 2019 the first M2480D was lifted and transported a kilometre to the middle of the Dardenelles (Çanakkale Strait) by the 2,200 tonne capacity Taklift 4 floating heavy lift barge crane. The second crane was carried out onto the water on 8 November 2019.
Both cranes are now set up and ready to begin work on the 1915 Çanakkale Bridge on behalf of EPC (Engineering, Procurement, Construction) contractor DLSY (Daelim – Limak – SK E&C – Yapi Merkezi) Joint Venture.
The 1915 Çanakkale Bridge is due for completion in 2022 and will become the world's longest span suspension bridge, connecting the towns of Gelibolu (Gallipoli) on the European side of Turkey with Lapseki on the Asian side.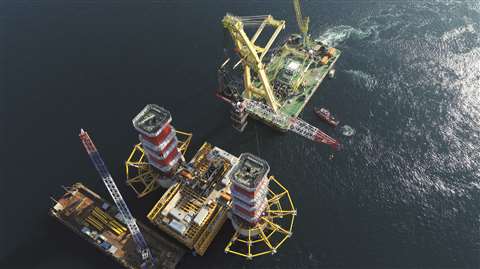 Aerial shot of the M2480D being lifted by Taklift 4
New crane development
Following finalisation of structural engineering details and appointment of suitable subcontractors, the first steel has been cut for Mammoet's heavy lift Focus 30. It is a 2,500 tonne capacity class lattice boom crane that can be erected vertically without the need for large areas of clear ground in which to assemble and lay out a long boom. Around 1,000 tonnes of steel will go into the new crane which will be built by a group of several subcontractors. The first Focus crane is scheduled to be available in the second quarter of 2020.