Heavy truck focus for Bell
By Chris Sleight03 March 2015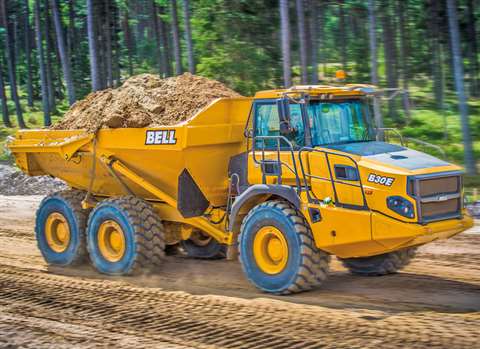 Having unveiled the first in its range of E-series articulated dump trucks (ADTs) at Intermat 2012, Bell Equipment will use this year's show to take the wraps off the first prototypes of the larger models in the range. Also on show will Stage IV-compliant versions of its smaller units.
Bell and engine partner Mercedes-Benz have gone down a selective catalytic reduction (SCR) path to meet the latest emissions requirements on the E-Series. On the 24 tonne and 28 tonne capacity Stage IV compliant B25E and B30E, the engine in question is a 7.7 litre OM936LA, which is paired with the same Allison transmissions found on the Stage IIIB trucks.
Bell says that improvements in rev ranges and torque curves on the engines translate into better hill climbing capabilities and lower fuel consumption for the ADTs, compared to previous versions. The company added that this was not just a theoretical calculation, but had been proved in like-for-like field tests.
But perhaps more eye-catching will be the prototype B50E 50 tonne capacity truck, which features many of the improvements made on the smaller models, such as the air cleaner being housed under the bonnet for a cleaner look.
Again, power comes from a 6-cylinder Mercedes-Benz engine, which now drives a 7-speed Allison transmission. Bell says this gives an improvement in the ratio steps between gears, for better performance and fuel burn.