Hebei Tuosheng receives SX-180
By Euan Youdale03 December 2018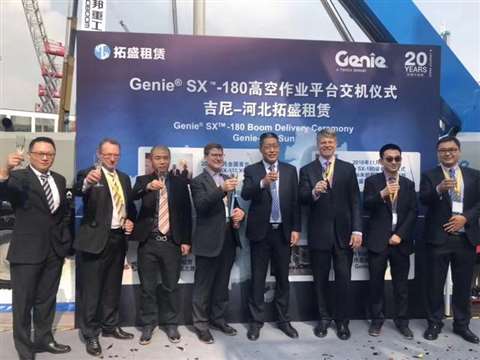 Terex AWP held a handover ceremony of a Genie SX-180 telescopic boom lift to Hebei Tuosheng Mechanical Equipment Leasing, on the Terex booth at Bauma China, last week.
It is the first Genie SX-180 boom lift to be delivered in Hebei province and represents the trend of large booms in the Beijing-Tianjin-Hebei region.
Yang Xiaofen, general manager of Hebei Tuosheng, said, "With fierce competition in China's leasing industry, we believe that quality products and comprehensive services from Genie will bring us a high rROIC.
"To help us expand our target group and market scope in the Beijing-Tianjin-Hebei region,we have chosen to purchase Genie SX-180 and Genie SX-135 XC boom lifts. In the future, we hope to work more closely with Genie to increase our fleet size and further make the Tuosheng Leasing brand bigger and stronger."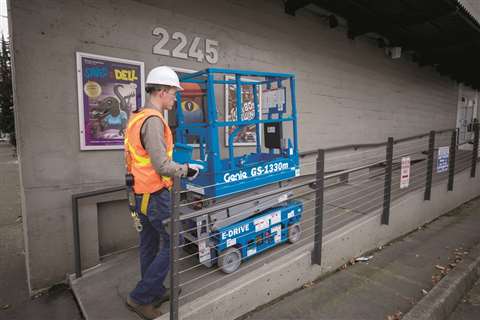 Hebei Tuosheng has five years' experience in the lift industry. The company entered the boom lift market in February 2017 and have developed a close partnership with Genie since. Following the delivery ceremony of the first Genie SX-125 XC boom in China in April 2017, Tuosheng purchased a Genie SX-135 XC boom in early 2018.
Harry Zhu, general manager, commercial Terex AWP Greater China, said at the ceremony, "This marks the 20th anniversary of Genie operating in China. Together with our partners, we have experienced the development of China's access market, helping us to understand the unique needs of Chinese customers. We are pleased to see how Tuosheng has developed so fast in just over a year, we look forward to being part of their continued growth in the future."