Heinz Helmut Kempkes RIP
By Alex Dahm07 September 2020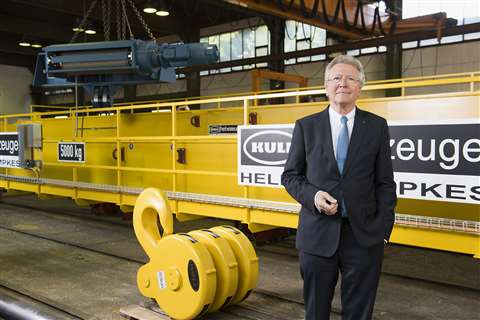 ICST regrets to report the death of Heinz Helmut Kempkes at the age of 72.
Kempkes was widely known in the crane and aerial platform industry for managing industrial crane and access equipment manufacturer Kuli Hebezeuge. He spent more than 50 years at the company founded by his father in Duisburg, Germany, in 1947.
Kuli Hebezeuge produces a range of industrial overhead and gantry cranes, material hoists, crane components and the Kuli series of pusharound and electric-powered vertical mast access platforms.
In 1975, after completing his studies in mechanical engineering and his scientific work at the chair of materials handling at the Technical University of Darmstadt, Heinz Helmut Kempkes joined his father's company, becoming managing partner in 1982.
For many years Kempkes sat on committees at the German Mechanical Engineering Industry Association, VDMA, helping to shape the industry. In 2004 he joined the main VDMA board. He has been a member of the board of the Association of Materials Handling and Intralogistics since 1990. From 2003 to 2007 he chaired the association. Kempkes helped create and then chaired the Cranes and Hoists Department, formed in 2004 from two divisions. The following year he also helped create the Research Association Intralogistics / Conveyor Technology and Logistics Systems (IFL) e.V.
He was also a member of the Presidium of the German Federation of Industrial Research Associations (AiF), of the Presidium of CeMAT and the Logistics Advisory Board of the Hannover Messe, as first deputy to the president and later as a member of the Honorary Senate of the German Institute for Standardization (DIN) in Berlin and as president of the European Materials Handling Federation (FEM).
For his outstanding commitment, in 2013 Heinz Helmut Kempkes was awarded the Cross of Merit on Ribbon of the Order of Merit of the Federal Republic of Germany.
Heinz Helmut Kempkes, a family entrepreneur from Remscheid, Germany, died on 13 August 2020.