Hematec fall arrest solution
By Euan Youdale15 January 2020
Hematec has launched an innovative device to prevent people working at height from falling.
The Helix Manipulator Fall Protection MH 35.120 is a mobile anchor device. It aims to solve the problem of increasingly space-sensitive and cramped areas, where there are no attachment options for fall arrest equipment.
The MH 35.120 mast boom is effectively a crane with a hook that allows workers to attach their fall arrest equipment to it. The MH 35.120 offers a maximum range of 3.5m with a track width of 0.98m, and no overhang. It can be moved without restriction using a radio remote control and thus enables problem-free tracking, said the manufacturer.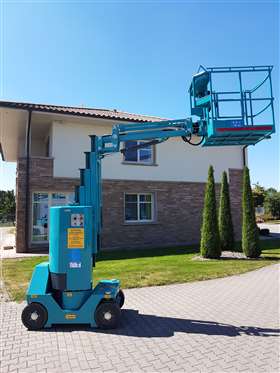 The model was first presented at the A+A exhibition in Düsseldorf, Germany, last November. Another new development from Hematec at the A+A exhibition was the Helix 1004 XL. The company said it is the first battery-operated, compact, self propelled vertical mast platform with a movable boom. The unit has a working height of up to 10m and a lateral reach 4m, with the special feature of a rotating basket and 300kg.