Hertz to buy 100,000 Tesla vehicles
By Julian Buckley25 October 2021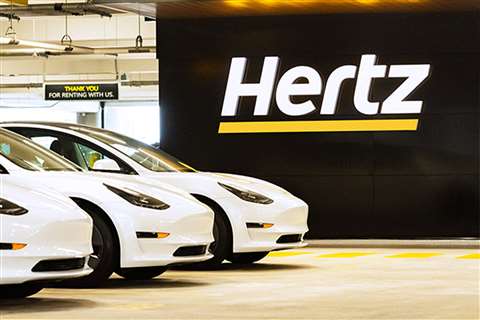 Hertz has announced that it will order 100,000 Tesla vehicles by the end of 2022. In addition, the car rental company will invest in new EV charging infrastructure across its global operations.
The entry into the EV rental market is supported by data from the Pew Research Center, which showed that 40% of US consumers are likely to consider an EV for their next new vehicle.
"Electric vehicles are now mainstream, and we've only just begun to see rising global demand and interest," said Hertz interim CEO, Mark Fields. "The new Hertz is going to lead the way as a mobility company, starting with the largest EV rental fleet in North America and a commitment to grow our EV fleet and provide the best rental and recharging experience for leisure and business customers around the world."
Beginning in early November and continuing through year end, customers will be able to rent a Tesla Model 3 at Hertz airport and neighbourhood locations in the US and in major markets and select cities in Europe.
Hertz will also be installing 'thousands' of chargers across its locations network, while customers renting an EV will have access to 3,000 Tesla supercharging stations throughout the US and Europe.
Hertz will offer a differentiated rental experience for the Tesla EVs, including digital guidance to educate customers about the EV and how to quickly get them on their way. Hertz plans to introduce an expedited EV rental booking process through the company's mobile app.
When the current order is fulfilled, more than 20% of the Hertz global rental fleet will be comprised of EVs. These will be supported by a combination of Level 2 and DC fast charging in approximately 65 markets by the end of 2022 and more than 100 markets by 2023.
Hertz noted that these targets could still be affected by the global shortage of semiconductor chips.
To promote the new EV rental offering, Hertz has partnered with seven-time Superbowl winner Tom Brady.