Hess buys its first Enerpac gantry
German company Hess, which specialises in industrial moves, has bought an Enerpac SL380 gantry system, together with two 8 metre header beams and side shift units, as part of a services expansion strategy.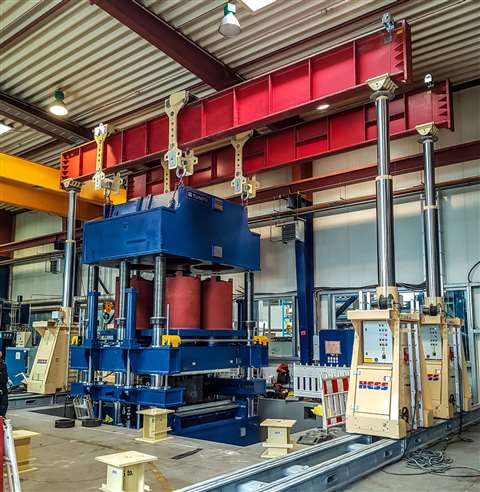 The Enerpac SL380 telescopic hydraulic gantry has three-stage lifting cylinders that can lift up to 3,800 kN using four legs. Enerpac said this is the highest capacity hydraulic gantry on 610 mm track gauge on the market.
The SL380 has self-contained hydraulics, electronic controls and Enerpac's Intellilift wireless control system. Enerpac stated the control system ensures automatic synchronisation of lifting, lowering and travelling with high accuracy. The system also controls the powered side shift units, allowing the gantry to move suspended loads from side to side.
"The Enerpac SL380 is our first gantry system and an important addition to our range of lifting equipment," said Joachim Hess, director, Hess. "Although we looked at other gantries, we wanted a complete system that included self-contained hydraulics and electronic controls and was easily transportable – only the Enerpac SL380 provided this.
The hydraulic gantry will allow us to take on larger in-plant projects and has already proved its worth on the first project."
The SL380 is manufactured at Enerpac Heavy lifting Technology in Hengelo, the Netherlands.