Hewden CEO: 'It's time we were noticed'
By Steve Ducker15 June 2015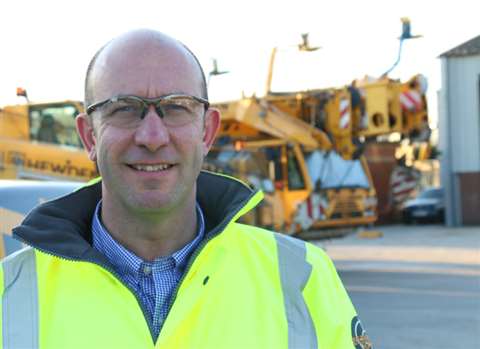 Hewden CEO Adrian Murphy has called on the company to promote itself more and said he will strengthen the its commercial presence in the near future.
Mr Murphy, who completes six months in the role next month after taking over from Kevin Parkes in January, said: "It's what I expected really. It's a company with a good brand, but it had possibly lost its way a bit in terms of the direction it was going in. We invested £60 million (€83 million) last year and will probably invest another £50 million (€69 million) this year, but it's about knowing where to invest.
"We have a broad offering but it's understated. We are number two in cranes in the UK, the only national provider after Ainscough. We're number one in the industrial market. But we need to promote ourselves more and tell people about it. We need to get noticed, and we will be investing in the commercial and marketing side."
Mr Murphy was speaking within days of Hewden investing £1 million (€1.4 million) in a breaker attachments deal with Miller. It's a piece of business that he can see the company replicating.
"We are moving heavily into attachments. We've launched a range of breakers and they will be coming out in July. With breakers we can bring real innovation and get good returns.
"We can invest more in both mechanical and non-mechanical attachments. Each breaker has a tracker embedded, so there's an element of asset management as well. I'm not aware of anyone else doing that. And we have a hanging system that will work whether people use Cat or JCB machines, or both. We actively stated what we wanted to do, and we worked with Miller to produce it. We had talked to other suppliers, but Miller was the most nimble."
With the second half of his first year coming up, Mr Miller pronounced himself broadly satisfied with the way things are, describing the company's performance since January as "a relatively strong start to the year."
But with a multi-million euro war chest still available, there could still be changes to the core offer at Hewden before the year is out.
"I use the analogy of manufacturing," said Mr Murphy.
"You have a big factory and you make certain widgets, but to change is quite difficult. With a rental business, however, investing in new products is totally straightforward."