High activity underground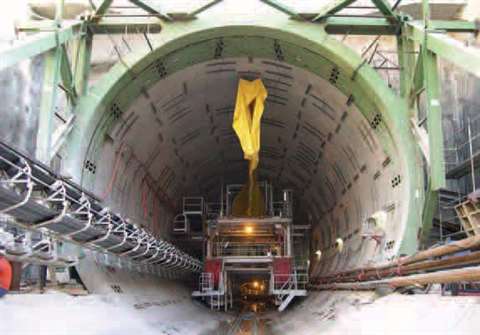 Worldwide tunnelling activity remains at a high level, but the distribution of work is very patchy, depending mainly on economic health. Where there is activity, technical innovation continues to push out the envelope of what can be achieved in underground construction. These developments are helping to establish tunnels with greater dimensions, across greater distances, in more difficult ground and closer to other structures than ever before.
The size and number of 'mega cities'is driving urban tunnelling demand and is leading to projects to improve water services and create more efficient public transport - largely through new metro systems. Meanwhile, the growing need for rapid long-distance travel, has led tunnelling technology that can overcome natural barriers.
Problems with safety of existing highway tunnels has stimulated other types of underground construction - refurbishment for better safety, emergency controls and escape facilities, duplicate tunnels to increase capacity, and rail tunnels to remove freight traffic from the roads all together.
Activity Leaders
With the completion of the great AlpTransit tunnels of Gotthard and Lötschberg approaching, the torch of tunnelling progress seems set to pass back to Asia. There are high levels of activity in China and Singapore and major contributions from India, Malaysia and Japan.
For the size of its population, Australia also has substantial tunnelling activity with transport schemes in Sydney, Melbourne and Brisbane underway.
In Europe, the traditional centres of tunnelling innovation, Germany and the UK, are both experiencing low levels of activity, despite the good economic health of the latter. Having said that, CrossRail, the east-west trans-London rail link, continues to be promised. German and UK tunnelling technology is still in widespread use around the world through consultants, manufacturers and engineering skills.
The picture is much brighter in southern Europe with Spain and Italy among the world leaders for tunnelling activity.
China
Pre-Olympic construction work is a clear focus of current tunnelling activity, especially the Beijing Metro, but the Chinese market is much bigger than that. The number of tunnel boring machines (TBMs) at work in China is reckoned to be more than anywhere else in the world.
Leading TBM suppliers often use local facilities and engineers for manufacturing. Although Herrenknecht has supplied the greatest number of machines, one of the latest orders was to Wirth's NFM factory for two 11.38 m diameter Benton'air (air-assisted slurry pressure) machines. These will be used to drive twin 2.4 km long tunnels for a road tunnel under the Yangtze River in Wuhan, Hubei Province. Some TBM components will be made by NFM's local partner, Shengyang Heavy Machinery Group, with delivery of these and others from France to site next spring
Herrenknecht's orders are led by those for the new Beijing and Guangzhou metro lines. A 6.25 m diameter, Earth Pressure Balance (EPB) machine is currently driving the 1.5 km long Kecun Xin Jinjao section of the Guangzhou Metro, and is one of 16 ordered for the scheme.
It is being guided using a VMT SLS-T automatic laser guidance system with automatic target tracking, which also includes the VMT segment sequence calculation software. The software indicates to the operator the best orientation of pre-cast concrete lining segment to achieve or maintain the tunnel radius and direction required while avoiding structurally unsound joint positioning.
Turkey
Asia in general is an area of increasing tunnelling activity for basic infrastructure. A high-profile project is the extension of the Istanbul Metro and a contracting joint venture of Gülermak and Dogus has signed an order for a 6.5 m diameter EPB TBM and back-up equipment from Lovat. This will drive twin 2.9 km long tunnels in soft clay, silt and sand under groundwater of up to 45 m depth. The TBM should be launched in September.
Also for Istanbul, Lovat will design and build an 8 m diameter EPB TBM and back-up systems for the Gama Nuroljoint venture working on the twin tube Marmaray Bosphorus Railway Tube Crossing linking Europe and Asia under the Bosporus. The TBM will bore twin tubes over 2.1 km on the European side to the centre section of the link, which will be an immersed tube. The expected ground comprises stiff clays, sand and layers of limestone. The TBM will erect a precast concrete lining designed to cope with seismic conditions. Delivery is scheduled for January.
EPB machines are becoming the dominating type of TBM in use whereas previously they had been limited to a small range of ground conditions. The use of soil conditioners and improved designs for handling groundwater pressure have helped to extended the practical range of ground conditions which can be tackled by EPB TBMs.
EPB machines are now taking over from slurry pressure machines in many cases or permitting tunnelling where it would have previously been very difficult. Major advantages of EPB TBMs are easier spoil handling and the possibility of rapid response to changing ground conditions.
One of the biggest crowd management tasks in the world is the annual Hajj pilgrimage to Mecca in Saudi Arabia and this has been made safer and easier in recent years by constructing underground passages. Now four more motorway-width tunnels, totalling 2.9 km in length, have been driven using Atlas Copco equipment; four Rocket Boomer jumbos with computerised control, Atlas Copco Secoroc drill tools, and back-up service.
The two largest tunnels were excavated by Turkish contractor STFA with Rio Trading &Contracting, and the other two by Turkey's Sargin Ekol Asdem with Alawi Tunsi Establishment. The project had to be completed within five months before this year's pilgrimage, and Atlas Copco made the delivery as quickly as possible by airfreight.
Moving around to Africa, Algeria has recovered from some years of extreme violence and started investing in infrastructure again. The Ministry of Transportation has a budget of US$ 1 billion for the Metro Alger Project, comprising 11 km of track and nine underground stations down to 30 m depth. The tunnels are double track tubes of 80 m2 section. The main contractor, a consortium of Dywidag, Consider and Infrarer, is responsible for the construction of four stations and five tunnel drives to be completed by mid 2008. At the Khelifa Boukhalfa Station the contractor GESI TP is making excavations at 30 m depth in gneiss using two Cat 345B excavators fitted with hydraulic hammers.
Southern Europe
As one of the many TBMs now operating in Spain, an NFM Technologies machine working on the Barcelona Metro has established a new world record, according to NFM and UTE Linea 9. The 11.95 m diameter dual mode TBM - called 'Bessi'- has advanced 39 m in one day to install 22 precast concrete segment rings on a tight 270 m radius curve working in open mode. In difficult ground conditions the TBM can switch to EPB mode. The 4.2 km tunnel drive is due for completion this month after which it will be transferred to another 8 km section between Zona Universitaria and Sagrera stations.
Most of the high speed railway construction through Italian mountains is undertaken by modified observational methods with full open-face excavation, using ground consolidation and support methods as necessary. On the Milan to Florence high speed rail link CIFA has claimed a record for the number of sprayed concrete machines used on a single project, at 48 units. CIFA has also supplied sprayed concrete machines for similar tunnel support work on the Regia-Calabria motorway tunnels, the Bologna-Florence A1 motorway and the Turin to Lyon tunnel links.
In some locations, especially in urban areas, mechanised shield tunnelling is preferred for more precise ground control. A double track rail connection is to be built partially underground to link Malpensa Airport to Milan. The Galleria a Foro Cieco Castellanza will be driven as two 1.8 km long straight tubes using a 7.85 m outside diameter rebuilt Wirth EPB machine.
The TBM was last used as a dual-mode machine on Contract 240 of London's Channel Tunnel Rail Link and will excavate through alluvium. The link is being built by a joint venture of Torno Internazionale, Strabag, Romagnoli and Cogeis working for the private operator Ferrovie Nord Milano Esercizio.
The world's largest tunnelling projects, within the AlpTransit north-south transport scheme between Switzerland and Italy, are approaching their completion. Apart from the obvious achievements of completing such long tunnels at great depth, the Gotthard and Lötschberg base rail tunnel projects include many tunnel construction innovations in rapid excavation, ground control and ventilation.
At the end of April Lötschberg's miners blasted through the final section in the 34.6 km tunnel, which is 1.8 km below the Balmhorn Mountain. The breakthrough was only 10 weeks behind a schedule set in the 1990s, despite ground control difficulties in the latter stages.
On the 57 km Gotthard Tunnel project about 45% of the tunnel has now been excavated with work progressing from four main locations. The total length of tunnels, including access routes and cross-passages is 153 km.
It is often easier and cheaper to drive new tunnels to bring transport links up to modern safety and capacity requirements, than it is to refurbish existing links. Such is the case with the Maurice Lemaire tunnel at Sainte-Marie-Aux-Mines between Vosges and the Upper Rhine in north east France.
A joint venture of Bouygues and Eiffage is driving a tunnel parallel to the old 7 km bore, which was converted from rail to road use in 1976, but was closed to heavy vehicles after the Mont Blanc Tunnel fire.
Marti Technics has designed and installed a 6.7 km, 800 mm wide belt conveyor for mucking out the new excavation. It has a 500 m belt reserve capacity to extend the conveyor as the Herrenknecht TBM advances. The conveyor can negotiate a curve of 250 m radius.
This installation includes a second, swivelling belt on the surface for spoil dumping. The new and old tubes will be connected by cross passages at every 400 m to serve as escape routes.
Water Needs
Demand for water is a major driver for tunnelling in many parts of the world and Latin America is particularly active in this regard. A French-Peruvian engineering consortium of Coyne et Bellier, Lahmeyer Agua y Energia, and Alpha Consult, called Supervision Olmos, has won a technical and economic supervision contract for the Olmos water transfer project. The project will include a 13.9 km rock tunnel through the Andes in Peru.
In Turkey's Tarsus Mountains the Ermenek Dam and Hydro Electric Power Plant (HEPP) project is under construction and includes an 8.1 km pressure tunnel to the powerhouse. Associated with this project is the Erik Diversion scheme and another HEPP which involves construction of a 4.1 km pressure tunnel to an underground power cavern for 6.5 MW of generation capacity.
The civils works contracting group comprising Alpine Mayreder Bau, Verbudplan and BM Mühendislik, chose a Wirth open-type hard-rock TBM for the Ermenek pressure tunnel to tackle limestone and shale with compressive strength up to 150 MPa and faulting. This machine broke through in April after tunnelling since July 2003 and achieved performances of up to 62 m/day, 316 m/week and 1004 m/month.
Technical Developments
Canadian TBM manufacturer Lovat has had a long association with Russian clients and the latest result is a 9.5 m diameter, hard-rock tunnel boring machine (TBM) called Martha. The machine will be used by the Bamtonnelstroy organisation on the Krolsky project at Krasnoryarsk for a 2.25 km drive through slate, limestone and granite. The TBM, a dual-mode system - open face or earth pressure balance (EPB) within groundwater - is expected to be launched in September.
Normet recently introduced a purpose designed utility vehicle as a safe alternative to 'site-adapted'vehicles that are often not suitable for safe underground use. The Normet RBO is powered by a choice of Deutz or Cat low emission engines with electronic fuel injection. The braking is a twin circuit system with oil-immersed, multi disc brakes in both axles, and with a spring-applied, hydraulic released, fail safe emergency and parking brake on the front axle.
Atlas Copco's latest rock drill is the high-speed (100 Hz) COP 3038 30 kW hydraulic drill launched at Bauma last year. Parallel developments in drill bit design and drill operation control systems have resulted in rapidly increasing performances.
Atlas Copco is gradually introducing a new series of jumbos to better match the performance of the COP 3038. The latest is the company's first four boom, fully computerised model designated the Rocket Boomer WL4C30. All booms can be supervised by one operator using the ABC Total control option. Finnish contractor YIT ordered the first unit at the end of last year. A drill capacity is claimed to be twice that of the previous large rig; a three boomer using COP 1838 ME hydraulic drills.
Caterpillar has continued to expand its range of mucking out plant specially developed for tunnelling applications. The latest is another compact excavator, the 321CCR. This is smaller than the first introduced 325CCR (used at Sedrun, Gotthard Tunnel) with an operating weight of 25 to 27 tonnes, a 103 kW drive, and bucket capacities of 0.8 to 1.8 m3.
A major trend in tunnel mucking out, especially for long drives and where there is sufficient sectional area, is the use of continuous belt conveyors such as those produced by Continental Conveyor and Marti Technik. Delays due to extension work are avoided by the use of belt reserve cassettes that feed out belt as the TBM or back-up system advances.
CIFA won the International Technical Award this year at the Samoter exhibition in Verona, Italy for its Netcon-Pump, which is controlled by an integrated electronic system. For the first time all functions of this concrete pump, previously controlled separately on CIFA products, are now integrated. This covers control of the pump itself, stability control and safety functions.
Service Expected
With a convergence of technical expertise among leading manufacturers and engineers, customer service becomes increasingly important. The larger, better organised, manufacturers tend to be better positioned to provide the necessary parts and service facilities, whether through local offices or agents, training and communications links.
Qualified local involvement is becoming important, not just for service facilities but also for manufacture. While local manufacture (not just assembly) has always been an important option where long delivery distances for TBMs are involved, customer nation import finance controls can be critical. Manufacturers have to be more flexible to improve their chances of sales success.