High altitude lifts for Prangl
By Katherine Weir04 August 2016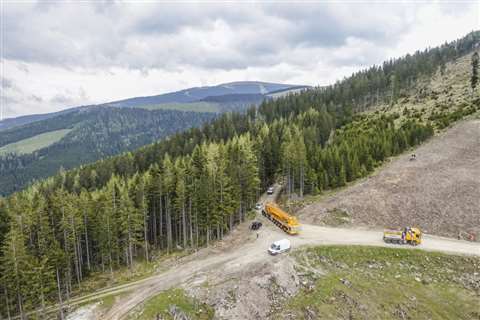 Austria-based crane service provider Prangl took its Terex AC 1000 all terrain to altitudes of around 1,600 metres for a wind power project in Styria, Austria.
The Enercon operated wind farm site was located on the ridge of the Pretul Mountain in Styria and the Prangl team were tasked with erecting the steel sections, nacelles and rotor blades of 14 wind turbines. The AC 1000 lifted weights of up to 58 tonnes to the required height of 78 m, while working with a radius of 21 m.
The nine axle unit had to navigate slopes of up to 18 percent along with narrow and mostly unpaved winding roads with steep bumps and depressions. Even with this climb, Prangl had planned for the journey to take no more than two hours.
Robert Puchner, sales manager at Terex, said, "Thanks to a sophisticated drive design in which every axle can be steered, our AC 1000 is more than a match for any extreme route. On top of this, every axle has its own independent suspension, meaning that the crane can easily handle tough bumps and depressions."
In addition to the numerous bumps and depressions, the winding roads also proved to be a challenge. Two of the passes were so narrow that it was only possible to drive through them in reverse.
As the team were approaching the top of the mountain they set up a truck as a tractor in front of the crane out of caution, the company said.
Peter Glier, Prangl's site manager, said, "The engine on the AC 1000 is more than powerful enough to handle that kind of thing, so it wasn't a matter of the engine output not being sufficient. Instead, our concern was that the wheels could start spinning due to how steep the slope was." After two setup days with two team members, the crane was ready to start lifting.
Prangl took three months to complete the job, meeting its tight schedule.
Watch a video of Prangl's journey here.