High capacity on track
By Lindsay Gale30 July 2008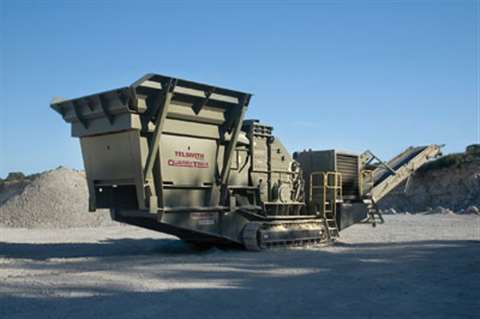 Telsmith has added the T16060 tracked impact crusher to its Quarry Trax range that is designed for high capacity applications, with a throughput of up to 800 tonnes/hour.
The new unit features a Telsmith PA6060 primary impact crusher that features, in the company's words, a massive, solid type rotor set on an oversized 220 mm wide series bearing. This heavy rotor delivers higher inertia to optimise crushing and has the strength to consistently crush 102 cm (40 in) stone or concrete slabs. Telsmith says that the new unit is particularly suited for processing a specification product in either concrete recycling or low-abrasion quarried stone applications.
Power is provided by a Caterpillar C-15 tier III certified that delivers 403 kW (540 hp). The unit also uses Telsmith's Trax-Max control system that monitors and controls plant operations, including the engine, hydraulic systems, component settings, alarm conditions and troubleshooting.