High-rise landmark for Wolff
By Laura Hatton24 September 2014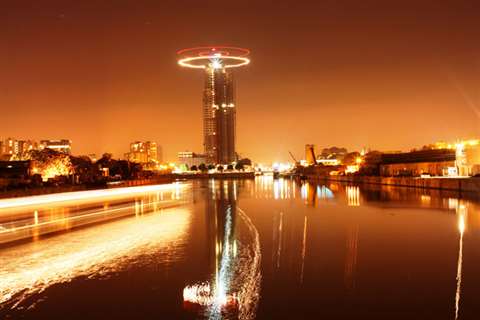 Two Wolff 6531.12 tower cranes from Wolffkran have finished working on the tallest residential building in Belgium.
The two tower cranes were rented from Wolffkran by construction company BPC Brabant and were on site for two and half years. The UP-site high-rise building is 140 metres tall and was constructed on the banks of the Charleroi-Brussels-Canal. It houses offices, apartments, shops and restaurants.
The first Wolff 6531.12 was configured with a jib radius of 30 m and during the final stages of the build was working at a height of 146.4 m. The crane was fixed on foundation anchors to save space. The second Wolff, of the same model, was configured with a 45 m jib and was installed on a cross frame. It was working at a height of 147.5 m. Both trolley jib cranes have a lifting capacity of 10.4 tonnes at a 30 m jib radius and 7.4 tonnes at a 40 m jib radius. They were fitted with a 75 kW hoist winch used for lifting steel girders and formwork and pre-fabricated elements.
Quentin Guyaux, site manager at BPC Brabant, said, "Right from the very beginning, Wolffkran worked closely together with our engineering office and impressed us with their accurate planning and sophisticated crane concept. There are only a few players on the Belgian market that can draw up plans for this building height and at the same time provide us with what we need in terms of product technology. With Wolffkran we get everything from one source."
The two towers have now been dismantled. The lower Wolff 6531.12 was dismantled by the higher crane. The higher Wolff crane was then climbed down to 40 m before being dismantled using a 150 tonne mobile crane.