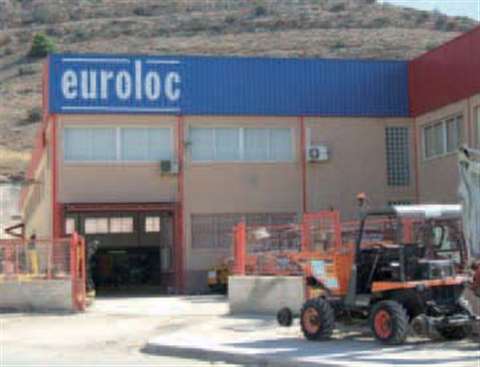 You need money to grow a rental business and Euroloc, the Madrid-based number two in Spain's rental market, says its recent acquisition by private equity firm Advent International is important if it is to meet its ambitious growth targets.
"It's a new step for us", says Euroloc's managing director, Jorge Perelli, "And it's very important, because with Advent we will be able to achieve our business objectives sooner. The project is to be the most important rental player in Spain in equipment without operators." The 'without operators' qualification is important, since its biggest competitor and current Spanish number one, GAM, is heavily involved in the crane rental sector where drivers are supplied as standard.
Mr Perelli is not overly concerned about the size of the business compared to GAM; "I'm not saying that we will be bigger than GAM…but we want to be leaders in efficiency and profitability. We are not so concerned about size."
Rental turnover last year was €72 million, and the target is to grow that to €130-140 million by 2009, with the usual mix of Greenfield openings and acquisitions.
Growing the business to that kind of scale will depend on how successful Euroloc is in finding suitable acquisition targets. Mr Perelli says Spain's €2,2 billion equipment rental market – a figure he is confident about, although it is considerably higher than previous published estimates – is home to around 1800 rental companies, many of which are very small businesses.
Target buys
"We are looking for companies that have the same type of equipment as us, and in regions where we are not working", he says, "Also, in some cases, companies that work with equipment that we don't have, or are not strong in, like aerials platforms and events." One or two acquisitions are definitely on the cards this year.
Aerials are a particular target, says Mr Perelli; "It's a market that Euroloc started late in – two years ago. Now we have 400 platforms and we are planning to make some acquisitions, or increase a lot our capital expenditure."
Mr Perelli said as much as 40% of its spending could be on aerials this year, depending on progress with acquisitions. The company will invest around €30-40 million on equipment in 2007, slightly less than in 2006. (Mr Perelli also said it was not a potential buyer of the Universal aerial platform rental business in Spain.)
The company has a lot to do in Spain, and is not currently thinking about expanding outside its domestic market (the one exception to this is
Morocco, where the company has been working for several years – see our World Rental Report feature, this issue).region in the north and La Riocha.
In Spain, where the company has 29 locations, there are gaps to be filled, with areas like Aragon, the Basque
The company is also divisionalising itself, as many others are in Europe, including GAM. It already has three specialist rental divisions – for power, telecoms and modular space – and has just created a new groundcare/landscaping division to rent equipment to golf courses, local government and the like. This fleet will include machines from Hinowa, JCB and Toro.
Mr Perelli says the power division is "working very well, and it's not just construction, also industrial and events customers."
Euroloc growth over the past four years has been equivalent to 19% each year, a fearsome rate. Managing to maintain and even increase this will be challenging, of course, all the more so because Spain's building and construction sector is likely to slow down, particularly the residential sector.
"The construction boom is going into equilibrium", says Mr Perelli, "We expect in the future that the civil works will grow, new residential construction will decrease, and there will be a small increase in repair and refurbishment activity."
Spain's current building and construction market is dominated by new residential construction, which represents around 35% of total activity. Mr Perelli said he anticipated that this figure would fall to around 25%, in line with other European countries.
Still, for the moment, levels of demand are high, and this is reflected in Euroloc's utilization figures, which, says Mr Perelli, are hovering around the 75-80% level. "Some regions are busier than others, but at the moment the average is 80% – it's high. It is 90% in Madrid for us at the moment."
Hence the need to invest in new equipment. Whatever happens in Spain's construction market, one thing is clear, over the next five years Euroloc is going to be extremely busy.