High-value scaffolds dominate designs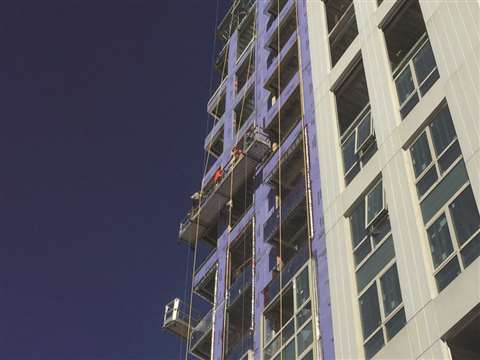 Marr Scaffolding Company supplied 13 suspended scaffolds to Sunrise Erectors for exterior façade work in Boston.
Two-point adjustable suspension scaffolds, also known as suspended scaffolds, are no secret to contractors who rely on their high-efficiency performance for exterior wall construction and maintenance of high-rise buildings. A variety of suspended scaffolds are widely applied in the field, and they are in demand by customers of Marr Scaffolding Company due to their adaptability for customization on unique building designs with complex site logistics.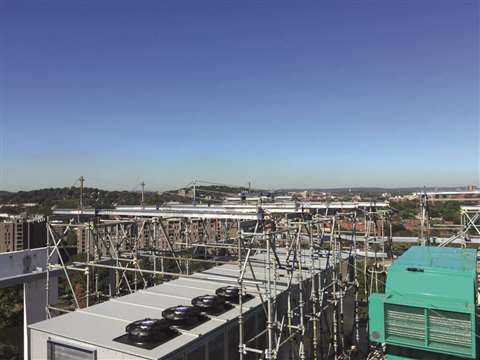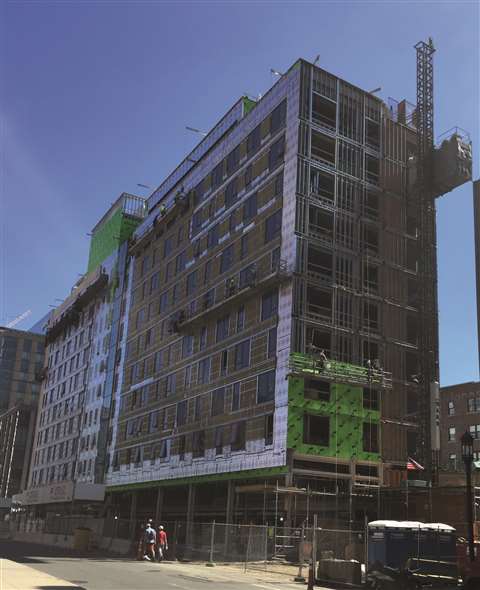 With new construction's innovative designs on the rise in Boston and other urban areas, the challenge for builders and equipment manufacturers to accommodate such design innovations is on the rise as well, according to Marr. In Boston, the development of new neighborhoods requires not only making use of the available vertical space, but also the horizontal or ground-level space – which translates into constructing in tighter spaces within a strict footprint. Contractors have had to get creative around architecture that doesn't necessarily consider the construction process, including the logistics of using powered equipment such as cranes, aerial lifts and mobile platforms that require controlled space to operate safely and efficiently. Simultaneously, equipment manufacturers have taken advantage of developments in technology and engineering to improve their products to meet new challenges. Suspended scaffolding equipment is an example of this.
Case in point
Marr Scaffolding Company has seen an increase in demand for suspended scaffolding.The company says at any given time, approximately 15 percent of installation projects in its rotation require suspended scaffolding. Comprised of three basic components – counter-balanced rigging beams, an electric or air traction hoist and modular platforms – a suspended scaffold is temporary and can be installed and dismantled for contractors to work on the façades of buildings of all shapes and sizes. When the space and shape of roofs and outer walls call for the modification of a more standard setup, (for instance, the project requires an 11-foot overhang versus a 4-foot overhang), Marr says it works closely with OEMs to design configurations that suit the specific needs of the project. Marr says its designs are engineered by highly trained and experienced crews that configure the setup to meet a building's specific requirements. Marr's team then dismantles the equipment when the trade has completed its work - with no permanent changes to the building. Marr also provides familiarization to customers as a way to assist users in becoming acquainted with the equipment.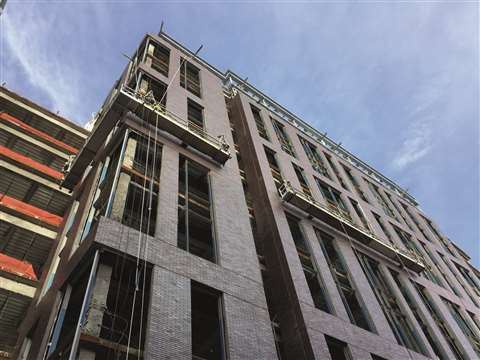 Marr installed six suspended scaffolds at 50-60 Binney Street, Cambridge, MA, for Karas & Karas Glass.
With an increase in the number of setups requiring unique/non-standard configurations, close to 90 percent of Marr projects are professionally installed and dismantled by Marr crews. The company says its strict attention to detailed drawings and compliance with OSHA safety standards guarantee sound applications and the meeting of customers' needs.
Currently, Marr is supplying multiple suspended scaffolds on a single project for Sunrise Erectors, Inc. at Serenity Apartments in Boston. Due to the location of the 17-story high-rise bordered by the Jamaicaway and South Huntington Avenue, the use of boom lifts or mast climbing work platforms were not an option for performing the exterior work. Instead, 13 suspended scaffolds were installed on the apartment roof in a variety of standard and unique configurations. To account for obstructions on the roof such as generators,
AC units and other mechanical equipment, Marr Scaffolding installed systems scaffold towers to support an elevated rigging system for five of the 13 configurations. Marr says the most complicated part of the installation was the rigging, but with proper planning and engineering, a creative solution was found. For this project, multiple trades utilized the suspended scaffolds over one year.