Highest freestanding Wolff in Köln
By Laura Hatton09 June 2015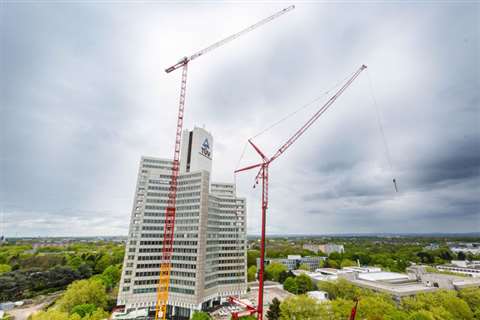 A Wolff 6031.8 clear tower crane has been put to work at the TÜV Rheinland high rise in Poll, Cologne, Germany.
The model has a load capacity of 3.1 tonnes with a 60 meter jib and a maximum lifting capacity of 8.5 tonnes at a 25 meter jib radius. It has a freestanding height of 130 m. Over the next few years, it will be used to fit the TÜV Rheinland building with a glass facade.
According to a spokesperson from Wolffkran, the 130 metre tall trolley jib crane is the tallest freestanding construction crane in Germany. Carsten Druske, Wolffkran Dortmund branch manager, said, "We couldn't place the crane close enough to the building to tie it to the building. Further, none of the surrounding buildings had a flat roof that could support the 152 tonne heavy crane. Actually, these couldn't even support the scaffolding."
To anchor the crane main contractor Bilfinger Hochbau constructed a 12 x 12 m concrete base with an 18 m deep pile foundation. The base weighs 1,300 tonnes.
Speaking of the installation task, Oliver Manthei, Wolffkran chief service technician, said, "Normally, cranes with this hook height are climbed to their final height piece by piece. For the Wolff in Cologne, we brought in a 750 tonne mobile crane, one of the heaviest in the German market, from the company Colonia. This allowed us to erect the Wolff to its final height within the scheduled time of two and a half days."
Due to the height of the tower crane an exterior lift has been fitted. "It's a job with a fitness factor," Druske explained. "So we decided to fit the crane with an exterior lift. On the one hand, to make the operators job a bit easier, but the main reason being with regards to safety. Should anything happen to the operator, it would take a rescue team 40 minutes to reach him."
The renovation project is scheduled to be completed in 2017.