Highway 65 revisited
By Access, Lift and Handlers12 March 2008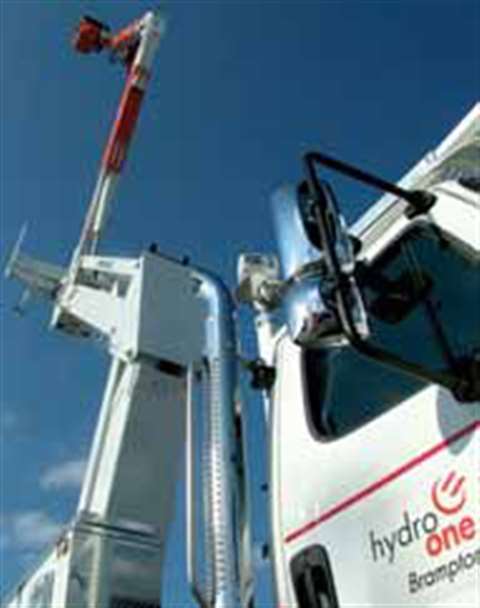 Despite its first day of hard rain, this year's International Construction and Utility Equipment Exposition in Louisville, KY broke records with almost 18,000 utility and construction industry professionals at the show. Attendance was up 9.5 percent over the last expo held in 2005.
Several manufacturers brought their latest products or launched new lines at ICUEE to the every other year event. This year, there were more than 845 exhibitors that took over 1.155 million net square feet of exhibit space to show new equipment, technology and product innovations. The following are some examples of new products launched at the show.
The levels of investment in high voltage power lines was clearly reflected at ICUEE with many of the utility lift manufacturers showing higher reach, insulated models, including Posi-Plus, Terex Utilities, Lift-All and Bronto Skylift.
Bronto specializes in such machines, of course, and at ICUEE has its largest outreach machine yet for the North American market – the 170 foot platform height, 115 feet outreach S-170 XDT, mounted on an 8x6 International chassis.
The investment in bigger machines is also resulting in some quite special units being engineered. One example is a 150 foot platform height Bronto unit on tracks that is currently being built for Hydro One in Ontario. Crawler vehicle specialist Track Industries in Calgary, Canada, is building a massive 50,000 pound payload capacity crawler chassis, the HT500, which will be shipped to Ontario where engineering company Hycotec Inc will mount the Bronto boom.
Tadano's TM-1882 boom truck was on display at ICUEE with its "low profile" rear mounted unit on a short wheelbase Sterling. The unit sits 8 to 9 inches lower than a regular 1882. The non-insulated machine has 110 feet of power boom.
The model has a six section boom, which means no overhang over the cab, said Tadano's Sales Manager, North America Bryan Dammann. The benefit of the low profile allows the unit to fit under bridge clearances in certain areas, and the TM-1882 is New York certified. As standard with Tadano machines, it has out and down riggers.
Terex Utilities is also making product additions to suit the transmission line business. Terry VanConant, the company's manager, marketing and sales support, says its new Hi-Ranger TM85 and TM125 models, with platform heights of 85 feet and 125 feet, respectively, are designed for this sector of the market and are insulated up to 765 kVA.
The TM125 has a 52 feet maximum outreach and has a hydraulic platform leveling system. The 125 unit on show at ICUEE had been bought by Indiana Michigan Power.
At ETI's booth at ICUEE, Ideal Cranes was showcasing its range of electric hydraulic cranes, known as the Liberator line, which spans from 2,000 to 6,000 pound machines.
Its Liberator 6000 Electro-Hydraulic crane is designed to be installed on trucks of 14,500 GVW or higher rating. It comes with a 25-foot non-metallic remote control pendant, power supply with all wiring harness and circuit breakers required. The unit has a 6,000 pound maximum and features a large diameter, self-locking, all steel worm gear rotation drive mounted on slewing ring crane bearing that provides 360 degree power rotation.
Ideal Crane's Director of Manufacturing Steve Parkhurst said the machine is unique because traditional duty cycle machines "need to rest" but the company's PowerArm booming technology reduces energy required to raise boom, which allows longer work time.
Lift-All, meanwhile, has introduced its biggest elevator lift yet, with the LAN HD75/110, comprising a base 75 feet platform height unit that becomes a 110 foot platform height model with the addition of an articulating elevator section. This machine incorporates a 2,300 pound material handling jib and is rated for live line work up to 500 kVA. Tandem rear axles make it road legal for the US.
Like Lift-All, Canada's Posi-Plus Technologies has added a double lift elevator mechanism at the base to increase the reach height of its 68 foot unit, transforming it into an 83 footplatform height model that the company says will make it suitable for transmission line work. The platform – the first of which has been sold to Hydro One Brampton – has two buckets, both of which have full controls.
According to the company's Vice President of Sales and Service, Normand "Norm" Bigras, ICUEE is an important show. "We have made some sales here and the show has gone very well," he says, adding that its US customer base has even seen growth. "Two or three years ago, [the US sales] was 2 or 3% of gross sales. Now it's up to 15%."
Altec Industries is the giant of the US utility platform sector and although not launching any new utility aerial platforms at this year's ICUEE still made a big splash with the largest stand and the most machines on show (including cranes, utility lifts, digger derricks, brush chippers and small crawler mounted aerials). It was also pushing its new hybrid powered lifts that are finding favor with some of the larger utility companies in the US.
Manitex brought its new TM-50 truck-mounted rough terrain forklift to the show. The company says the first of the machines will be shipping early next year from its Georgetown, TX facility.
According to the company's President Scott Ralston, this 5,000 pound capacity machine will be sold through its distribution network. The unit has a Perkins 500 horsepower engine, with three wheel hydrostatic drives. A key feature to this model is it can mount or unload in less than one minute.
If the market is optimistic just now, there is no telling how it could look in 2009 when the next ICUEE show takes place. Manufacturers will be hoping, for example, that talk of a vast new interstate power transmission network will have become more than an eye-catching idea. The next ICUEE takes place on October 6-8, 2009.