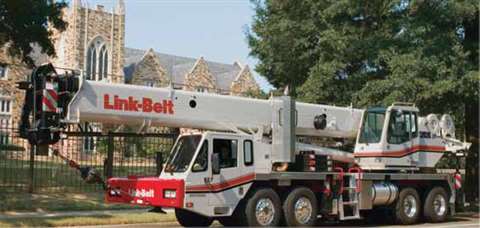 While the truck crane enjoys sales success outside Europe, performance in this huge market in recent years has declined sharply due to the dominance of the all terrain crane. Despite this, developments from manufacturers point to a potential resurgence in interest in the truck crane in Europe. Examples include the launch by Terex of new truck crane models built by PPM in France and Link-Belt displaying one of its truck cranes at the Bauma exhibition in Germany earlier in the year and at the UK's SED exhibition in May.
In addition, Japanese manufacturer Kato, known for its truck cranes, re-established a European presence with Italian manufacturer Autogru Rigo. XCMG truck cranes from China are also appearing in Europe, the US and other export markets.
Truck mounted cranes on standard commercial truck chassis, as opposed to the traditional truck crane, is an increasingly active sector. Tadano Faun and Liebherr have both recently added to their ranges. A large proportion of Spanish manufacturer Luna's production is this type of crane and several Italian manufacturers offer them.
The extensive order backlog for new all terrain cranes might persuade some customers to switch their allegiance to truck crane models, but there is a consensus at present that truck cranes are only really for road-accessed applications.
Tight turner
The latest new truck crane is from Link-Belt, which has just launched a 75 US ton (70 tonne) truck crane into the US market.
The new HTC-8675 Series II telescopic truck crane replaces Link Belt's HTC-8675, which was introduced in 1996 and proved to be one of the company's biggest selling models. With a 127 foot (38.7 m) formed boom, the Series II adds 12 feet (4 m) over its predecessor and uses Link Belt's patented latching boom. According to the company there are four boom modes, EM1 to EM4, instead of two. The optional two-piece, 38 to 64 foot (11.6 to 19.5 m) bi-fold lattice fly and two optional 16 foot (4.9 m) lattice extensions give a maximum tip height of 230 feet (70.2 m). The fly offsets to 2, 15, 30 and 45 degrees.
"Transport configuration is a key element of Link-Belt truck cranes and is unmatched in the market. The new 8675 has better transport configurations than its predecessor without sacrificing any of its great features," said a company spokesperson.
The 8675 is also offered in an HTT, all-wheel-steer model, for increased job site manoeuvrability. This version will be available in the US and Europe.
Steerable rear axles in conjunction with super single tyres means the Series II is agile in tight spots, adds the spokesperson.
"Four steering modes - independent front, independent rear, combination and crab - allow the HTT to move within jobsite constraints." The HTT's turning radius is less than 39 feet (9 m) at the edge of the tyre.
Easy travel
On show in Europe at the Bauma exhibition in April was Link-Belt's 90 US ton (81.6 tonne) Telescopic Terrain Crane, which also uses the latching boom system and has steering rear axles with super single tyres. "This crane features outstanding lift capacities in a simple, highly manoeuvrable package. Plans are to make this crane CE-compliant and it will be available in Europe mid-2008," said Jeff Schmidt, Link-Belt marketing information coordinator.
According to Schmidt the easy manoeuvrability and transportation of both models make them stand out. "These simple cranes have ATC-type [all terrain crane] capacities but are much easier to deploy.
"In the US these cranes are often used for 'taxi' crane applications. The crane rolls in, sets an air-conditioning unit or a church steeple, and then moves on to the next job. Transportability is key. The crane must move over the road, manoeuvre on the job site and have the capacity to do the job. It also has to set up quickly, installing counterweights, flys, etc. With these cranes, it's in, up and out - smooth and safe. Time is money."
This, Schmidt comments, reflects the current trend in truck cranes, which is towards higher reach and capacity models that retain the ability to travel easily on roads.
Concerning the US and world market he adds, "Currently, the market is very strong with a solid order backlog. We expect this to continue through late 2008."
At Bauma Link-Belt told IC that it was looking for dealers to sell its wheeled mobile cranes in Europe, after a 20-year break from the market. Nearly six months later, Schmidt said the plans were progressing well. "We are working with TüV to get the HTT-8690 CE compliant and we are ahead of schedule. We believe our telescopic truck cranes provide an alternative to other mobile lift choices with simpler, more economical solutions."
Global growth
Christian Schorr at Terex says the truck crane sector is booming in the US and Japan due to tight load axle restrictions, partly resulting from the large number of wooden bridges. The sector is also strong in Russia and China but non-domestic manufacturers are finding it difficult to penetrate either country.
"Russia and China have their own local production on truck cranes and large numbers of truck cranes on the road. We don't see a growth there," Schorr explains.
Growth in the European and Middle Eastern markets is significantly less strong and, according to Schorr, we will have to wait and see if that situation changes.
"I think one reason is that truck cranes are not as highly sophisticated as all terrains and for some basic jobs the focus is more on simple handling and easy roadability.
"The main interest at the moment comes from the long delivery time for all terrains but there are also companies with a strong focus on the total cost of ownership and for some circumstances like high mileage and highway usage the truck crane is the more economical solution. I don't expect a high growth here [Europe] compared to the total volume of telescopic mobile cranes."
Flexible working
Terex will be closely monitoring the success of its latest truck crane, the PPM TC 40L, in Europe.
The three-axle truck crane is distinguished by its simple handling, high performance and low operating costs, according to the company.
A 240 kW MAN diesel gives a top speed of 90 km/h and servicing can be done at the many dealers worldwide. Standard truck tyres are also used so replacement is easy and cheaper than AT tyres. "The crane can be used with great flexibility on the most diverse construction sites due to its 37.5 m long basic boom plus a jib with a maximum tip height of 47m," according to the manufacturer.
The TC 40L can carry 8.5 tonnes of counterweight with a maximum axle load of 12 tonnes.
"Truck cranes are still used for lifting applications where you don't get off the road. Usually loads are not so high and the job is not complicated. In the past truck cranes have also been used on rough construction sites but this often caused trouble. That was the reason for the development of the all terrains with better traction and manoeuvrability. A strong point for truck cranes is still the easier roadability due to the more truck-like carrier and the truck tyres."
Schorr adds, "If you have to go from A to B on longer distances, the access to the job site is not too difficult and loads are not too high, the truck crane can be an alternative. Usually truck cranes have more axles compared to all terrains for the same maximum lifting capacity. That leads to lower axle loads - an advantage for the roadability but bad for the manoeuvrability and compactness of the crane."
New booms
At the lower capacity end of the range, the line between truck crane and boom truck appears to be blurring, particularly in the US. With Manitex introducing its 45 US ton (40 tonne) capacity model 4596T last year and National, Terex, Tadano and Elliott all pursuing a 40 to 50 ton (36 to 45 tonne) class boom truck, and Liebherr entering the market, it may become less clear where the boom truck stops and the truck crane starts.
The Series 1400A will be National Crane's largest product on display at October's ICUEE exhibition in Kentucky, US. The 30 tonne capacity crane has a five section, 38.72 m boom giving a maximum tip height of 52.12 m with jib. It also has an LMI and adjustable swing speed, both standards on the 1400 Series.
MCG will also debut and demonstrate the National 900H series at ICUEE. The 27 tonne capacity boom truck with H-style outriggers offers full-span, mid-span, and retracted-span load charts. It is available with a 21.03, 28.96, or 32 m boom. Maximum tip height is 48.16m with the 32 m boom and 13.41 m jib.
In September Manitex received an order for 18 of its recently launched 5096S 50 US ton (45 tonne) boom trucks, one of the largest single orders for boom trucks in the company's 20 year history. Initial shipments are scheduled for delivery in January 2008, with the order being completed later in the year.
"In the three short months since this product was first put into production, we have received orders for 29 units, which we believe evidences the demand for higher capacity boom trucks and the market's appreciation of the capabilities and quality of the Manitex 5096S model," says Scott Rolston, Manitex general manager.
He explains that the order is destined for the oilfield services industry, which, the company sees as a market with great growth potential. The new model is also targeted at rental companies, gas and mining, along with road and bridge construction.