Hinowa launches first full electric tracked lift
By Euan Youdale09 April 2020
Hinowa is launching the first tracked platform spider lift to offer full direct electric drive, the TeleCrawler13.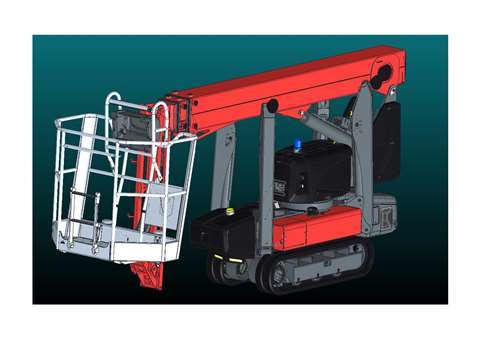 The lithium‐ion battery-powered telescopic TeleCrawler13, which will be at APEX in September, can reach a working height of 13m and a has a horizontal outreach of 6.4m. Without the basket it measures just 3,695mm in length, 1,947mm in height and 748mm in width. Moreover, the stabilization area is reduced to 2,450 x 2,901mm. This allows the machine to be stabilised within a standard parking space.
The TeleCrawler13 represents the first model of a new series of platform with a full electric tracked undercarriage. This machine is the first of its type, with a different design to Hinowa's current Goldlift, IIIS and Performance IIIS series.
Built with full electric drive, using a permanent magnet, meaning no hydraulic oil, this is the first tracked aerial platform on the market on which this technology has been adopted.
Furthermore, the full electric system is four times more efficient than the traditional hydraulic system. The increase in efficiency allows the machine to use a more compact lithium ion battery pack with less energy, ensuring the same performances as products with an undercarriage that is moved hydraulically.
Another important feature is the IP67 protection factor. This means that the machine will also be able to work on muddy and dusty ground.
In addition, it is possible to automatically maintain the same distance from the wall, following a vertical line up to 9m, while rising and lowering. The Go home function automatically brings the machine to transport position, using a single button. It also records the last working position, so that the basket can be returned to that point at a later date.
Hinowa will aslo present the Performance series of platforms, ranging from 13m to 33m and a new machine, at APEX when it takes place on its new date: 8-10 September at the MECC exhibition venue in Maastricht, The Netherlands.