Hird buys biggest ever Maeda mini crane
By Katherine Weir19 April 2016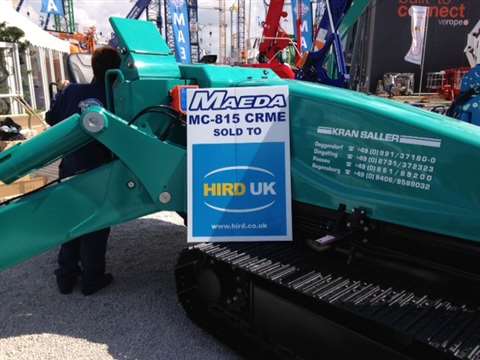 UK-based specialist lifting company Hird has become the first in the world to buy the largest spider crane ever manufactured by Maeda, with a lifting capacity of 8 tonnes at a radius of 2.4 metres.
The first MC 815 - serial number 00001 - was snapped up by Hird at the Bauma exhibition in Germany where it made its debut. It will be used for tasks that include steel erection, glass and curtain wall installation, building maintenance and machinery moving.
Phil Hird, Hird managing director, said, "We're delighted to be the first crane hire company to take delivery of what is going to be an industry-leading mini crane. We have bought a large number of Maeda mini cranes in the last 12 months."
Alan Peck, sales director at Kranlyft, the European master distributor for Maeda, said, "Hird is one of our most important UK customers, so we are very pleased that they got the first MC 815. We sold nine of the cranes off the stand at Bauma, and we expect this model to be our most popular Maeda mini crane in Europe in 2016."
The MC 815 has a five section 19.4 m boom, and an optional two section 1,500 kilogramme capacity telescopic jib, which increases lifting height to 25.5 m. A 1,000 kg capacity all new searcher hook is also available. Other features include a new joystick control replacing the standard four levers, and a new 10.4 inch (265 mm) multi-function touch screen monitor.
A key development with the MC 815 is its new HBC Technos radio remote control system. While it can be operated from a conventional seat on the crane, it can also be fully remote controlled. The crane can also be remotely self levelled and automatically stowed.