Hitachi celebrates 15 years in China
By Chris Sleight10 May 2010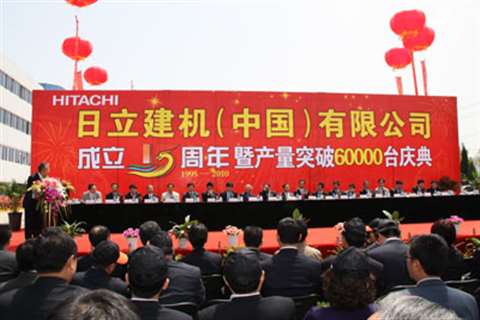 Hitachi has marked 15 years of manufacturing excavators in China with a ceremony at its factory in Hefei, some 400 km west of Shanghai. The milestone coincided with the production of its 60000th excavator in China
Asked what the secret to the company's success in China Michijiro Kikawa, president & CEO of Hitachi Construction Machinery said, "First, we choose the right city (Hefei). 15 years ago, lots of foreign manufactures chose the coast cities for their factory but we think that we made the right choice to support both our domestic sales and also the exports.
"Second, the successful cooperation with our Chinese employee is anther essential factor to our success."
The factory in Hefei, Anhui province has a covered area of 760000 m2 and employs 2023 people. The total investment by Hitachi over the years has been CNY 1.7 billion (US$ 250 million).
Last year the company manufactured 10179 units excavators and compact excavators in China, generating revenues of CNY 8.3 billion (US$1.29 billion), and +11% rise on 2008. Hitachi's profits in China last year came to CNY 430 million (US$ 67 million)
With strong growth in the Chinese market this year, the company plans to increase the factory's production capacity to 18000 units. In the first quarter of the year alone it manufactured 3825 excavators, a +91% increase on the same period in 2009.
Mr Kikawa said, "The Chinese market will keep growing. I don't know how fast it will be, but it will definitely grow. As such, the competition will become even hot than ever with foreign competitors and Chinese domestic competitors."
Chinese requirements
In addition to manufacturing in China, Hitachi also has a research & development centre in the country - its only R&D centre outside China. According to the company, this has helped it gain market share by designing products specifically for local requirements.
Kanahara Masaki president of Hitachi Construction Machinery China said, "The China R&D staff working together with those at the headquarters, and together they developed the 5 tonne mini excavators according to the requirement of China's market.
"The Chinese products are based on Japanese technology, but we change some parts to meet the specific demands of the Chinese market. Chinese customer have specific requirement such as the long working hours."
Senior vice president Toru Sakai added, "This is a very successful model we delivered in China. We have sold 2700 units last year in China, and our market share for mini excavators was 17%. We spent lots of time studying the market before we developed the machine."