Hitachi expands Premium Rental offer
By Murray Pollok10 April 2019
As part of its Premium Rental initiative in Europe Hitachi is now offering to buy contractors' fleets and replace them with Hitachi rental machines managed by its dealers.
Hitachi has added 350 units to its rental fleet since the launch of the programme last year and is now working on proposals for contractors in France, the Netherlands and Scandinavia to acquire their fleets and replace them with Hitachi managed rental machines.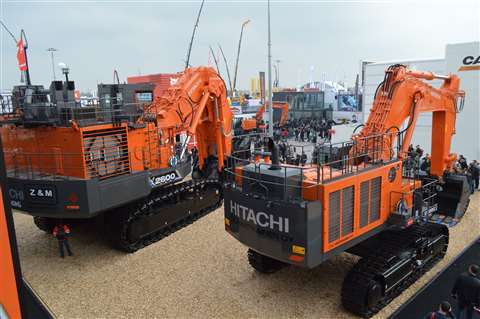 René Danielsson, Manager of the rental programme, told International Rental News at Bauma that it was now discussing how Hitachi could "consider buying their fleet, upgrade and optimise them, and redefine the number of machines required." He said Hitachi could acquire mixed-brand fleets.
None of the proposed fleet acquisitions have been concluded yet, but the new offer shows that Hitachi is continuing to expand the scale and scope of its rental initiative. An additional 500 machines are planned to be added to the fleet in Europe this financial year and the same number again in the following year.
Danielsson revealed that some Hitachi dealers outside of Europe have been expressing interest in the programme but said Hitachi would not expand it outside Europe until it is more fully established.
The company is also adding new machines to its rental fleet, offering a small number of its EX1200 and EX2600 mining excavators. Also new this year are large wheeled loaders, the ZW330, ZW370 and ZW550.