Hitachi's new EX-7 excavator to offer 19% fuel savings
By Jenny Lescohier29 October 2020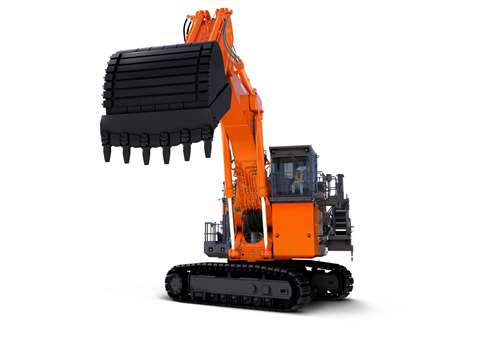 Hitachi Construction Machinery will launch its EX2000-7 ultra-large hydraulic excavator in October 2021, claiming it will consume up to 19% less fuel while maintaining the same productivity as its predecessor, the EX1990-6.
The company says the EX2000-7 achieves higher fuel efficiency due to an entirely new hydraulic circuit, and the addition of a work mode selection function, etc. Because of drastic cutbacks in fuel consumption, the machine contributes to reduction of environmental impact and the life-cycle cost.
When compared with its predecessor, the EX1900-6, the EX2000-7 can save as much as 417 tonnes (460 tons) of CO2 emissions per year per machine2.
At an operating weight of 175 tonnes (193 tons), the EX2000-7 is one of the smaller Hitachi EX-7 ultra-large excavators. An all-new hydraulic control system has been developed and, for the first time, employed for an ultra-large hydraulic excavator which allows more precise management of the hydraulic oil flow in each control valve throughout the digging and loading cycle.
A new mode selection feature on the EX2000-7 now allows the operator to select one of three working modes – High Power (HP) Mode, Power (PWR) Mode or Economy (ECO) Mode – to optimise productivity and fuel efficiency for different types of operation. This feature has been applied to medium- and small-sized hydraulic excavators.
Hitachi announced the development of their EX-7 series in 2018, introducing a new generation of mining excavators that hit the global market in April 2019.
The company says that with the EX-7 series, it targets safety, productivity and connectivity with models ranging in size from 100 tonnes to 800 tonnes.
Upon introducing the series, Mr. Sonosuke Ishii, president of Hitachi Construction Machinery Mining Group, said it marks the beginning of an exciting new time for both HCM and the wider mining industry as it moves into the Industrial Internet of Things era.
"We have continued to innovate since the release of our EX-6 series, and the result of that innovation is EX-7 which will be Hitachi's most safe and efficient mining machines to date," Mr. Ishii said.
"Our EX-7 excavators will feature Hitachi technologies that will bring the Industrial Internet of Things to mining sites around the world. These machines will be able to connect to online servers which collect valuable data and turn it into actionable insights, to help customers optimise the safety, production and efficiency of their operations."