HKL helps build treetop path
By Thomas Allen16 October 2019
German rental company HKL recently provided a range of machines for the construction of a treetop path at the Lüneburger Heath Wildlife Park in Hanstedt-Nindorf, Germany.
The company responsible for the construction, Weitblick-Tietz GmbH & Co KG, which is an affiliated company of the Lüneburger Heath Wildlife Park, rented Kramer wheeled loaders, Komatsu wheeled excavators and Yanmar mini excavators, among other pieces of equipment, from HKL's Lüneburg Centre in Bienenbüttel.
The unusual project required special attachments and pieces of machinery. For example, the Yanmar ViO57 mini digger used for the final paving work was supplied with a paver laying clamp from Hunklinger. For the work on the steel structures, an Astrak RS Tower was used. And among the smaller devices used were Ammann vibrating plates and a Wilms dehumidifier.
Over a six-month period, a total of 1,000m3 of concrete, 730 tonnes of steel, 350m3 of wood and 70,000 screws were used in the project. The forest trail covers a distance of about 700m and stands up to 22m high in the canopy.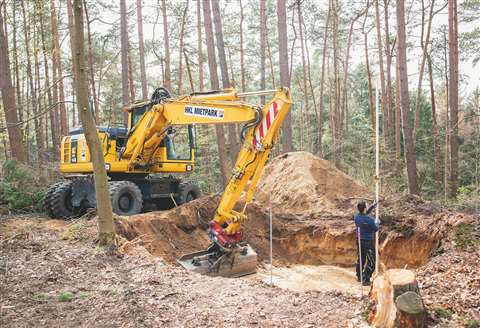 Christian Bahrenthien, HKL operations manager Bienenbüttel and customer consultant for construction machinery, said, "Of course there were some special challenges: the time window was tight and it was heavy terrain. Our flexibility and speed were required, as well as the right machines.
Marcus Zitzke, Site Manager Wildpark Lüneburger Heide, said, "Everything worked out, everything as planned. If there was a bottleneck, we could rent more machines at very short notice."