HKL helps ground consolidation
By Thomas Allen26 March 2020
German rental company HKL Baumaschinen is providing a telescopic loader to help with ground consolidation work on a site in the German city of Gelsenkirchen.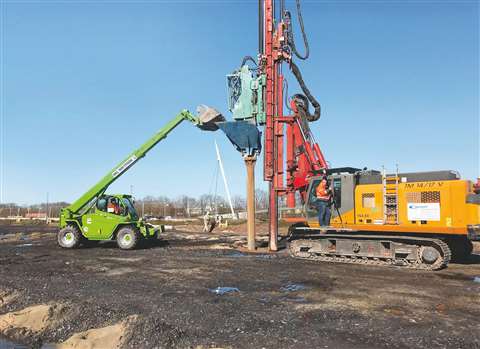 A residential and commercial area in the city called 'Living by the Water' is being expanded. However, the groundwater level is particularly high due to the fact that the property is located next to the Rhine-Herne Canal.
As a result, civil engineering company Geopier Spezialtiefbau has been called in to consolidate the ground before construction work begins on an apartment block and two commercial units.
Geopier is renting a Merlo P38.13 telescopic handler from HKL's working platform and telescopic center (ATC) in Dortmund.
The loader pours a special mineral mixture into the funnel of a telescopic leader, which can be up to 12m high. The leader carries the bulk material to an advance drive pipe and then vibrations drive it further into the ground.
Annika Huvermann, customer consultant for field services at HKL ATC Dortmund, said, "Telescopic machines are real all-rounders, but each area of application has individual challenges – for example, special ground conditions such as on the Rhine-Herne Canal.
"That is why we talk through the circumstances and requirements in advance with the customer."
The ground consolidation work is expected to take four weeks to complete, with the subsequent construction work set to begin in April this year.