HKL provides new fleet
By Thomas Allen24 April 2019
German rental company HKL recently supplied its long-term partner Zum Felde with a new fleet of machines.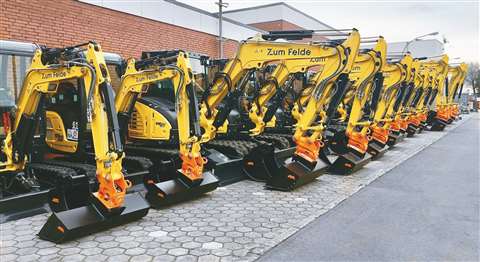 The 14 Yanmar machines sold to Zum Felde - for an undisclosed value - included the SV18CRE, SV22CR, Vio57-6A and SV100-2CR mini excavators. They were all equipped with a Rädlinger Powertilt tiltrotator, which allows attachments to be pivoted 90° to the left and right, as well as BekaMax central lubrication, which ensures that lubrication of moving parts takes place during operation, thereby lengthening the life of the components.
In addition, hydraulic quick couplers on the new machines allow attachments to be changed without the driver having to stop and leave the cab.
Christian Bahrenthien, Operations Manager HKL Center Bienenbüttel, said, "Whatever the customer needs, we deliver it – even a whole fleet. For Zum Felde we have selected the machines according to the different fields of application so that they complement each other perfectly."