Honda continues roll-out of CO-Minder gensets
By Thomas Allen25 August 2020
Honda Power Equipment, a business unit of American Honda Motor, is continuing the roll-out of its CO-Minder carbon monoxide detection technology across its full line of portable generators.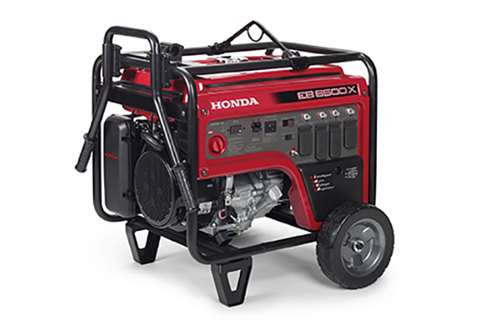 The company is adding three models - the EG2800i Economy Series unit, along with the EB2800i and EB6500 Industrial Series models - to the line-up of CO-Minder equipped gensets it launched in July.
By the end of this year, all Honda portable generators will incorporate the CO-Minder technology, according to the company.
The Honda CO-Minder system is designed to continuously measure carbon monoxide levels in the air near the generator and automatically shuts down the unit before detected CO reaches a dangerous level.
The sensors are both moisture and dust resistant, and the sensor system automatically tests itself and is equipped with a built-in warning that alerts the user to replace the sensors prior to end of life.
"The Honda CO-Minder carbon monoxide detection system exemplifies our corporate commitment to providing industry-leading products and safety features," said Will Walton, VP of Honda Power Equipment, "and we proudly embrace our position as the industry's first manufacturer committed to installing our advanced CO detection devices on 100% of our portable generators for commercial, residential and recreational applications."
Honda Power Equipment began the rollout of its CO-Minder technology on existing generator models in July with four models—the EU1000i and EU3000iS Super Quiet Series inverter generators for work, home, and recreational applications; the Economy Series EG4000 open-frame unit for home backup and workplace power; and the EB10000 Industrial Series generator, which the company refers to as its flagship model.
Latest models
The newest CO-Minder generators include:
The Honda EG2800i, an open-frame inverter (OFI) generator targeted primarily at consumer applications. Powered by a Honda GC190 gasoline engine, the EG2800i has a dry weight of less than 30kg and comes equipped with a 30amp/120 V receptacle for easy connection to a home transfer switch. Rated at 2.8kW, it is equipped with Eco Throttle that allows the generator to conserve fuel by varying engine speed to the optimum level based on load.
The Honda EB2800i OFI, also driven by a GC190 engine, is designed for light construction applications and delivers 2.8kW. With a dry weight of less than 30kg, it is light enough for one person to load and unload from a truck, operate and carry around the jobsite, Honda said.
The Honda EB6500 generator provides 6.5kW of backup power and is powered by a Honda iGX390 commercial grade overhead valve (OHV) engine. It is supported by a heavy-duty frame and has a two-wheel kit and lift hook.
This story was originally published by sister magazine Diesel Progress.