Hot topics at the IPAF Summit
The next IPAF Summit conference will be held 6 March 2019 at the Radisson Blu Dubai Deira Creek Hotel in Dubai.
If last year's edition is anything to go by delegates will be treated to high-level speakers considering the topical issues of the day and the potential the Middle East holds for access equipment.
The Summit is held on the same day as the International Awards for Powered Access (IAPAs). Organised by Access International and IPAF, the awards celebrate best practice in the access sector and are attended by around 450 industry proffesionals every year.
The 2018 IPAF Summit, held in Miami, USA, in March, saw speakers address the impact of new technology and potentially disruptive business models on the access and rental industries.
The tantalising prospects of self-loading aerial platforms and 3D printing of spare parts was dangled in front of delegates by JLG's Guruprasad Bandekar, vice president, global engineering and program management at JLG Industries.
Mr Bandekar, speaking to an audience of more than 200 at IPAF's Summit conference in Miami on 8 March, addressed emerging technologies and how they might impact on the aerial platform industry, with autonomous operation of MEWPs being one possibility. Jobs that are dull, difficult or dangerous, he said, were prime candidates and "will be automated soon".
More routine aspects of running an access business may also benefit from this kind of technology. For example, machines that are capable of self-loading onto trucks – an activity that can often lead to accidents – would save costs and reduce risks. "It's not that far-fetched – we think we can help reduce costs." Such capabilities are already being utilised in other industry, including the industrial forklift sector.
In addition to autonomous operation, another megatrend is the move to an urban world whereby 70% of the population will be living in urban city centres by 2030, compared to 30% now.
Meanwhile, there is huge progress being made in digital technology and the rich data that machines can provide to provide greater return on investment. And, for example, progress being made in 3D printing of metal components, offering the prospect of local production of spare parts. Mr Bandekar said the technology was not quite there yet, but could be within five years.
He added that the servicing of machines could be improved by the use of machine sensors and remote monitoring, plus augmented reality technology. "the pace of innovation is accelerating. Five years ago we would not have talked about telematics in the way we do now."
And he said these new technologies were not far away from being commonplace. For example, "There will be an increase in electric machines - electrification has taken hold and is increasing. The challenge is that most electric machines are not suited to rough terrain. This will change and the technology will be available."
Environmental issues
The Summit's second speaker of the day Giancarlo Bobbio, Haulotte's marketing director for the Americas, based his presentation on, 'selecting MEWPs for Sustainability'. He said the industry will see rental companies becoming more sustainable by adding flexible machines to their fleets with a greater number of cost saving and safety features.
He explained how Haulotte's latest self propelled booms are addressing these issues. The future, he said, will be about creating more sustainable rental companies.
Environmental protection will be another key factor for the very near future, Mr Bobbio added, "MEWP engines can run uselessly for 20% of the time – producing carbon dioxide and particulate pollution."
He added that we will be forced to address noise and exhaust emissions in the future following new regulations in towns and cities across the world. "Hybrid machines will grow in the industry as there will be a greater requirement for them."
Giles Councell, IPAF's director of global operations, continued the morning with an explanation of IPAF's global virtual reality (VR) and platform simulator consultation. The consultation aims to establish the possibilities for powered access training and safety guidance afforded by new technology such as VR and simulators.
For many years simulators have been used as an effective means of training pilots in both the military and civil aviation sectors and have also been used to drill workers in high-risk environments such as the off-shore oil and gas industry. As the technology has become more sophisticated, mobile and affordable, the use of simulators and VR is becoming more established for MEWPs.
The consultation will incorporate all relevant stakeholders within IPAF's membership, such as manufacturers, training centres, rental companies, contractors, simulator developers and operators.
During his presentation Mr Councell asked delegates if they thought VR simulators could one day replace the IPAF PAL Card practical test. Their reply came via the the Event App, which, once downloaded, could be used to take part in a range of surveys held during the Summit. It was the first time this technology had been combined with the Summit programme.
Apart from the time-saving and safety benefits brought about by VR simulators, they are also instantly more attractive as a learning tool to the younger generations. Mr Councell said, "We have to encourage Millennials, while engaging the current and older generations that are already working."
IPAF has been offering eLearning for the last couple of years and now modern technology, including VR, is taking that a stage further. "VR is a game changer," said Mr Councell, "We can put people into risky scenarios without the risk."
Next up will be augmented reality, said Mr Councell, which will be used in a number of groundbreaking ways, including for site surveys, familiarisation and pre-use checks.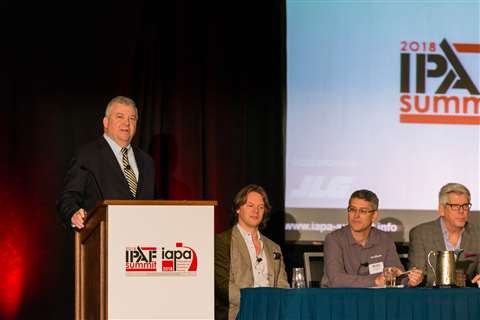 The VR simulator panel session continued the theme. The panel was represented by Andy Studdert, former CEO NES Rentals; Darren Bechtel, founder and managing director of Brick & Mortar Ventures; Brad Boehler, president of Skyjack; Jim Colvin, CEO of Serious Labs; and Giles Councell, as well as James Dorris, vice president, environment, health & safety, United Rentals; and Peter Douglas, executive director of operations, Nationwide Platform
According to Mr Colvin, the new generation of virtual reality simulators not only create an environment for training that feels real but also opens up the prospect of trainers 'appearing' in a basket alongside trainees, even if the trainer is on the other side of the world.
He added that the company was already able to provide around 60 virtual work task scenarios for training and was now looking at 'bespoke' scenarios related to actual projects. Scenarios could also incorporate multiple machines, he said. "The next generation of headsets will know where you are looking. The system can bring objects into peripheral vision."
Mr Boehler agreed, "VR and augmented reality is going to be a big part of things." He does not believe the technology will replace practical tests, but added, "I don't think it can replace putting people on a machine, but it will play a big part [of training]. Big companies may want to bring their people to a simulator once a year."
One major benefit of simulators is in providing an environment where operators can make mistakes with no consequences, other than their own pride. As Mr Boehler said, "Accidents are usually down to operator error or lack of familiarity with the machine."
Mr Bechtel said we are one step closer to remote operators of machines being located 'half way around the world' from the equipment. "In a controlled environment our lives are not on the line." And, he added, that once this technology meets the required level of acceptability and affordability, there is no stopping it.
According to Mr Douglas, it will provide great opportunities for our industry. "Putting people into a 'real' digital environment is exciting. In our training centres we can only do about 20%-30% of what a simulator can do." And he suggested that using VR for PAL Card renewals could be a reasonable solution for experienced operators.
Adding to this theory, Mr Colvin explained that digital technology would not make mistakes or vary in its performance. He said, "You have good evaluators and bad ones. There is much more consistency in the digital world. In the future there is a real opportunity to leverage technology to take over that."
Sustainability
Bill Plummer, EVP and CFO of United Rentals, told delegates that the notion of sustainability – environmental, financial and social - was gaining ground in the business community and that having sustainability goals was no longer a choice but a necessity.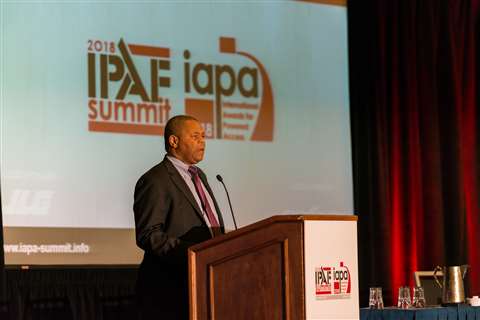 He said stakeholders, including investors, employees and local communities, all had expectations for businesses like United Rentals, and that achieving sustainability goals also improved company performance; "There is evidence that better sustainability performance correlates with better financial performance…we don't have a choice."
He cited the case of private equity business BlackRock writing to businesses in January, including United Rentals, about its increased focus on sustainability.
Mr Plummer also gave the example of United Rentals diversity policy, including the gender balance of its workforce; "How women are treated has become a very key focus for companies and in society more generally."
Ultimately it is about the customer. "Are we easy to do business with? Is the customer happy with the way we deal with situations?"
Spotting dangers
Few are better placed to discuss potential business challenges than Pedro Luis Fernández Pérez, chairman & CEO of Spanish rental company General de Alquiler de Maquinaria (GAM). The company only just survived the financial crash of 2008 and had to reinvent itself. Now, 10 years later, it has stabilised and is starting to grow.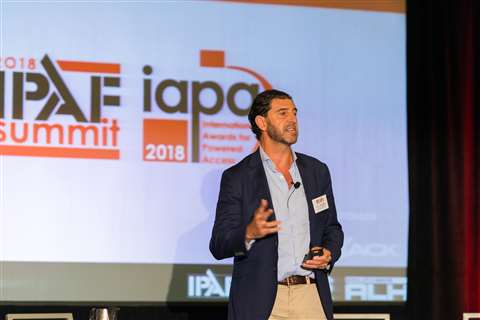 For Mr Fernández, a key skill is spotting problems and challenges before they materialise. He said there were three main areas of risk for rental businesses: technical developments, finance and operations.
In technology, he cited autonomous vehicles, remote monitoring of machines, and the electrification of previously diesel-powered equipment. How would rental companies adapt to rapidly changing technology, he asked, in particular the shift to electric power sources which could devalue diesel powered machines. "Our industry assumes the risk when we buy equipment. Is there sufficient profit margin to buy the [appropriate] new technologies?" said Mr Fernández
He argues that rental companies should resist the commoditisation of the business; "We cannot differentiate ourselves on the basis of the cost of equipment." He said rental companies talked too much about price and that the industry needed to find new financing models for their equipment.
Mr Fernández concluded by highlighting the operational issues facing rental companies. He noted that many of the largest rental businesses were still only operating in their domestic markets – in contrast to many other business sectors – and said many rental businesses were still to fully engage with new digital ways of engaging with customers.
Rental disruption
Digital and other new technologies with the potential to disrupt rental were high on the agenda of the rental round-table, with participants Andy Studdert, former CEO NES Rentals; Michael Kneeland, president and chief executive officer of United Rentals; Norty Turner, CEO, Riwal, Nick Selley, IPAF president and group business development director for AFI); Dan Kaplan, CEO of Daniel Kaplan Associates and Mr Fernández from GAM.
"The way things will be built will be different and will be disruptive", said Mr Turner, "There will still be jobs done at height – jobs won't change – but solutions will change." He imagined boomlifts without baskets but with automated arms.
The trend towards the sharing economy, although favouring the rental concept, also has the power to threaten the business. Mr Fernández said car sharing would be followed by sharing of other equipment and could prove disruptive to the rental industry.
United Rentals' Mr Kneeland said it was difficult to predict the impact of these trends, but one thing was clear, "We don't want to be the taxi driver that's waiting for Uber, we want to be the Uber. What Uber did was take out the pain point of getting a taxi when it's hot, cold or soaking wet and hoping you had the cash."
Asked if OEM's faced a tough challenge as a result of new companies emerging in the industry, the group of rental specialists believed it was inevitable a growing global industry like access would see competition from new players.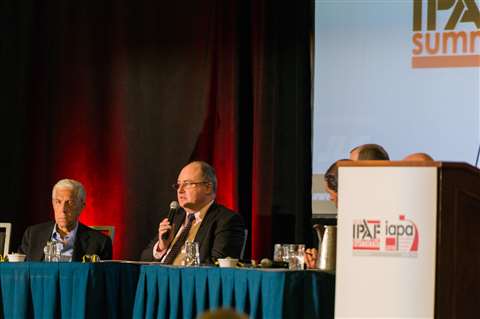 Mr Turner said the access industry has been growing since 1995, "and it keeps growing and developing". Apart from increased competition, it will also lead to further consolidation, he believes. "There will be longer term consolidation in our industry."
Mr Douglas said the changing global access landscape would lead to manufacturers facing big challenges. "There will be competition and alternative products will enter the market place - alternative equipment to platforms."
Mr Selley believes the world will demand more closely aligned products. As emerging access markets grow they will have the same requirements and demand the same equipment as mature markets. "Products will move across the world and there will be a product convergence." He added, "They will have to be more cost effective."
Mr Kneeland agreed and said work at height equipment is likely to change greatly in its design. "We are at the cutting edge of what is possible."
The IPAF Summit was held on the same day as the International Awards for Powered Access (IAPAs). Find out more about both events at iapa-summit.info